5

min read
Getting a good handle on risks in personal flying is difficult because we have no reliable information on exposure. The NTSB does an accurate job of tallying serious—especially fatal—accidents, so we know that number. But how many flying hours, or better yet trips, occur between those accidents? The exposure to risk, in other words. We just don't have those data.
But even without knowing the number of flying hour exposure, there is one activity where risk does stand out—single-pilot flying in light jets. Nobody believes that the majority of hours flown in the Cessna CJ fleet, and the Embraer Phenom fleet, or the Beech Premier fleet, or the other single-pilot eligible jets is flown with only a single pilot. But the majority of accidents are single pilot. I can't put numbers to it, but the higher number of single pilot accidents in the light jets is significant.
Now that the insurance market has firmed up, underwriters are taking note, too. In the past year or so it has become very, very expensive to insure a light jet flown by a single pilot, particularly an owner pilot. In some cases the single pilot may not be able to buy coverage at any price.
This is significant because the light jets provide our only glimpse into the risks of flying solo. In the piston fleet, and most of the light turboprops, single pilot flying is the norm. When that single pilot crashes we don't have a history of crew flying experience to compare. We can guess that a crew would do better than a single pilot in a piston airplane, but we are only guessing. In the light jets we can see the difference in the accident count.
Why does the single pilot have higher risks in the light jets? Certainly not because they are more difficult to fly than a prop airplane. The light jet fleet has recent design and certification basis so flying qualities and systems design and automation are well done. Takeoff and approach speeds in the light jets are low, right in line with the twin turboprops or cabin class piston twins, so that's not much of an issue. And even the most elderly avionics suites in the light jets are capable, and most have very sophisticated integrated systems that relieve a tremendous amount of pilot workload, so avionics capability isn't an issue.
I believe there are two primary reasons crew flying is safer in any airplane, not just light jets.
The most important reason is what I call the "backseat driver factor." If you have ever been through formalized simulator training, you know what I mean. When you're in the right seat, everything is crystal clear. You instantly see the course and altitude deviations. You always notice a wrong switch flip. You identify the simulated emergency in seconds while the poor guy in the left seat sweats through memory items, or fumbles around in a checklist.
That's why when discussing cockpit tasks the term pilot and copilot, or captain and first officer, have given way to pilot flying and pilot monitoring. It's that monitoring role that allows us to spot trends of deviation from target airspeeds, altitudes and course guidance. When monitoring we have more time for a broad scan, and more time to identify what the pilot flying may be doing wrong.
Even the most routine tasks, such as dialing the new assigned altitude into the alerter, is backed up by having two sets of ears and eyes. It's not infrequent that one pilot is sure he heard the controller say climb or descend to one altitude, while the other pilot heard something else. That raises a question when one probably would not have existed with a sole pilot.
The other reason I believe single pilot flying is riskier in the light jets—and any airplane, for that matter—is because it reflects the single pilot's most basic attitude toward safety.
Your jet has redundancy in every system and engine. Every takeoff is planned for an engine to quit at the worst time while the jet climbs out at the necessary angle to clear all obstacles on the remaining engine. Even if all systems are lost the battery has shown that it can power essential systems for at least 30 minutes of night IFR to get to a runway. No checklist ends in forced landing.
But when we look at all of that capability and redundancy, and decide to fly by ourselves, we have introduced a risk factor that just isn't there with a crew. We know a crew is safer, so why do we choose to fly solo? For convenience, that's why.
Dragging along a second pilot is a hassle, particularly on personal trips. There is the cost of the other pilot, of course, but that's just a component of inconvenience. Bottom line is that it's just plain easier to fly by yourself.
To me the worst part of that flying solo decision is that it sets the stage to cut other corners. We've already decided to give up some safety of the second pilot so what else do we compromise on? Maybe a too short runway? Or maybe a contaminated runway? Or maybe a little over weight for conditions? Or maybe flying tired, or stretching fuel, or any of the hundreds of small but significant safety decisions we make on every flight. We can make any of those risky decisions based on convenience. The same reason we chose to fly by ourselves.
Believe me, I don't want single pilot flying for personal reasons restricted. The insurance companies may not agree with me, but I think the FAA has the rules for solo pilot personal flying just right. But what I do want is for all of us who fly by ourselves to understand that we have assumed an additional risk. Is the trade of convenience for some safety worth it? That's for each of us to decide. And now, at least in light jets, the underwriters are having a say.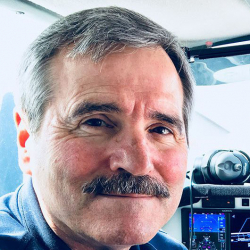 Latest posts by Mac McClellan
(see all)
https://media.airfactsjournal.com/wp-content/uploads/2019/11/06150243/Untitled_Cessna_525B_Citation_CJ3_D-CCBH_29337028722.jpg
683
1024
Mac McClellan
https://airfactsjournal-images.s3.amazonaws.com/wp-content/uploads/2021/04/06142440/Air-Facts-Logo340.jpg
Mac McClellan
2019-11-11 08:54:45
2019-11-11 10:52:47
Are single pilot risks real?