7

min read
The FAA has granted an STC to GAMI allowing use of its new lead-free avgas formulation in all piston engines. That seems like a slam dunk win for lead-free fuel, something that has eluded general aviation for decades.
But there is at least one precedent of how an STC for a vital piston engine fluid can go wrong.
In the early 1980s the general aviation business was flat on its back. Deliveries of new airplanes had plunged from nearly 18,000 in 1979 to a handful in just two or three years. All the major piston airplane makers went bankrupt, or changed ownership, or both. Add to that interest rates topping 18 percent and one of the deepest recessions in many years, and one can understand how the entire GA industry was on the ropes.
Phillips Petroleum was, however, one of a handful of companies still working to improve piston engine flying. In the mid-1970s Phillips created the first successful multi-weight airplane piston engine oil, named Cross Country oil, or X/C for short.
Phillips had pioneered development of a multi-weight oil for diesel engines and determined the same chemical technology that held up to the high lubricating stress of a diesel would also perform in the harsh conditions of an air-cooled piston engine.
Cessna was the first X/C customer for use its newly manufactured airplanes. Often an airplane would be rolled out of the factory and complete its production test flights in one season—hot or cold weather—but not be flown away by the dealer or new owner before the weather changed. That meant the airplane had the wrong oil in the crankcase. Either lightweight oil if it was manufactured in winter, or heavy oil in the summer. The new X/C solved that problem.
Pilots who traveled in their piston airplanes had the same issue. For us in the Northeast, a winter trip to warm southern climes meant departing with lightweight winter oil in the engine that would be running out everywhere like water at the warm destination. X/C was the answer.
The Phillips chemical engineers soon realized that they could make a real anti-wear "package" to add to X/C that would, for the first time in an airplane engine, provide the type of wear protection that makes the 100,000 and many more mile auto engine durability routine.
The key to anti-wear lubrication is microscopic metal particles. Exactly how these bits of metal greatly reduce friction and wear between moving metal parts is beyond me. But those additives scare the bejabbers out of aircraft piston engine traditionalists. The reason for fear is that the minute metallic components of the oil could cling to parts of the combustion chamber where they heat up and cause preignition, which can quickly be fatal to any piston engine.
But Phillips engineers were confident their anti-wear package would not create any threat of preignition, but would, for the first time, actually reduce wear and extend air-cooled piston engine life. The problem was that under standard FAA practice only engine manufacturers can approve lubricants, and fuels for that matter, in their engines. But Continental and Lycoming were almost out of business and they didn't have the staff or resources left to test the new X/C II and approve it. Phillips people told me at the time that they offered to reimburse the engine makes for the necessary testing, but no dice.
It looked like X/C II and its advanced anti-wear had no hope until somebody asked the FAA if it was possible to get an STC to use the oil. Nobody I knew had ever encountered an STC approval for an engine lubricant, but the FAA couldn't come up with a reason for why not. Sound familiar to the recent approval of the GAMI lead-free fuel?
To log the necessary hours in use beyond test cell operation Phillips made an agreement with, as I recall, the University of Illinois. At the time the Illini had a long standing, very active, and well-regarded pilot degree program.
The testing went smoothly, X/C II performed very well, and the FAA granted Phillips an STC to use the oil in essentially all piston engines.
Richard Collins immediately switched to X/C II from regular X/C in his Cessna P210 and I did, too, in the Mooney 201 I owned at the time. We both had excellent experience with the oil and it began to grow in popularity among pilots. Thinking back, it now seems odd that we didn't have an STC document from Phillips certifying approval for the use of X/C II in our engines. I really didn't think about.
But an FAA principal operations inspector (POI) in Kansas City did think about it. He demanded that a charter operator under his jurisdiction include the X/C II STC paperwork in their aircraft maintenance records and file a Form 337 as would be done for any modification under STC. That was doable.
What wasn't workable is that this inspector, based on standard practice anytime a modification is performed under STC, required the operator to file a new Form 337 with the FAA at each oil change using X/C II. Get it? Replacing the oil was a new use of the STC. You can guess the next step. Right. A Form 337 every time a quart of X/C II was added between oil changes.
If you've had experience with the FAA you know that what people in Washington say doesn't matter. It really doesn't matter much what the leadership of the FAA Region you're in says. It's the individual FAA inspector you're dealing with that matters. Yes, you can appeal to the FSDO brass, then the Region, and maybe even to Washington about the decision by the inspector in charge of your operation, but good luck with that. And it will take about forever to resolve.
Word of the interpretation of the X/C II oil regulation quickly spread. Charter operators who are under regular and direct inspection by POIs were scared away from the oil. Maintenance shops, who are also regulated by the FAA and FSDO, became cautious about the oil. Of course the whole thing rippled down to individual airplane owners who began to wonder about the approval and how to comply.
FAA headquarters was supportive of X/C II and there was no ban on the oil or retraction of the STC approval. But since oil didn't fit into the traditional way all lubricants had been approved, the entire FAA apparatus couldn't figure out how to interpret rules that just didn't fit approval of a lubricant.
So X/C II, which held real promise for engine life improvement, died. Not because it didn't perform, but because it didn't fit.
What does this experience say about STC approval for avgas? The engine makers haven't approved the new fuel just as they didn't or couldn't approve X/C II. It seems certain any airplane operator who wants to use the new fuel will need to incorporate the STC paperwork into the airplane maintenance records. But will that be enough? The X/C II disaster was a long time ago, but have the FAA rules changed enough?
And what about engine warranties? If you use a fuel not approved by an engine manufacturer does that void the warranty? If the engine has problems do you sue the engine maker or GAMI? As screwed up as our legal system is, it does seem to me that having refused to approve use of something as basic as fuel is a decent defense by the engine maker against liability.
I had forgotten about the X/C II episode until I saw the FAA make a 180-degree turn and issue the blanket STC for all piston engines to use GAMI lead-free avgas. Then it dawned on me: this was simply passive resistance by the FAA. You want an STC for that fuel, you got it. Good luck with that.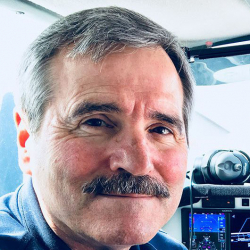 Latest posts by Mac McClellan
(see all)
https://airfactsjournal-images.s3.amazonaws.com/wp-content/uploads/2022/10/28164905/G100UL.jpg
700
654
Mac McClellan
https://airfactsjournal-images.s3.amazonaws.com/wp-content/uploads/2021/04/06142440/Air-Facts-Logo340.jpg
Mac McClellan
2022-11-21 08:08:54
2022-11-15 18:08:52
Lead-free avgas STC—a historical preview?