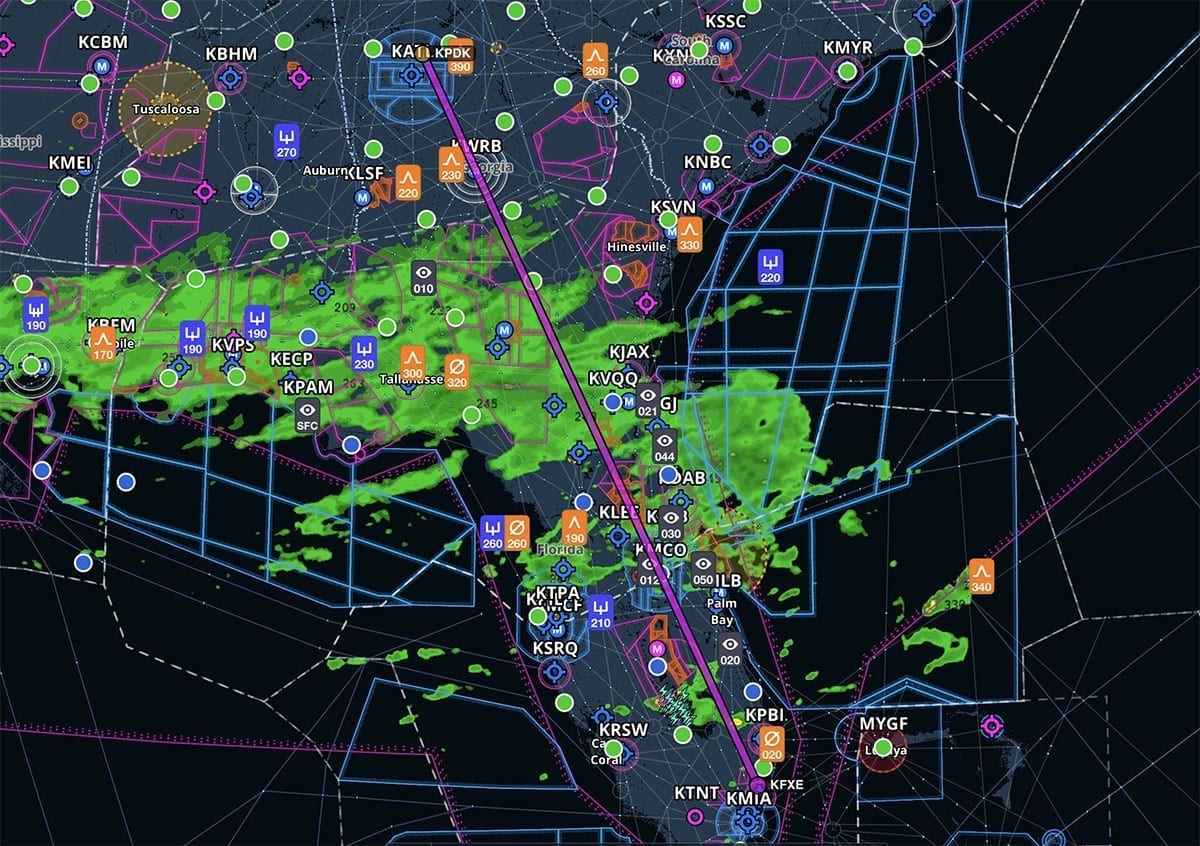 3

min read
As the week draws to a close, you have your eye on the weather map. It's Friday afternoon and you are planning to visit your adult daughter in South Florida tomorrow, ideally meeting her at noon Saturday for a family event. That's a pretty easy flight of under three hours in your Cirrus SR22, but if the weather doesn't cooperate it will be a 9+ hour drive. That means if you're driving, you need to leave tonight.
So the question is: can you spend the night in your own bed and fly tomorrow, taking off at 9am EST (1400 Zulu) for the PDK to FXE flight? Or do you get in the car and start driving? Your 2015 Cirrus is well equipped with a Garmin glass cockpit, datalink weather, autopilot, and more. You're also experienced and proficient, with over 2,500 hours total time and plenty of recent IFR flying under your belt.
Read the forecast below, then add a comment and tell us what you'd do.
Overview
Conditions in northern Georgia are quite good, but widespread rain is covering much of Florida, as the map in ForeFlight shows: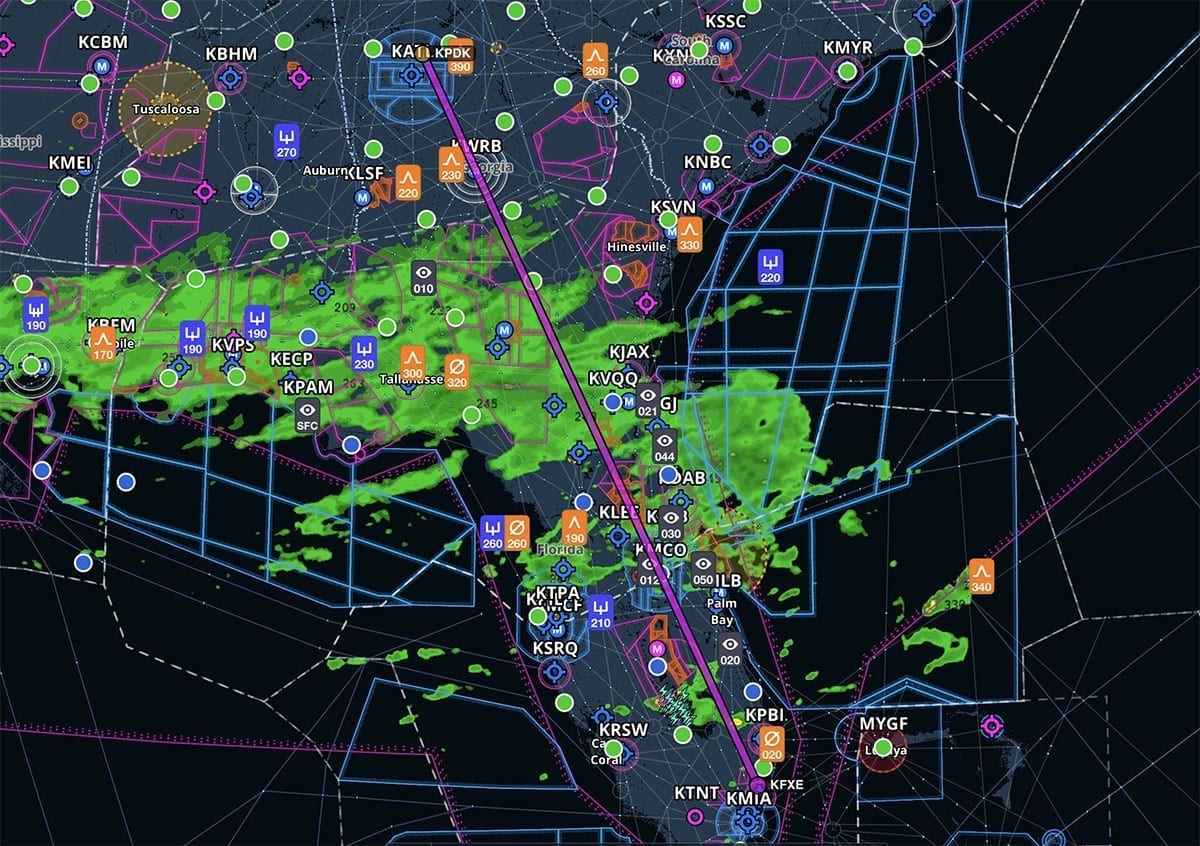 As always, the surface analysis shows what's driving that radar picture. A cold front is moving across Florida, splitting it in half.
The front is forecast to move through the state tomorrow, but it will leave behind rain and potentially some storms, as the 12Z forecast chart shows.
By Saturday night, the rain is almost gone from the Miami area, but there could be some leftover precipitation.
Radar and satellite
Since there's rain on the ForeFlight map, it's worth looking at the static radar image. It shows a lot of rain, but there are some breaks in it and there's nothing worse than dark green, except for one red cell over central Florida.
The infrared satellite image shows a solid wall of clouds between your departure and destination, with some higher tops (darker blue) in Georgia.
The visible satellite shows what looks like a lot of stratus clouds, which suggests limited convection.
Convection and icing
With all that rain, thunderstorms is a concern. Your proposed flight is in the morning, which often helps in Florida, but a check of the Extended Convective Forecast offers more information. It shows mostly clear conditions, even into the afternoon, with just a small area off the coast of Miami showing potential convection.
As for icing, it looks like the freezing level will be high enough to stay out of any potential icing conditions – probably above 10,000 feet for most of your flight.
PIREPs
A look at pilot reports shows some rough rides, but almost all of them are up high. There's just a single PIREP of light turbulence over eastern Florida.
One other PIREP is worth considering – it shows lower cloud tops in near St. Augustine, which could mean you'll be on top of some weather.
Text weather
Your departure airport has excellent weather and is forecast to stay that way.
En route, the forecast for Jacksonville shows marginal VFR conditions, with conditions improving over time.
Further south, at Orlando, the TAF shows more consistent rain, but no low IFR conditions.
Finally, your destination is forecasting pretty good weather, but with gusty winds and showers in the area.
HRRR
There's one last tool that can be helpful – the High Resolution Rapid Refresh, or what some pilots consider to be "forecast radar." It shows a forecast of composite reflectivity, which is a helpful visual forecast of precipitation. The 1500 Zulu image shows scattered showers over the southern half of Florida, but nothing too serious.
Decision time
It's time to make the call: would you plan to take off tomorrow morning in your Cirrus, or start driving tonight? Add as many details as you like, including alternative ideas on routing, altitudes or even a multi-stop flight.
Latest posts by John Zimmerman
(see all)
https://airfactsjournal-images.s3.amazonaws.com/wp-content/uploads/2019/11/06150203/GNG-overview.jpg
846
1200
John Zimmerman
https://airfactsjournal-images.s3.amazonaws.com/wp-content/uploads/2021/04/06142440/Air-Facts-Logo340.jpg
John Zimmerman
2019-11-12 08:41:28
2019-11-12 09:13:09
Go or No Go: rain over Florida