4

min read
As we review 2014 at Air Facts, growth continues to be the major trend, with traffic nearly doubling in 2014 (after doubling in 2013 as well). We thank you for your loyalty and we welcome all the new readers who joined us this year. But Air Facts has always been about quality over quantity: we focus on the serious discussions and safety concepts that affect active pilots. That's why we are most grateful for our readers' thoughtful contributions this year.
Air Facts is unique because so many of the articles are written by readers like you. In fact, 61 different pilots contributed articles in 2014, a truly outstanding accomplishment. As you'll see below, our most popular article of the year was written not by a professional writer, but by a private pilot who uses his Cessna for cross-country travel. We encourage you to join the ranks of contributors in 2015 (here's how).
Out of the 149 articles we published in 2014, here are the 10 most popular:
Mooney pilots are VW drivers, whereas Bonanza pilots are Cadillac people. This and other interesting commentary appear throughout Dick Collins' examination of the fuel efficient single engine airplane. In the end, he finds a good safety record and a devoted following. Read Now
Larry Baum admits that he was truly awful at landings as a new pilot. Along the way he learned some tips for making better ones, and shares some simple, practical ideas for making consistently good arrivals. Read Now
Part of Dick Collins' spectacular "Logbooks" series, this article traces the history of the Bonanza and all the competitors that tried to dethrone it. None succeeded, but the battle did produce some memorable airplanes – all of which Collins flew. Read Now
Regular contributor Hunter Heath shares the chiling story of the day his father nearly died in an airplane crash, and his helplessness at stopping him. While the story has a happy ending, it forever changed the author's approach to aviation safety. Read Now
After a short and unsuccessful production run, Cessna abandoned its Light Sport Aircraft. John Zimmerman says it's just the latest evidence that the LSA rule, while created with good intentions, is not working. It has "turned out to be an exit path, not an entry path." Read Now
Richard Collins says the crash of a Dash 8 in Buffalo, NY was tragic for more reasons than simply the death of the passengers and crew. It set into motion significant changes to the way airline pilots are trained and hired – and not all of the changes are good ones. Read Now
The sequel to our immensely popular "7 instrument approaches you have to see to believe" article, this one goes worldwide to find the strangest, most complicated and sometimes torturous instrument approaches. From Canada to Kathmandu, each one of these requires some serious study. Read Now
In spite of the front page news stories, aviation has become almost unbelievably safe over the past 25 years. This article argues that further safety improvements may not be worth the cost, and that we "simply have to accept some risk in exchange for the wonderful freedoms we enjoy as private pilots." Read Now
We often hear about real pilots as if they're a mythical breed, born in taildraggers and unafraid. John Zimmerman says in fact they are humble, forward-looking, pragmatic and hard-working. A no-nonsense list of character traits for any pilot to consider. Read Now
In one article, Mark Fay sums up so much of what makes flying rewarding, from the concentration of an IFR departure to the artistry of managing in-flight weather. A funny but powerful story, which amassed nearly 10,000 Facebook likes. Read Now
Thanks to all our readers for another great year. It's because of your contributions that Air Facts is a special place for pilots. We hope to see you back in 2015, where we'll continue to debate important issues and share valuable tips for safer flying. If you're not already signed up, we invite you to subscribe to our email newsletter.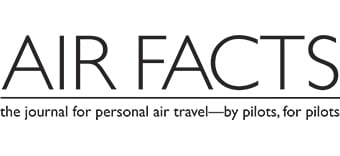 Latest posts by Air Facts Staff
(see all)
https://airfactsjournal-images.s3.amazonaws.com/wp-content/uploads/2014/12/06172527/AF-top-10-2014-feature.jpg
280
520
Air Facts Staff
https://airfactsjournal-images.s3.amazonaws.com/wp-content/uploads/2021/04/06142440/Air-Facts-Logo340.jpg
Air Facts Staff
2014-12-23 09:28:53
2014-12-23 09:28:53
Top 10 articles of 2014