9

min read
Pilots of piston airplanes wonder what it's like to fly a jet. Do I need different pilot skills? What are the sensations? Just what is it that makes jet flying different from piston powered airplanes?
So Much More Power
I believe what surprises, and impresses, piston airplane pilots the most in a jet is just how much more power is available.
Raise the nose in a piston airplane and it will climb, at least for awhile. But in a jet with the nose up more than you've likely ever seen in normal piston airplane flying, the jet is not only climbing, it's accelerating. In fact, if you are assigned an initial low altitude after takeoff in a jet you often need to quickly pull the power back to near idle to level off without accelerating through the airport traffic area speed limit.
The fundamental reason jets have so much power is that it is required under the certification rules. Jets must be able to continue to climb at a minimum gradient after an engine fails at the most critical moment during every takeoff.
That means a twin-engine jet has essentially twice the power required to safely depart for the aircraft weight and atmospheric conditions. If a jet has three or four engines, the rules only require it to meet minimum climb gradient with a single engine failed. That's why twin engine jets routinely climb quicker than three- or four-engine jets.
These rules don't apply to the Cirrus Vision Jet because it, obviously, has only a single engine. And they don't apply to the Eclipse 500 because it was certified in the light airplane category and was not required to, nor did it, demonstrate any climb ability after an engine failure.
Thrust Change Response Time
Jet pilots need more engine management anticipation than when flying a piston airplane because jet engines are slower to accelerate when more thrust is called for, or decelerate when you pull the power back.
It can take from five to seven seconds for a jet engine to accelerate from flight idle to full power. That may not sound like a long time, but just start counting off the seconds as you watch your airspeed deteriorate and the airplane sink. It can be an eternity, and that's why jet pilots need to be on top of airspeed trends, not just the number shown on the airspeed tape. It's where your airspeed is headed that matters, not what it is right now.
Many jet engines have higher idle speeds in flight than on the ground so the delay from when the pilot adds power to when the engine spins up to produce it is shortened. Squat switches let the airplane know that it's on the ground and the jet engines can then reduce to a lower ground idle power so you don't need to constantly drag the brakes on taxi.
Lots of Drag
The modern jet wing planform is more like a glider than a piston airplane. Jet wings have grown ever longer in span and slender in chord. Just look at photos of an early version of Boeing's 737 from the 1960s and compare it to current models to see what I mean. And nearly all jets have sprouted tall winglets at the tips to make the wing behave as though it has even greater span.
The reason for the long, "high aspect ratio" wings on jets is to reduce drag at high altitude cruise. In general, and from a purely aerodynamic perspective, the higher the wing aspect ratio, the lower the drag. And low drag means more fuel efficiency, which means greater range, which means shorter runways because you need to carry less fuel for the same trip, and, of course, means lower operating cost.
But jets still need to land, so they need to approach at the lowest reasonable airspeed, and that's not what those long, slender wings do best. So designers use enormous flaps that track aft to increase wing area tremendously. And those wing flaps extend to pretty extreme angles to increase wing camber. And on most jets wing leading edge devices extend to reshape the airfoil and allow it to produce more lift at lower airspeeds.
All of these devices add lift and reduce stall speed, but at the price of lots of drag. When a jet is configured for landing approach the high drag means airspeed can decay, and a high sink rate develop, very quickly. Combine the higher drag with the slower response from the jet engines, and the piston pilot will discover that energy management—that is to say, airspeed control—is more demanding on every approach.
Numbers Matter More
Any airplane performs best when operated at the target airspeeds, configurations and pitch attitude. But in jets, those numbers matter more than in piston airplane flying.
Establishing the critical numbers happens before every takeoff in a jet. You need to know the takeoff weight first. Then atmospheric conditions such as temperature, airport elevation, wind, runway slope and height of nearby obstructions must all be accounted for.
All of that information leads you to the manuals—thankfully today the manuals are automated—which determines how long your departure runway must be and what the airplane can weigh to clear any obstructions after the assumed engine failure on takeoff. The other critical numbers are indicated airspeed for V1 decision airspeed, Vr for rotation airspeed, and V2 for best engine-out climb gradient airspeed.
Knowing those numbers, and flying precisely to them, assures the jet will have enough pavement available to either abort and stop safely on the runway if an engine fails before V1 airspeed, or climb out clear of obstacles if an engine fails after V1 decision airspeed.
At lower altitudes jets can climb at most any airspeed, but up higher, particularly in the 35,000 to 40,000 feet and above region where jets deliver their best efficiency, very precise control of the target airspeed is essential to climb at all.
And, of course, in the terminal environment there is a minimum airspeed for every phase from clean wing to fully configured for landing.
The final approach airspeed, which is based on landing weight, is called Vref, and is the only airspeed I know of that has a zero tolerance below. Other operating airspeeds are typically plus or minus 10 knots. The rules on Vref are so strict that when flying at that airspeed bank angles are limited to 15 degrees maximum. And if surface winds are gusting, you add some or all of the gust value to create a new, higher Vref minimum approach airspeed.
Jets Don't Fly Themselves Off
Another important airspeed in jets is Vmcg, which stands for minimum engine-out ground control airspeed.
The reason Vmcg is critical is that an engine could fail before reaching Vr rotation airspeed, but faster than V1 decision speed on takeoff. That means the pilot must be able to keep the jet tracking straight with the engine failed until reaching Vr, the minimum safe airspeed to lift off.
To provide that directional control on the ground, jets sit on their landing gear at a neutral to nose-low angle so even though the airplane is moving fast, the wing isn't producing lift. Unlike a piston airplane, the jet won't get "light" on the gear and fly itself off the runway with little or no pull on the flight controls.
To lift off jets take a positive, and in some models very pronounced, pull back on the controls to raise the nose. And in jets with highly swept wings, it can take a few seconds of the airplane accelerating with its nose in the air to create the necessary lift to leave the runway.
It's also standard procedure in jets to set the flight director command bars to the target pitch angle for best climb gradient with one engine failed. If the worst happens, and an engine fails at a speed faster than V1 decision speed, the pilot it already pitching the proper nose-up angle.
Mach Effects
Finally, a difference piston airplane pilots never think about are the effects of Mach on their airplane. But jet pilots must be aware of Mach and what it can do to affect the handling qualities and performance of their airplane.
Though no civilian jets are now flying supersonically, at higher altitudes all jets experience the effects of Mach. The reason is that air flowing over the wings must accelerate, and though the airplane is moving through the air at a speed below Mach 1, the accelerated air over the wings reaches or exceeds that speed. Engineers call this phenomenon the "local airflow" and that speed is different over all parts of the jet.
When local airflow over the wing reaches sonic value it's called "critical Mach" and a shock wave over the wing is created. As the shock wave moves over the wing chord it can change the lifting and pitching characteristics of the wing, and not in good ways.
At altitudes near the certified ceiling of a jet the indicated airspeed—the airspeed a wing needs to produce lift—can approach a stall. At the same time Mach effects can be disrupting lift. This is called the "coffin corner" because if a pilot speeds up, Mach effects can make the airplane difficult or impossible to control. If he slows down, the wing can stall.
More recent jet designs have an expanded "coffin corner" that is many knots wide thanks to better aerodynamic understanding, but if a jet pilot attempts to climb too high for his aircraft weight, or the air temperature is too warm, it's still possible to blunder into a situation where the airplane is buffeting because it's flying to slow, or too fast, and in the real coffin corner, it's both too fast and too slow.
Could I Fly a Jet?
The answer is yes. You'll need a greater understanding the airplane's performance capabilities, and how its systems function and how to deal with system failures, than in piston airplanes. And you'll need to be more precise in your flying. Compared to piston airplanes, jets can change airspeed and altitude much more quickly. More precise management of attitude and power are required. Flying jets is an instrument procedure even on the clearest of days because only the flight instruments can provide the precision necessary for altitude, airspeed, and course control.
I hope you get the chance to fly a jet one day. Though not all pilots will find it to be more fun, I know everyone will find it to be more challenging, and probably more rewarding.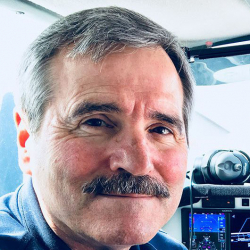 Latest posts by Mac McClellan
(see all)
https://airfactsjournal-images.s3.amazonaws.com/wp-content/uploads/2020/08/06144101/1024px-Gulfstream_G-400.jpg
683
1024
Mac McClellan
https://airfactsjournal-images.s3.amazonaws.com/wp-content/uploads/2021/04/06142440/Air-Facts-Logo340.jpg
Mac McClellan
2020-08-24 09:08:43
2020-08-19 17:17:57
What's different about flying jets