7

min read
Several years ago after the TBM, PC-12 and Piper Meridian were well-established as sales successes, I asked executives from each manufacturer if the worry about having only a single engine ever came up in discussion with prospects. Each answered no. And each had the same explanation. "People have already decided they are OK with only a single engine before they ever talk to us," they told me.
The people willing to own and fly a single-engine airplane have made a deal with the devil.
That deal does sort of involve eternal souls, as the motif implies, but more specifically puts everyone onboard the single-engine airplane at risk. Ask anybody you meet what happens when the only engine on an airplane fails and they all get the answer right. The airplane comes down.
People who fly singles are willing to take the risk of engine failure in exchange for lower costs, higher payloads, greater fuel efficiency and the other benefits that come from feeding only one engine. Their deal with the dark side is that the risk of total power loss is small enough that it almost certainly won't happen to them.
Such deals with the dark side are actually pretty common in everyday life. A glaring example is riding a motorcycle. The risk of traveling on a motorcycle versus a conventional vehicle are as obvious as the risk of flying a single. And many—even most—riders object to even the most basic risk management such as helmet requirements. Millions of people decide the risk of riding a motorcycle is worth it to them. And you can think of many, many other examples of trading risk for something more valued.
For decades anyone who flew as pilot or passenger made his or her own deal with the devil. The risks in flying were just inherent and unavoidable. The flying risks could be reduced, but still loomed large. Just run an inventory in your mind of all the celebrities, rock bands, and movie stars killed in airplane crashes in past years. And we only remember them because of their fame. Fatal crashes in all types of flying until sometime in the 1980s, or maybe 90s, could rightly be called "commonplace."
But that has all changed at the top of the aviation pyramid. When you fly on a major airline in an advanced country, or in a corporate airplane operated by a well-organized flight department, your risk of being killed is very close to zero. There has been no fatal crash of a U.S. jet airliner since 2001. The only major airline passenger killed during that period was aboard a Southwest Boeing 737 when flying shrapnel from an uncontained engine failure broke a cabin window and caused the injuries. The devil has lost his bargaining power at the top end of aviation.
Flying major airline or corporate jets has become so close to risk-free because technology advanced to the point where we no longer must trade risk for the speed of air travel. Airplanes and equipment became more reliable in all respects. More importantly technological advances make is possible to add layers of essential structure and equipment so that no single failure, or even foreseeable multiple failures, can prevent the airplane from reaching a runway.
Turbine engines are now so reliable that a failure is extremely rare. And in air commerce or business jet flying, every flight must be planned so that from takeoff to touchdown the loss of the most critical engine cannot prevent the takeoff and return to a runway from ending safely.
The primary structure of airline and corporate airplanes must now demonstrate that it is "damage tolerant." That means that the failure of any single element of the structure cannot prevent the flight from concluding safely. Spars, for example, have multiple elements any which of can carry limit load.
And in airline and corporate jet flying all crews must be trained and checked to standards unheard of decades ago. Absolutely realistic simulators are the basis for training so pilots experience and handle critical situations at least once a year even though they almost certainly will never experience such an emergency in flight.
For the past several decades very serious people from all disciplines of aviation have sat through countless meetings running endless "what if" scenarios. The goal is that no "what if" question can lead to loss of the airline or corporate aircraft more than once in a billion flights. Since no piece of machinery, electronics or structure can possibly meet that standard the certification and operational rules have been created to require multiple backups for everything necessary to continue flying after a failure.
I can hear some of you yelling at your screen, "What about Sully and Jeff Skiles? They couldn't continue flying after a failure."
You're right. But, has the loss of both engines in a transport category jet happened more frequently than once in a billion flights? Since I can't think of another episode, absent crew mismanagement of a failure, where all power was lost in a transport jet, I think the one in a billion goal was satisfied. Which makes the Miracle on the Hudson even more of a once-in-everyone's-lifetime event.
My point is that as an industry, an activity, we in aviation know how to take the devil out of flying. What is required is significantly higher cost and loss of convenience.
The cost of near total safety is obvious in the number of engines, systems and structural redundancy required. But less apparent are the necessary operational restrictions. For example, want to fly your "safe" airplane by yourself? Sorry. A single pilot comes up short on essential redundancy. Want to use that nearby but shorter runway airport? Nope. You must have enough pavement to safely abort or continue a takeoff after an engine failure at the worst possible moment. And you must certainly have enough runway with large margins for stopping on landing. Don't want to feed and maintain another engine "just in case?" Sorry. That also misses the maximum safety goal.
So for personal aviation to continue and deliver the convenience, and even recreation, many of us want, we must still make that deal with the devil. And I believe most pilots are aware of that risk tradeoff, and most make conscious choices of what risk to take and how to minimize all risks to the greatest extent possible.
I know this because at Flying magazine our reader surveys showed year after year that stories about safety, accident analysis, handling weather and all other forms of risk management always ranked at the top.
Cycle World magazine was also part of our company and the editors there had a very different experience. They ONCE ran a story on improving motorcycle riding safety and readers and the industry went nuts. Riders absolutely didn't want to hear about safety, or lack of it, or how to improve it. Each rider, apparently, had their own deal with the devil and it was their right to take on whatever risks they choose. Quite the opposite of the pilot community.
Airline and corporate flying has reached a level of safety none of us could have imagined even 30 years ago. As an industry, we know how to essentially eliminate fatal accidents. As pilots flying for our own reasons we can learn how the big boys did that, and adapt as many of the lessons as we can afford, or decide are worth the required tradeoffs. We still must make our own deal with the dark side to fly our own airplanes for our own reasons by ourselves, but I hope we are making the best and most informed deal we can.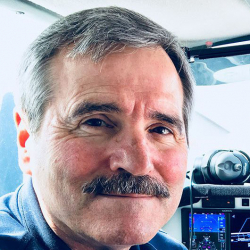 Latest posts by Mac McClellan
(see all)
https://media.airfactsjournal.com/wp-content/uploads/2019/08/06151257/1096px-American_Airlines_B767_27467686432.jpg
720
1096
Mac McClellan
https://airfactsjournal-images.s3.amazonaws.com/wp-content/uploads/2021/04/06142440/Air-Facts-Logo340.jpg
Mac McClellan
2019-08-14 09:45:23
2019-08-14 09:48:24
Pilots make a deal with the devil