9

min read
I learned to fly in a Piper Colt at tiny Concord Airpark east of Cleveland. It was nearly 50 years ago and in the more than 10,000 hours of flying all types of general aviation airplanes since these are the events that did much to shape my life in the air.
My first really good decision
Immediately after earning my private, I bought a sparkling white Cessna 140. Its gold trim stripe and big zooty aftermarket wheel pants made the little Cessna look modern, even though it was three years older than me.
With only a handful of hours of PIC in the logbook, you know the drill. Take everybody you know flying. Especially when you have your own airplane to show off.
My Uncle Fred wanted his name near the top of the passenger list. Fred was a big guy, somewhere north of six feet and 200 pounds. I was 6-2, but at that hard-to-remember age, weighed less than 175. No matter, it was a squeeze in the barely two-seat Cessna.
We met at Concord on a warm evening. The light breeze was from the north favoring runway 02, less than 2,200 feet long. And the narrow pavement sloped up at a 1.2 percent gradient. Not Rocky Mountain steep, but enough uphill to kill lots of the anemic acceleration generated by the mighty 85-hp Continental. And there were tall trees near the departure end of the runway.
Despite the takeoff performance challenges, I didn't want to disappoint one of my most enthusiastic would-be passengers. So Fred and I wedged in and I began the uphill takeoff roll.
Somewhere near midpoint on the runway I made an instant decision that there simply was no margin. I don't recall performing a complex critical analysis. The Cessna POH was a single, typed page of limitations and specs with no takeoff or other performance information at all. I didn't time the takeoff roll, or pick a "no-go" abort point on the runway. I just made the decision and yanked the power off.
The aborted takeoff became a legend for every extended family gathering. "Remember the time Uncle Fred was too fat to get off the ground? Ha-ha." But it was the best decision I made in my flying life and very well could have saved my life, not to mention Uncle Fred.
My worst decision
My instrument rating was brand new. Licensed to fly in the clouds. Expert at holding patterns and NDB approaches and all the stuff that seemed so critical to IFR flying safety. So what could a few clouds over western Pennsylvania in late summer do to me and the brand new Piper Turbo Arrow II I was lucky enough to have my hands on?
There was a chance of thunderstorms in the forecast, but that was a given for most days that time of the year. There were no live radar images to see in the FBO briefing room. Of course, there was no satellite weather in the cockpit nor airborne radar that would fit on a single. And Paul Ryan was just introducing his Stormscope, the first device that could give pilots of piston singles solid information that thunderstorms where around somewhere. But I didn't have a Stormscope yet.
At the time, controllers had almost no information on precipitation because their radar was designed to see through storms to find airplanes, not to depict the location of storms. At some facilities they would see either hash marks or Xs where the radar found heavy precip; that was pretty much a guess.
The air was clogged with the typical summer haze over the Alleghenies so my view of clouds, any clouds, was severely limited. My first hint that I had blundered into a convective cloud was when the airplane began to climb fast even though I was pushing the nose down and reducing power. That was before the rain came. Suddenly I felt like I was flying a submarine. I didn't know it could rain that hard.
But the true life threatening moment came when I flew from the thunderstorm updraft into the equally strong downdraft. In between was turbulence I could not have imagined. The Arrow had a roll-only autopilot and I kept it engaged so it was doing it's best to level the wings while I concentrated on managing pitch and power to keep the airspeed somewhere between stall and the top of the yellow.
I'm sure I sounded terrified calling the Center asking for vectors out of the storm. I remember an alarmed airline crew on the frequency pleading with the controllers to give me any kind of help.
The reality is everyone was helpless, including me during the periods of the most violent turbulence. Somehow I stayed sort of upright and the Piper's wings stayed attached and I flew out the back side of the storms.
It could have easily been a fatal mistake, and many pilots of that era didn't survive thunderstorm encounters. Nexrad and accurate weather depiction on controllers' radar has minimized the storm threat today, but that terrible mistake that I was fortunate enough to survive made me a better pilot, and one who has lived a much longer life.
A hotshot is humbled
By the time I began helicopter training I had an ATP, several jet type ratings, and because of my job at Flying Magazine had been able to fly nearly every business and general aviation airplane in recent production. I may not have been quite the Ace of the Base, but I was for sure the King of Clubs.
But that darn Hughes 300—the TH-55 in military training duty—punctured my pilot ego. I just couldn't learn to hover. More specifically I couldn't stop the tiny chopper from backing up. My instructors, who were active in the Army reserve and did things the Army way, were beginning to lose patience. Not to mention all admiration for my flying skills.
But after days of hovering all over the lot, mostly out of control, I realized what was wrong. To me, with lots of experience in airplanes, fear of being nose-low close to the ground was ingrained. Never ever hit nosewheel first. With those thousands of hours of airplane experience dominating my view of attitude I figured out that what to an airplane pilot looks like a level attitude when three feet above the ground is actually nose-up.
I got back in the Hughes and forced myself to shove the nose over to what looked to me like an alarming nose-down angle and that was really level. The helicopter stopped backing up in the hover.
With that "new" picture of level in mind, I managed to complete the training and earn the commercial rotorcraft rating. But not until my over-confidence in my natural flying ability had been forever dashed.
Flying 1,000 feet below sea level at 330 knots
Israel Aerospace Industries (IAI) teamed with Gulfstream to manufacture the midsize G150, and now the super midsize G280. Over the years I made several trips to Israel to fly the Gulfstreams when there were in development or ready to enter service.
All the pilots I met at IAI were also in the Israeli Air Force. Many, including the chief, Geva, were aces in the strict sense of the military term. Many will and should argue that there are pilots in the world as good as the Iraelis, but I don't think serious airman would claim to be better.
So Geva and I were feeling out the new G150 over the Mediterranean and had checked low speed handling, climb, high speed cruise and the stuff needed for a pilot report. And we had some time and fuel left. I told Geva I had always wanted to fly below sea level and the Dead Sea in Israel is the place to do it.
Geva changed radios to the long range HF system and began speaking only Hebrew. He was talking to the Israeli military that monitors every movement over or near the tiny country. And Hebrew was their way of encrypting conversation.
Geva told me to descend so I dropped to 3,000 feet over the water. He kept motioning me to go lower, and faster. We crossed the shoreline below 1,000 feet with the airspeed on the 330 knot Vmo redline. A few seconds after we crossed the shore Geva said "that was the Gaza Strip." Oh. I get it.
We hugged the desert until we popped over a ridge and the other worldly green-blue-red color of the Dead Sea appeared. Holding the 330 knots I descended watching the altimeter on the Collins Pro Line altimeter display unwind to zero, and then count down to minus 1,000 feet. I gave the controls to Geva because I wanted to absorb the once in a lifetime chance to see the ancient cliffs and water. After a few minutes, we popped back up to a normal altitude, called Tel Aviv controllers on the VHF and we were back in the normal world of flying. What an experience.
Becoming a Corporate Pilot
For more than 40 years I was the principal passenger, or at least one of them, every time I flew. The airplane was going wherever it was on my schedule for my reasons, nearly all of them involving work for the magazine. That's true for most general aviation pilots. That's why we call it personal aviation.
Now in my semi-retirement I've become a corporate pilot. Most of my flying is in a Beech King Air 350, but also some in Learjets and Citations. It has been eye-opening to view flying from the perspective of people who often don't enjoy it, many have actual fears, and all are going somewhere for work when they'd rather be home.
Except for the early and vital decision not to risk the life of Uncle Fred, my flying has almost all been on my terms. Now I must consider the passengers first. Not just their safety, which is obvious, but their comfort and anxiety.
Finding smooth air is now an obsession. I devote much effort to warming the airplane before boarding in the winter, or trying to keep it cool in the summer. I fill the coffee pot, stock the drinks, and straighten the seat belts. I reassure the concerned before takeoff, and during the flight if it turns bumpy. I make sure rental cars have been reserved and coordinate with passengers on return trip times.
It's been one great circle trip from hopping friends and family for rides right after that first license to now doing my best to stay on schedule with no compromise in safety or even comfort.
It's certainly better to be lucky than good, and I know more than anybody that I have been lucky. Along the way through so many flying events, I hope I have also become good enough.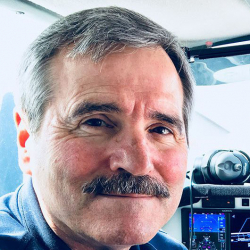 Latest posts by Mac McClellan
(see all)
https://airfactsjournal-images.s3.amazonaws.com/wp-content/uploads/2018/07/06155537/ae893448-f636-465c-9d4d-6db458d0ef0f.jpg
400
800
Mac McClellan
https://airfactsjournal-images.s3.amazonaws.com/wp-content/uploads/2021/04/06142440/Air-Facts-Logo340.jpg
Mac McClellan
2018-07-25 08:23:26
2018-08-03 08:24:27
5 events that shaped my flying life