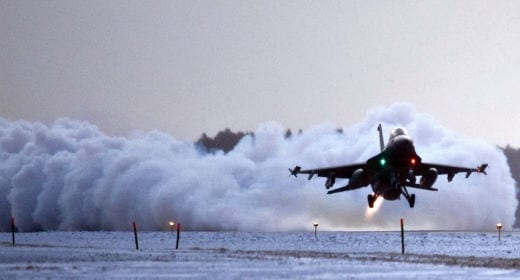 7

min read
In the late 50s, The USAF Strategic Air Command operated from the UK airfield at Fairford. As the Cold War progressed and new weaponry came on line, rationalisation took place and the USAF left – taking with them all their support equipment. What was left were some well maintained buildings and a runway 10,000 feet long that could take any aircraft operating in the world. But nothing else.
When the RAF's Central Flying School (CFS) "C" Flight moved from Rissington to Fairford it then operated from RAF Fairford which had no on-site navigation aids or snow clearing equipment.
This story is about how these disadvantages were overcome by some clever thinking by the officer in charge.
In the mid-60s, being on staff at the RAAF's Central Flying School at East Sale in Victoria (Australia) was a rewarding time. We trained qualified RAAF pilots to be instructors and at graduation the new instructors were either posted to RAAF Point Cook No.1 BFTS where they instructed ab-initio students in the Winjeel trainer; or posted to No. 2 AFTS at RAAF Base Pearce where student pilots were trained on the Vampire aircraft prior to getting their RAAF "Wings."
My instructional career became extended when I was posted on exchange duties to the RAF's Central Flying School at Little Rissington, UK – again on staff. Here we trained RAF pilots to be instructors on the Jet Provost and the more advanced Folland Gnat.
It was excellent experience for me and was my first overseas posting of many I enjoyed later in my career.
As in most aviation activities, we can always learn new skills and one I learnt from the RAF was how to handle weather conditions that are rare in Australia.
Morning weather briefings at 0800hrs sharp were routine and contained much the same information each day: "Visibility 2-3 miles; cloud base 300-400 feet and drizzle all day." Sometimes we had blowing snow.
The snow clearing equipment consisted of two Rolls Royce Derwent Jet Engines – ex-Gloster Meteor fighter engines and operated from the back of a truck which, although noisy at high "snow clearing" thrust, did the job admirably.
The recovery navigation aids at Little Rissington were basic: VHF Direction Finding (VDF) and Ground Controlled Precision Approach Radar (GCA) were always checked as serviceable each day as they were the only facilities available at Rissington. There was, however, a back up in the Provost and the Gnat. Both had a battery powered standby radio with fixed frequency on the UHF emergency frequency 243.0 Mhzs where we could call for a "triangulation" fix from Uxbridge and be vectored using DF techniques.
But in respect of ground based aids at Fairford, although the Gnat had Zero Reader (Flight Director), ILS and Marker Beacon receivers, there was only the GCA which would lose targets in heavy rain and particularly snow.
But the RAF did have TACAN – not only TACAN but it had an Offset Computer system in the Gnat where the pilot could dial any bearing and distance from a distant ground TACAN station and offset the "electronic overhead" to any point up to 999 miles.
All that was needed was to have a TACAN lock on any station within range of the aircraft.
So it was normal practice when, prior to takeoff, we would set the bearing and distance from a host station; the closest for Fairford being Upper Heyford, 26 miles away, and then zero the electrical overhead to the runway threshold.
This technique saved us many times when the GCA would lose the target aircraft and the crew would be left to their own devices.
However, what we didn't have was any snow-clearance equipment.
The Gnat had a drag-chute system so stopping in 10,000 feet was no real problem providing the runway was clear of ice and snow and the inordinately low crosswind limit of five knots was not exceeded. If we were forced to land on snow, it became a real test of skill to maintain directional control particularly with the Gnat's fuselage mounted undercarriage and wheel braking became hazardous to say the least.
We had stopped flying for some weeks due to the snow coverage and were well behind on graduating the current instructor's course when the Flight Commander – a very experienced instructor and former fighter pilot, made a startling suggestion to me.
I didn't realise how startling until I undertook the mission he asked me to do.
"Rissington uses two Derwents for their snow-clearing and they are only each 3,500 lbs of thrust. We have one Bristol Siddeley Orpheus in the Gnat with 4,000 lbs of thrust and that should be enough to do the same," he said. "So why don't we use that and burn our own runway clear."
Sounded OK to me and to this day I admire his confidence in giving me the job as the exchange "antipodean" as we Australians were often joked about.
So I taxied to the threshold following a "Follow Me" jeep as I could not see the taxiway. Meanwhile my Flight Commander went to the tower to watch. Maybe he expected a spectacle – but as it happened he gave me good advice and by all accounts he got a spectacle too!
Although I had operated the Jet Provost in my first winter in the UK, there was nowhere near the snow coverage we recently had and so a surprise was there for me as soon as I took off and turned downwind.
When doing closed circuits in the Gnat the downwind speed was 200 kts and one judged the distance and base turning point by the "black" runway normally easily seen.
Not so now.
All I could see was a complete whiteout with no surface features but glaring glistening snow. I was unable to even see my own takeoff run so I was not too thrilled about getting too far away from the runway, wherever it was?
The in-flight visibility was good so I did the normal procedure and I tracked to the TACAN threshold where I managed to find a faint black streak about six feet wide but only about 1,500 feet long.
The plan was to do touch-and-goes so I went around again to position for the first of many I had to do if I was to return to Fairford that day.
I recall being very circumspect about raising and lowering the undercarriage each circuit and decided to leave it down for fear of getting out "of synch" and forgetting to lower it.
I was in a quandary as to what to attack first: the length of the "black" or the "width." I decided the length was more important so I progressively made each touchdown further down the runway from the near threshold. This had its own difficulty as it was hard to judge just where the far end of the runway was located.
But advice was again good and forthcoming. "Why not make the touchdowns flapless and do a dumbbell each end and work towards the middle; and the flapless will get the tailpipe closer to the snow" said my Flight Commander, comfortable in his cosy control tower.
"Great. So now where is the far threshold?"
But as it turned out it was good advice. I managed to guess it OK by doing a run up the runway and noting the TACAN offset from the threshold I knew and so commenced the "dumbbells."
Hilarious exclamations from the tower as I did the first flapless touch and go.
"That's much better – you should see the massive snow shower you're making. Well done to the RAAF. Keep at it. Remember you need to join up both ends before you come back."
Well, I think I did join both ends, but it was only six or ten feet wide but we managed to operate on that little "black" strip for the rest of the winter without incident; and certainly, it made us all very, very, conscious of staying in the centre of the runway – at all times.
I now look back on the exercise which was great fun but it gave me a new meaning to the phrase: point of no return. I reached that on my first takeoff that day; I needed to find and clear that runway or else!
Latest posts by Maurie Baston
(see all)
https://airfactsjournal-images.s3.amazonaws.com/wp-content/uploads/2014/12/06172627/AF-snow-runway-feature.jpg
280
520
Maurie Baston
https://airfactsjournal-images.s3.amazonaws.com/wp-content/uploads/2021/04/06142440/Air-Facts-Logo340.jpg
Maurie Baston
2014-12-03 10:54:47
2017-09-06 12:38:26
Shifting snow and the point of no return