5

min read
You're pointed away from the destination airport on some controller's vector and you are sweating the near-empty fuel gauges. You can't be certain when you're going to be turned toward the airport and how long it will take to get there.
As a last resort you tell the controller you are minimum fuel and need priority to the runway. Did you violate FAR 91.167, the rule that sets the requirements for minimum fuel when flying under IFR?
The only certain answer is "maybe." The reason is that the FAR describes required flight planning, not the actual amount of fuel in the tanks. If you made a credible flight plan and fueled the airplane accordingly, but some unforeseen event caused you to run short of fuel, you may not have violated the rules.
Even more confusing is the title of FAR 91.167, which is "Fuel requirements for flight in IFR conditions." Look at FAR 1.1 definitions and it says "IFR conditions" are weather conditions below VFR minimums. If you're flying on an IFR clearance in VFR conditions do the minimum IFR fuel requirements apply? Or is it the lesser minimums for VFR fuel under rule 91.151? I don't know. And that's why if you make it to a runway without losing power from fuel exhaustion you may not have violated any FAR.
Another potentially confusing component of the minimum fuel requirements in the FARs is the definition of the quantity of fuel required. For both VFR and IFR flight planning the reserve fuel is expressed enough fuel to fly for either 30 or 45 minutes at "normal cruising speed."
What the heck is "normal cruising speed?" Most airplane flight manuals or pilot operating handbooks show true airspeed and fuel flow per hour for three cruising conditions—normal, long range, and high speed.
Sounds simple enough. Look at the chart labeled normal cruise, multiply the hourly fuel flow by .75, and that's the FAR required reserve fuel amount. But that chart will show cruise and fuel burn at a range of altitudes across the airplane's operating envelope. And the airspeeds and fuel burns will be dramatically different at various altitudes. That's particularly true for turbine-powered airplanes where fuel flow can easily be double, triple, and more when flying at 3,000 feet instead of a typical cruise altitude far up in the flight levels.
If you want to fly by the rules you could legally plan a flight with a reserve that represents just 45 minutes of fuel burn at an optimum normal cruise altitude as reserve. Legal, yes, but that makes no sense.
The intent of reserve fuel is to accommodate the unexpected. A wrong forecast for winds aloft en route can make hash of any flight plan. So can an unexpected and longer routing clearance from ATC. Unfavorable altitude assignments, particularly in turbine flying, can also burn up extra fuel at a furious pace.
Then there is always the possibility of air traffic and airport system failures. If an airplane slides to the edge of the runway at your destination and wipes out the gear it's going to take a long time to clear it. This time of the year over much of the country snow removal activity can close an airport for an extended and impossible to predict time. And there is always the possibility of equipment outages in the ATC system that create considerable delay.
That happened to me not long ago on a trip into Bozeman, Montana. While we were still about a half hour out, Big Sky Approach Control lost its radar. That meant airplanes had to be separated "manually" in the terminal area. So we sat in a hold at an initial approach fix for nearly 40 minutes, waiting our turn for the approach. The weather was well above minimums, but until the tower had the arriving airplane in sight, the next airplane couldn't be cleared for the approach. That would have been a real crisis if only the legal 45 minutes of fuel had remained at the destination.
The best news is that the computerized flight planning services—supported by really terrific improvement in winds aloft forecast accuracy over the last 20 or 30 years—has made precise fuel planning a snap.
My favorite flight planner is fltplan.com. Many swear by ForeFlight. Over the years flying a variety of airplanes I've found fltplan.com to be uncanny in its precision. It is a big surprise if fltplan misses time en route by five minutes on a three hour trip. And fuel burn predictions are reliably within a few pounds.
But fltplan plans by the rules. It calculates fuel burn based on route, cruise altitude and winds forecast. It does the same to plan fuel requirement to fly to the destination, and then the fuel needed to fly to the filed alternate airport. And then it adds in the amount of taxi fuel you have specified and calculates 45 minutes of fuel burn at your selected cruise altitude and power as the FAR-required reserve fuel amount at the destination or alternate airport.
Fltplan shows this fuel total as "minimum dispatch fuel," and the emphasis is on minimum. It's the least legal fuel you can depart with based on the considerations of winds and routing. And that's the starting point.
For example, in the King Air 350i that I fly, fltplan calculated a reserve of 512 pounds for one trip, and 441 pounds for another leg on the same day. The difference was created by planning a higher cruise altitude on the second leg, where fuel flow would be lower at normal cruise. So fltplan did the "legal" calculation and included 45 minutes of fuel at the higher altitude where I planned "normal cruise."
The real fuel load I want includes a fixed reserve, not the "legal" amount. My real reserve is one hour of fuel at a realistic cruise fuel burn. In the King Air 350 that's 750 pounds of fuel. And even that number is not truly fixed in my planning because doubts about weather forecasts, or bizarre routing that you can get in busy airspace, or unfavorable altitudes along many routes, add to my reserve.
It's tempting to think the FARs found in Part 91 are conservative, even safe, but they are really bare minimums in many instances. And fuel reserve planning is one of those.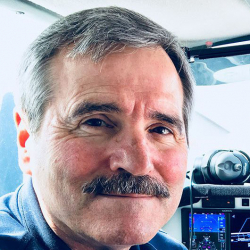 Latest posts by Mac McClellan
(see all)
https://airfactsjournal-images.s3.amazonaws.com/wp-content/uploads/2021/02/06142943/Cirrus-engine-page.jpg
928
1254
Mac McClellan
https://airfactsjournal-images.s3.amazonaws.com/wp-content/uploads/2021/04/06142440/Air-Facts-Logo340.jpg
Mac McClellan
2021-02-15 09:14:59
2021-02-11 15:03:35
Fuel Reserve Requirements—the FARs Aren't Much Help