7

min read
You're flying in visible moisture with the air temperature below freezing and you notice something building up on the leading edge of the wings. Is that airframe icing?
What you see collecting on the wing leading edges in a cold cloud could be airframe icing, or it could be snow. Icing is bad, maybe very bad, but snow isn't much of a problem. How do you know the difference?
What's the difference between snow and ice on the wing?
Airframe icing, as I'm sure we all know, is created by super cooled moisture freezing as it strikes the airframe.
Super cooled sounds like an exotic term, but in this case "super" only means superior. In other words, "superior" to normal freezing, which happens at 0C or 32F. Super cooled moisture has been transported from above freezing air into below freezing air while remaining liquid, or at least not totally frozen.
Snow is frozen moisture. Snow can form as large or small flakes, even pellets, but by definition the moisture in snow is frozen.
How does airframe icing accumulate?
Generally speaking, super cooled moisture remains unfrozen in cold air because of surface tension on the moisture droplet. Under unusual conditions, much larger than normal super cooled drops can exist. This very dangerous condition is labeled on icing forecast maps as SLD for super cooled large drops.
What causes airframe icing to form is the impact of the super cooled droplet with the airframe disturbing the surface tension of the droplet. If the droplets are very small, the ice will form in rough layers called rime ice.
Rime ice does form on surface objects, such as trees or parked cars, as well as airplanes in flight. If the air and a surface, such as a tree branch, are both below freezing, super cooled droplets can freeze on the surface. Rime ice can build in thickness quickly because the freezing droplets pile up on each other in a rough layer.
The other broad category of airframe icing is clear ice, which is formed by larger droplets than cause rime icing. For clear ice to form, the super cooled droplet needs to be large enough for the liquid water to spread out before freezing solid. As the moisture in the droplets spread out and run back from the leading edge, clear ice is formed in a smooth, hard layer.
The third category of airframe icing—and the most common—is mixed icing. Mixed icing is simply a combination of clear and rime. With mixed icing there will be the rough, milky-colored rime, but also areas of clear, hard icing.
How does snow accumulate on the leading edge?
Because snow is frozen, it doesn't stick to the airframe. Snow blows across the moving airplane just as it does across your car, or your driveway. The airframe is cold, below freezing, and so is the snow, so no melting or general adhering occurs.
But there is one important exception. And that is along the leading edges of your wings, and tail, and maybe the corners of the windshield. There snow can stick and form a line that you may think is airframe icing. But it's not.
Snow sticking to the leading edge is sometimes called "impact snow" because those flakes have impacted the leading edge. That's caused by the stagnation point.
Airflow over the wings and tail, logically enough, divides at the leading edges. But there is a small zone called the stagnation point where a small amount of the airflow impacts the leading edge instead of flowing over or under the surface.
As an aside, it is the existence of the stagnation point that allowed the brilliant Leonard Greene, founder of Safe Flight Instruments, to create the leading edge lift detector vane that is the stall warning system in hundreds of thousands of airplanes. In the 1940s, Greene realized the stagnation point on the leading edge moved up and down in direct correlation with angle of attack. His vane moves up and down with the stagnation point and sounds the alert when AOA nears the stalling angle.
It is along the stagnation point—really a small zone—that some snow flakes impact the leading edge and stick because of impact. The snow flakes can pile up to form a thin ridge that, at first, may look like airframe icing. In many airplanes there are other areas on the airframe, often on corners of the windshield, where there is a stagnation point and snow can stick.
Is it snow or airframe icing?
One sign of impact snow is color. The strip of snow will be white. That is particularly noticeable in airplanes with dark colored leading edges. Airframe icing will be either rough and milky colored if rime, or clear and smooth if clear icing.
Another way to know if you're seeing snow or icing build up is to look at some visible small protrusion on the airframe. If you can see your OAT temperature probe, for example. Or the glare shields that many airplanes have to prevent the strobes and nav lights from reflecting back toward the cockpit.
A small object is an excellent icing accumulator, but not good at collecting impact snow. If you can see some small object and it's not showing buildup, you're looking at impact snow on the leading edges.
Will impact snow change to airframe icing?
Icing forecasts and airmets are particularly useless because if there is cold air and moisture, icing is always possible. So a forecast of a "chance" of icing is both accurate and useless.
If you've flown much IFR you have experienced a takeoff in rain followed by a climb into below freezing air and snow without any airframe ice at all during the liquid-to-frozen moisture transition. That seems impossible, but it's really pretty common. The reason is the absence of a force to quickly lift liquid moisture into cold air without freezing it into snow.
Convective activity is a good lifting force to carry liquid moisture into cold air to create the threat of icing. You don't need a thunderstorm to have enough convection to do the job. If the clouds are bumpy and look billowy before you fly into them, icing is probably more likely than snow.
There are also mechanical lifting forces, such as wind blowing over mountain ridges, that can carry liquid droplets up into below freezing air.
Another factor to consider—and this was a Richard Collins favorite—is the source of the moisture that is making the clouds. If you are flying ahead of a front, or on the south side of a low pressure system, the moisture is being recently ingested and could still be liquid. Behind the front the cold air has had time to freeze the moisture. To the north of a low the moisture has traveled a long way around the counterclockwise circulation and has had plenty of time to freeze.
Though airframe ice can form at any temperature below freezing, it's uncommon at temperatures significantly below freezing. If it's cold outside, and you see snowflakes whizzing past, you can be pretty sure that white stripe on the leading edge is impact snow, not ice.
And when it's impact snow, it's not a threat. The dynamics of the stagnation point will limit the size of the snow accumulation so it's not a threat to disrupt airflow changing the performance of the airfoil or adding significant drag.
A white stripe on the leading edge will be alarming in a cold cloud, but before you head for the exits decide if it's icing that requires immediate change in altitude or course, or impact snow that won't matter at all.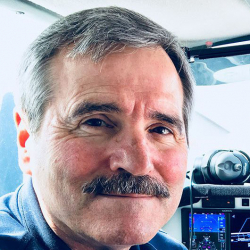 Latest posts by Mac McClellan
(see all)
https://media.airfactsjournal.com/wp-content/uploads/2020/12/06143438/Citation-wing-with-snow.jpg
1006
1400
Mac McClellan
https://airfactsjournal-images.s3.amazonaws.com/wp-content/uploads/2021/04/06142440/Air-Facts-Logo340.jpg
Mac McClellan
2020-12-14 09:27:40
2020-12-14 10:26:26
Is that airframe icing or snow?