7

min read
I spent most of my career flying out of Westchester County Airport (HPN) in New York. The airport is perched 439 feet above Long Island Sound, so fog and low visibility are common. HPN is always the first airport in the New York area to crump when low weather moves in.
When the runway visual range (RVR) is low, HPN ground control starts asking departing pilots what their takeoff visibility minimums are. The reason is so they can stack the taxiway with the crews having lowest takeoff minimums first. So the pilot with the 600 foot RVR requirement goes to the head of the line and is cleared to takeoff as soon as the RVR reports that value while pilots with higher visibility requirements wait in line for improvement.
What Are Takeoff Visibility Minimums?
Takeoff minimums depend on the rules you are flying under. Operating certificates required for airlines and others who fly for hire will specify takeoff minimums, often for each airport or runway. Other certificate holders may have general takeoff minimums the apply broadly. If you fly for your own reasons under FAR Part 91 takeoff minimums are up to you, though most corporate flight departments set departure minimums as part of their standard operating procedures (SOP).
But, you say, charts sometimes show takeoff visibility minimums. True, but FAR 91.175 that addresses takeoff minimums only applies to operations for hire. The rule is silent on what is sufficient visibility for a not-for-hire departure. It's up to us who fly for personal and business reasons.
The lowest routinely used takeoff visibility minimum is 600 feet RVR, which is about one-tenth of a mile. Pretty low. It's the lowest visibility typically used in simulator training for taxi and takeoff practice.
If no takeoff minimum is listed for an airport or runway then "standard" minimums apply to those flying for hire. For single and twin engine airplanes the standard departure visibility minimum is one mile.
Many pilots flying under Part 91 believe using the approach and landing minimum visibility as a takeoff minimum makes sense. The logic is that if you need to return immediately, for whatever reason, you can expect to successfully make the instrument approach back into the departure airport.
Many general aviation airports lack weather reporting so it's impossible to precisely know the prevailing visibility, much less RVR. Experienced pilots I know have developed their own minimums such as being able to see the end of the runway. Or see some object at a known distance from the runway. Or even some want to be able to see a set number of runway edge lights before they go.
What Are The Risks?
The big risk that jumps to mind is engine failure during a low visibility takeoff. And that would be a critical situation. But the accident record shows that is an extremely rare event. Given that engine failure itself is uncommon, and that low viz takeoffs are infrequent, the odds of an engine failure during the seconds or couple minutes of a low viz takeoff are very long.
The very real risk—confirmed by the accident record—in making a low viz takeoff is loss of control. Obviously, you need to see far enough ahead to steer the airplane down the runway while accelerating to rotation airspeed. Departing the edge of the runway will be bad, but more likely survivable than loss of control in flight after liftoff.
Transitioning instantly from looking out the windshield to maintain centerline during the takeoff roll to flying only on instruments as the airplane rotates is one of the most demanding tasks in IFR flying. And our natural balance and sensing system makes it much more difficult.
The somatogravic illusion created by our inner ear balance system makes acceleration feel like a climb. Lifting off into the fog will bring on this powerful sensation, making any pilot believe the nose is pointing higher and higher. The pilot who can't suppress this illusion and believe only the flight instruments will sink back into the ground believing for all the world that the airplane is pitching up into a stall.
Our sensory system is constantly feeding us misleading information while flying on instruments, but it's the instant transition from the visual world necessary to maintain centerline on the takeoff roll to solid instrument flying that is the big challenge.
How To Minimize Risk
The most critical risk mitigator for a low visibility takeoff is to be a competent and confident instrument pilot. The confident component is really vital. Making a low visibility departure is no time to be wondering if your skill is up to the task.
Another critical risk element is the takeoff runway. How wide is it? How bright are the paint markings? Are the lights bright and closely spaced? If you can't see to stay on the runway until rotation the best instrument flying skills won't matter.
Is the airport controlled, or at least secured? Many GA airports have little control to vehicle access so can't you be sure some pilot isn't driving to his hangar down that foggy runway. Or that another pilot hasn't announced his intentions to enter or cross an uncontrolled runway. And then there is always the chance wildlife is hidden in the murk ahead. Are the fences at the airport high and secure? An operating control tower can't prevent all runway incursions on a foggy day, but it sure is a huge help.
Do you have a flight director? In larger airplanes no pilot takes off under any weather conditions without the flight director command set to the initial rotation and climb pitch target. Under the high workload of takeoff, the flight director command bars give you a single point to check in your scan. If the pitch attitude is in the bars the airspeed will be within target range and you will be climbing, no matter the lies your sensor system is telling you. I just wouldn't make a low visibility takeoff without a functioning and capable flight director.
What About A Single Engine?
When you fly single engine airplanes IFR or at night you have already accepted a degree of risk to reap the reward of much lower costs and availability a single provides. Does making a low visibility change that risk much? I don't think so.
Unless you fly IFR only with good daylight VFR below you, loss of power in a single while in the clouds will require some luck to survive the forced landing. Your opportunity to try to maneuver at the last minute to find a more hospitable landing spot is quite limited even with a mile or two of visibility.
If you make a low visibility takeoff, other than the immediate risks of loss of control on the roll, or shortly after liftoff, I don't see any added risks compared to making an IFR departure with standard takeoff minimums. You'll be in or on top of the clouds after the low viz departure, which is no different than if you departed with a mile visibility. En route the viz and ceiling will undoubtedly be different than the departure airport, so that's another discussion independent of the low viz takeoff risk.
Having an alternate airport with weather above approach minimums within reasonable range makes complete sense for multi-engine airplanes. For the single-engine pilot the alternate is important, because you could have conditions other than power loss that require diversion. But your alternate planning for a low viz departure is really no different than what you're comfortable with for any IFR flight.
As I see it, the low viz takeoff is no more risky than any other flight in instrument conditions if you are confident you can see enough to stay on the runway until liftoff, that the airport environment is reasonably secure so there's no obstruction on the runway, and that you can instantly transition to very hard instrument flying.
Those are all big ifs. And the rules for those flying for their own reasons allow us to come up with our own answers to the risk questions.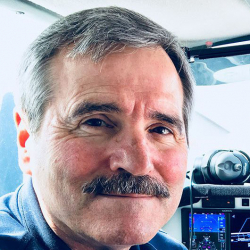 Latest posts by Mac McClellan
(see all)
https://media.airfactsjournal.com/wp-content/uploads/2014/09/06172924/foggy-runway-centerline.jpg
600
800
Mac McClellan
https://airfactsjournal-images.s3.amazonaws.com/wp-content/uploads/2021/04/06142440/Air-Facts-Logo340.jpg
Mac McClellan
2020-11-16 09:31:09
2020-11-10 15:34:30
Low Visibility Takeoffs: How Low Is Too Low?