4

min read
Both of our kids were in the backseat of our Mooney 201 headed off to visit one grandmother or the other before they were two weeks old. Stancie and I never really gave it a second thought. Traveling in our own airplane, always IFR, and in most any kind of weather, is how we got around.
But that was 40 years ago. And much has changed—actually, almost everything has changed—when it comes to risk assessment for young children.
Back then, we, and essentially all new parents we knew, didn't strap infants in car seats. When they were a little bigger we did put them in car seats, but horror of horrors, faced the car seats forward. And we even often put the kid's car seat in the front passenger seat. Easier to reach them there.
I can't remember our kids ever wearing a helmet for any reason. I built them a playhouse with a top floor eight feet off the ground. They learned to drive at 16. We even bought them a beater of a car to knowing they would bend whatever they drove. The only "safety" gear I recall them using was a mouthguard to play field hockey.
Now we have very young grandchildren. They still can't ride in a car seat facing forward. They wear helmets just to walk, not to mention riding a scooter or a swing. Many states have raised minimum driving age to, well, I don't know, somewhere north of 35.
If you're a grandparent, you know all of this. We never say anything to discourage the risk abatement activity that is now expected of any responsible parent. And our kids wouldn't listen to us on the topic anyway. Sometimes conversation with the kids turns to the days when they were young and how they all survived to adulthood despite the risky behavior we engaged in and allowed for them.
All of this raises the question for me: should we take our grandchildren flying in a general aviation airplane?
We readers of Air Facts fly GA aircraft of all sorts. But, I hope you know and accept that flying a piston airplane is simply more risky than flying in a transport category airplane operated by a professional crew. And it's also substantially more risky than traveling by automobile. Taking on that risk to fly ourselves for our own reasons is rational for me, and for Stancie, and for all the active GA pilots I know. But is it a risk your kids understand and want to accept for their new children, your grandchildren?
I suspect you're a lot like me and resent being told by some authority what risks are acceptable for your personal safety. But I also assume you are hesitant, and probably even refuse, to put others at risk that you find to be acceptable but they might not fully comprehend.
An example of that attitude that comes to my mind is discussing weather with another pilot. I know what conditions I find acceptable for that day and that I believe are within the capability of the airplane I'm flying. But when the other pilot asks if he should take off, I hesitate. Actually, I waffle and really give no definitive answer or advice. I don't want to assume risk for him, or encourage him to accept risk for himself he may not want.
And that's where I come down so far on taking the grandkids flying. I haven't. Nor have I discussed it with their parents. Such a frank discussion would require explaining that in GA piston airplanes there are a number of possible failures that could cause a forced landing. And most forced landings are survivable, but so are most car crashes, even when the child is not in a car seat.
There's also the issue that many of us gramps and grannies are in our 70s and the odds of something going wrong with us have increased since our kids were little.
Bottom line is, how could I ever live with myself, or have loved ones live with my memory, if taking a grandchild flying ended in tragedy?
I have no answer as to whether you should take your grandkids flying or not. I just hope the risks are something you and their parents discuss and understand before buckling the kid into the rear-facing car seat for the drive to the airport. For better, or maybe worse, it's not 1980 anymore.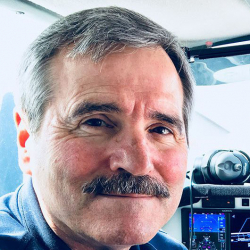 Latest posts by Mac McClellan
(see all)
https://airfactsjournal-images.s3.amazonaws.com/wp-content/uploads/2018/08/06155306/5-Year-Old-Flying-crop.jpg
511
800
Mac McClellan
https://airfactsjournal-images.s3.amazonaws.com/wp-content/uploads/2021/04/06142440/Air-Facts-Logo340.jpg
Mac McClellan
2020-10-05 09:14:14
2020-09-30 17:25:45
Should you take your grandchildren flying?