8

min read
If you want to win a bar bet among your pilot friends, ask them to show you the FAR that requires you to have charts in your general aviation airplane.
After some fumbling around on the FAA site on the web, one pilot will probably declare the rule is FAR 91.503 which says, "The pilot in command of an airplane shall ensure that the following flying equipment and aeronautical charts and data, in current and appropriate form, are accessible for each flight at the pilot station."
Seems crystal clear, right? But before you pay off ask your friend to read the title of the FAR subpart that contains rule 91.503. It's Subpart F, and it says right at the top this part applies to large (more than 12,500 pounds max takeoff weight) and turbine-powered airplanes. Your Bonanza, or Skyhawk, or any other airplane most of us consider to be in the GA category, are not governed by FAR 91 Subpart F. Ask him to pay up.
So why, for all of our flying lives, have we been told that charts are required? And most pilots will say that it's a rule violation to have outdated charts in the cockpit. Probably because having current charts used to make total sense, even though the rules don't specifically require any type of chart—current or otherwise—to be onboard a GA airplane.
In reality the FAA was clairvoyant when writing FAR part 91, the rules that govern private flying. The rule that would have until not long ago required you to have charts onboard is FAR 91.103, the preflight rule.
The opening line of FAR 91.103 says "Each pilot in command shall, before beginning a flight, become familiar with ALL INFORMATION (emphasis mine) concerning that flight."
That's an impossible rule to follow completely because how can anybody know what all information is? But such a rule would certainly require the pilot to be familiar with information contained on aeronautical charts.
But FAR 91.103 doesn't use the word chart, as rule 91.503 does for pilots of large airplanes. So what's required when we fly GA airplanes is to be familiar with the information contained on a chart, not necessarily the chart itself. And what has changed is that we can now get all the necessary data that is presented on a paper chart by other means, especially via electronic storage and display.
For many of us, that necessary navigation and other essential data is stored in the airplane avionics system. And for any pilot the data is available on portable consumer electronics such as an iPad. Those electronic data are as accurate and complete as any printed chart, and are almost certainly more current because it's quicker and easier and cheaper to update an electronic database than to get ahold of a paper chart.
Why this is important is because a paper chart has been merely the best method available to present the information we need to safely navigate. The paper chart evolved and improved over the years as chart makers devised better ways to highlight most critical information, color code some data to make it more prominent, and in other ways allow pilots to absorb and interpret the data printed on the chart.
But printing and paper have limitations that electronic displays don't. A high resolution flat panel display can show information in any format and in any color. And best of all, the electronic display can be animated so we see our position and track rather than having to imagine it, or track it with our finger on a paper chart.
When electronic displays first began to find their way into the cockpit, they showed little more than TV pictures of a paper chart. That was a good start. Looking at the familiar paper chart format on an electronic display made it easier to transition, and made it simple for avionics and software creators to present.
I remember when the first displays that actually showed the position of your airplane moving over an instrument approach chart appeared. It was like magic. There you were seeing your airplane move across the chart with no need to visualize your actual position. It was right there.
But before too long it became obvious to many that looking at an electronic version of a paper approach chart was actually distracting. The paper chart format is cluttered because it must show all details while the optimized electronic moving map display need only present what is pertinent for your actual situation.
For example, the avionics in the King Air 350i I fly can window the multifunction display to show both a replica of the paper approach chart and an optimized electronic moving map display at the same time. Sounds good and useful, right?
But how about this? You're flying an instrument approach to Runway 18. The normal MFD moving map display with all of the guidance and, thanks to TAWS and synthetic vision, showing all nearby terrain and obstructions, shows you moving ahead as though your were looking out the windshield. This is called "track up" display and is the most logical way to look at a map of any kind. Remember when we were taught to hold the sectional chart on our lap folded so the desired course pointed forward? It helps make sense of the situation.
With the approach chart for the Runway 18 displayed, the little airplane symbol will be moving down, toward the bottom of the screen, because charts by nature are displayed "north up." On one display you can see your progress on the approach with the airplane symbol moving forward on the electronic moving map while right beside it the airplane symbol moves down over the printed chart format. Seeing your airplane moving in opposite directions on the same display is one heck of a way to confuse your situational awareness. So the little airplane moving over the traditional chart picture is really a distraction compared to the electronic moving map.
The image of the traditional chart is also very cluttered because it must contain a mountain of data that is no longer necessary for the pilot to read and then enter into the avionics. For example, any approved navigation system retrieves the course, nav frequency and other essential data from its stored database so there is no need to read it from a chart. In fact, the pilot can't manually set a course for most approaches even if he for some reason wanted to.
It's the same for altitude restrictions during a procedure. The electronic display looks up the pertinent altitudes and presents them, usually in a color that indicates their status during the procedure. A paper chart, or image of a paper chart, can't do that, and usually contains many altitudes that don't apply to the actual procedure you are flying.
Electronic en route charts are equally decluttered. Gone from the normal view are the bearings and frequencies and altitudes of the paper chart. The nav system guides you from point to point along the route so why do we need the magnetic course between those points? We don't. And the system is capable enough of showing critical altitudes if you're too low.
Avionics makers and nav data suppliers such as ForeFlight are making steady progress in enhancing the way we can see essential data. The picture becomes more clear and easier to absorb with each improvement.
I've flown with a number of pilots who call up the electronic display of a traditional chart "to check the accuracy of the data" that is automatically loaded from the nav system database. I point out that the data used to make the traditional chart is exactly the same data stored in the nav system. It all comes from the same suppliers so "checking" one against the other is like comparing two copies of the same dictionary for spelling accuracy.
The one electronic data presentation hurdle remaining is display of minimum visibility and minimum descent altitude requirements on approach charts. Minimums are complex because they can be different for categories of airplanes as defined by approach speed, availability of a local altimeter setting, whether it's night or day, and other factors. So far I haven't flown with an electronic nav display that shows the approach minimums details without looking at the electronic version of the printed chart. And that's the only reason I still even look at the image of the printed approach chart, to find the minimums. But I'm confident a better way to electronically present minimums requirements is coming in the near future.
I still see student pilots drawing course lines on paper sectional charts, and fumbling with an E6B computer to calculate a magnetic heading to fly on their cross country. And I wonder why.
I know I won't live long enough to see the sectional chart disappear from primary training because aviation—particularly the CFIs and examiner corps—resist change with such vigor. But I also know that as soon as the student pilot escapes the clutches of the CFI they can toss the paper charts and fly in the real world where essential data is electronically presented in an infinitely more useful and ultimately safer way.
Thanks, FAA, for leaving the word chart out of the FARs that govern GA flying. Progress can continue without an unnecessary and cumbersome rules change. Now if more of us could just win that bar bet and convince pilots that electronic data meets the rules and it's the data, not the chart, we need for safe flying.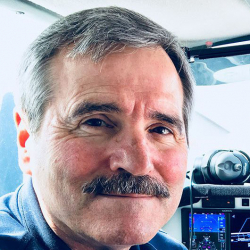 Latest posts by Mac McClellan
(see all)
https://media.airfactsjournal.com/wp-content/uploads/2016/09/06165904/sectional-charts.jpg
594
800
Mac McClellan
https://airfactsjournal-images.s3.amazonaws.com/wp-content/uploads/2021/04/06142440/Air-Facts-Logo340.jpg
Mac McClellan
2019-12-09 08:57:48
2019-12-09 10:09:54
Who Needs Charts? Under the Rules You Probably Don't