5

min read
The ATC frequencies are still pretty quiet. It's easy to get direct routings and weather deviations most of the time. And FBO ramps are not often crowded.
But corporate and charter flying are back. In fact, many charter, membership and fractional ownership aircraft operators are reporting record interest, mostly from first time private flyers.
The coronavirus is making private flying look ever more appealing as the airlines cut flights and many pack people into nearly every middle seat. Not to mention the airline terminal experience.
In fact, my company, a tier one automotive component supplier with facilities across the US, in Europe and Asia, still has a ban on airline travel. But we've been flying people who need to go domestically for the past two months.
The auto industry was among the first large scale manufacturing operations to resume after widespread lockdowns across most of the country. The automotive OEMs negotiated procedures to contain the virus threat with the big unions and state and federal governments. And those operating procedures, naturally enough, flowed down to us in the flight department.
The key elements of virus containment procedures are temperature checks of everyone entering a company facility; a brief interview of each person concerning their health, and the health of anyone they have been in contact with; wearing face covering at all times when six feet of separation can't be maintained; and frequent cleaning of all contact surfaces.
As an additional precaution we have limited the passenger load to half of the seating capacity. That still doesn't keep people six feet apart at all times, but it does give them the option not to be seated directly beside, or across from, another passenger.
So, when we greet our passengers in the FBO lounge we carry one of those hand-held temperature scanners. For some reason everybody tests a little cool, mostly 97 point something degrees F.
We wear masks when we are around the passengers on the ground, and while boarding. Mask wearing by FBO staff varies, but it's becoming more common. The large national FBO chains have instituted firm mask requirements for their people so they wear masks all the time.
Once we're in the cockpit we take off our masks and don the headsets as normal. We don't police what the passengers do, where they sit, and if they wear masks or not. They all know each other, work together at some level, and all can make up their own minds.
In chatting with other crews in pilot lounges I've learned our procedures are nearly universal among corporate crews. Some charter pilots have told me they are expected to wear masks at all times in flight. But then there is the cockpit door or curtain that can be deployed, and often is.
Several crews told me their companies are now reserving more rental cars so, like the airplane, less than half the seating capacity is being used. One crew said—and I hope this doesn't become the norm—they are required to wipe down the rental car interiors with disinfectant before their passengers drive off.
Even though corporate flight departments and charter operators all seem to employ similar virus containment procedures, how closely they are followed depends on where the passengers and crew are based. Those from the Northeast, where the virus was most devastating, are usually the most diligent about mask wearing and surface cleaning. Those from the South and West, where the virus had not been so prevalent early on, don't seem to pay as much attention.
But that may be changing now that the Southeast and West are experiencing the highest levels of virus transmission.
I can't say that fear of the virus has changed most pilots' attitudes about flying. We sit a foot or two at most away from the other pilot in the cockpit, often for hours at a time. We spend our waiting time in the same pilot lounges, eat meals together, and RON at the same hotels. Social distancing just doesn't work in a cockpit, on the ramp, or in many parts of a flight operation.
The reason I think we pilots—at least those of us who are still flying—don't seem to fear our fellow crewmember is that we have always trusted the person in the other seat with our physical safety. Not to mention our livelihood. If I'm worried my crewmate won't quarantine themselves if they are a threat how can I trust them to fly the airplane, or to monitor my performance when it's my leg to fly?
The temperature checks, masks, and constant wiping down of the airplane cabin are a minor hassle, but nothing we can't endure. Corporate and charter flying were virtually shut down for several weeks, but now, on some days, the number of domestic private flights is approaching pre-pandemic levels. International flying is still a tiny fraction of what it once was, and given the global variability of virus outbreaks and government regulations, it will take a long time for the transoceanic trips to come back.
But for now, the private airplane is again proving its worth in a way none of us ever expected. And I'm glad to be back flying again.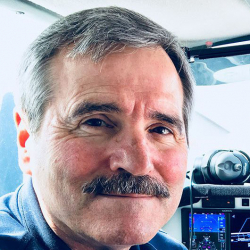 Latest posts by Mac McClellan
(see all)
https://media.airfactsjournal.com/wp-content/uploads/2020/07/06144308/beech-b200-super-king-air-22a389-1024.jpg
628
1024
Mac McClellan
https://airfactsjournal-images.s3.amazonaws.com/wp-content/uploads/2021/04/06142440/Air-Facts-Logo340.jpg
Mac McClellan
2020-07-27 09:05:28
2020-07-24 16:46:21
Corporate Flying During the Pandemic