5

min read
Say your airspeed. Seems like a simple question. And it's one controllers often ask when separating in trail airplanes in busy airspace. But there's nothing simple about airspeed.
There are at least four kinds of airspeed—indicated airspeed (IAS), calibrated airspeed (CAS), true airspeed (TAS) and Mach. Each value has significance to pilots.
But, back to the controller's request to "say airspeed." The answer to that really is simple. The controller wants to know your IAS in knots.
Indicated airspeed is what we read on the airspeed indicator. In light airplanes, particularly those built before pilot's operating handbooks were standardized by the major manufacturers in the mid-70s, the airspeed indicator is often marked in mph. Larger airplanes, and more recently built piston airplanes, show IAS in knots. And some instruments are marked with both values.
Calibrated airspeed (CAS) is what you get when you correct IAS for errors in the pitot-static system and the instrument itself. These errors are sometimes called "position errors" because the location of the pitot tube and static ports are the source of most of the error.
The difference between CAS and IAS is usually quite small. Particularly in level flight. But with flaps down, or maybe gear extended, the errors can grow. The errors are not always linear and can change with speed and altitude.
The good news is that many of us now fly with electronic digital air data computers (ADC). The ADC can be programmed to correct for most position errors so the IAS we see is very close the CAS.
So CAS is really how fast the airplane is moving through the air. Right? No, not usually. Any change in air density caused by temperature, barometric pressure or altitude, will alter the CAS/IAS. That's why we need true airspeed (TAS).
TAS is a very close representation of how fast the airplane is moving through its local parcel of atmosphere. If there is zero wind, TAS would accurately reflect how fast we are moving over the ground.
I'm sure you remember from private ground school that TAS is CAS corrected for air temperature, air pressure and altitude. The "wiz wheel" can perform that calculation, but now an ADC does it automatically and continuously. An important side benefit of that TAS calculation is that with GPS giving us accurate ground speed, and with a reliable heading from the attitude heading reference system (AHRS), we can continuously see the wind direction and velocity presented on any modern nav display.
Of course, finding the true air temperature—also called static air temperature—so that one can calculate TAS is no easy matter in flight because of ram rise. What in light airplanes we call outside air temperature (OAT) is really ram air temperature (RAT), but that's a topic for another discussion. In reality RAT and SAT are very close at piston airplane speeds so it's an issue mostly for turbine airplane pilots.
To fly with precision we need to know TAS for accurate flight planning, and CAS/IAS to keep the airplane within its operating envelope.
Without knowing TAS it would be impossible to plan a flight. TAS corrected for wind equals ground speed, and that is the speed that determines how much fuel we'll need. Not much in flying is more critical than accurate fuel planning.
But IAS—let's just assume that the airplane limitations are presented in that value—is what keeps us flying, and also keeps us from breaking the airframe.
IAS is often called Q pressure, because it represents the pressure the airplane experiences moving through the air. So it's the pressure represented by IAS that creates lift, but also is what generates airframe loads. Too little IAS pressure and the wing can't lift. Too much Q pressure and the wing can break.
The convenient thing about IAS is that its effect on the airplane doesn't change with air temperature, or pressure or altitude. In one-G flight at the same weight the airplane will stall at the same IAS no matter the air temperature or pressure. So, for example, Vref landing approach speed will be the same IAS at the same weight no matter the elevation of the runway, or air temperature. And the Vne red line airspeed is still the structural airspeed limit no matter air density.
At higher altitudes the effects of Mach—the speed of sound—can change the behavior of airflow and thus the flying characteristics of an airplane. That's why high flying airplanes have a Mach limitation called Mmo for maximum Mach operating limit. Above a certain altitude—typically in the twenties—Mmo replaces Vmo as the airspeed limit.
So, when a passenger asks how fast we're flying I'd pick the greater of two speeds—TAS or ground speed.
When the controllers ask for airspeed they want to hear your IAS in knots. And if you get to fly faster airplanes the controller will take the guesswork out of the question and specifically ask for your speed in knots or Mach.
Bottom line on speed is that what we all want more groundspeed because that's what gets us from A to B.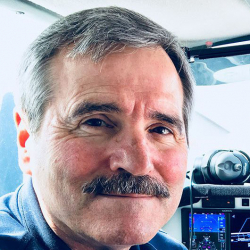 Latest posts by Mac McClellan
(see all)
https://media.airfactsjournal.com/wp-content/uploads/2015/04/06172041/airspeed-indicator.jpg
654
686
Mac McClellan
https://airfactsjournal-images.s3.amazonaws.com/wp-content/uploads/2021/04/06142440/Air-Facts-Logo340.jpg
Mac McClellan
2020-03-09 08:37:53
2020-03-09 08:54:48
Say your airspeed—which one?