8

min read
During my 45 years of observing and writing about aviation, pilot upset training is a topic that has waxed and waned. For the past few years the idea of learning how to recover from an extreme attitude is in ascendance. But the reason upset training emphasis falls in and out of favor is because it just doesn't work.
The typical pilot upset training course takes pilots who fly normal airplanes for transportation reasons and puts them in an aerobatic-capable airplane. Most often the training airplane is something like an unlimited aerobatic piston single such as an Extra. The more costly programs use ex-military jet trainers such as the Czechoslovakian L-39 that was developed for the Eastern Bloc and is now widely available in the U.S.
The trainee pilot gets some basic ground school instructing how to recover from a spin, or how to roll to the closest horizon, even when inverted. Then, in an aerobatic airplane with an aerobatic instructor, the trainee rolls and tumbles through extreme attitudes. And, of course, the flights are always done in visual conditions.
Upset training certainly won't make you a worse pilot. And the courses can be eye-opening for a pilot who has never flown beyond a 60 degree bank, or 20 or 30 degrees nose up or down. If you're lucky enough to draw the right instructor, the course can even be fun.
But what you learn tumbling through the sky in an upset recovery course won't do any good in real life flying in a business jet, or even a personal piston single.
The reason upset training doesn't help in the real world is that it's built on a false premise. That premise is that upsets happen to well trained and careful pilots who are following all procedures. That's just not true. Upsets are not some aerodynamic phenomenon lurking in the atmosphere to grab pilots following well structured procedures.
To experience an upset a pilot must first lose control of the airplane. Simply replace the term upset with loss of control and the issue becomes more clear.
Advocates of upset training say the careful pilot may lose control because of unforecast or unreported extreme turbulence, or after being surprised by an instrument failure, or maybe because he just wasn't paying attention in the dark or in the clouds and the airplane went out of control. Or maybe he tried to climb too high for the weight of the airplane and the air temperature and the airplane stalled. Or maybe he poked his nose into a thunderstorm and found extreme turbulence. Or, even more likely, maybe he mishandled an autopilot or flight management system failure and lost control.
However it happens, our upset-trained pilot who loses control of the airplane must, in a second or two after departure from controlled flight, remember how he moved the stick, pushed the rudder, and managed the throttle in that L-39 and recovered. Huh? Our guy is so careless or inattentive, or poorly trained in normal flying, that he lost control, but in the panicked few seconds that follow, he remembers the upset training and responds perfectly. I don't think so.
Even if unforeseen events were to force your normal category airplane into a spin, what does the upset trained pilot do? During the upset training, recovery from a spin was quick and positive. Rudder to stop rotation, pop in forward stick, and the aerobatic airplane is flying again.
Just about any aerobatic airplane will fly itself out of a spin if the pilot takes hands and feet off the controls. In fact, that was one of the many flying qualities requirements for the U.S. military's T-6A Texan trainer. It had to demonstrate hands off recovery from even an inverted spin. But is your King Air, or Citation, or Embraer going to recover from a spin even with perfect rudder and stick input? Or your Baron or PC-12? Maybe, but it hasn't been demonstrated.
Wouldn't it be much more valuable than upset training to train and practice our basic instrument flying skills? Deal with instrument and equipment failures in high fidelity simulators? And stay out of thunderstorms, and within the safe operating envelope to avoid an upset in the first place? I think so.
But, I can hear you yelling at the computer—what about a wake vortex? You're right. Flying into a powerful wake vortex has caused a number of pilots to lose control and crash. But essentially all high risk vortex encounters happen close to the ground on takeoff or approach. With so little altitude available, is our upset-trained ace going to roll a business jet through a full 180 degrees or more and not lose more than the altitude available?
It's one thing to flip an Extra or L-39 through a roll in a couple seconds, but try it in a business jet, or turboprop, with flaps and gear down. In non-aerobatic airplanes it's going to take an excruciatingly long time to complete a roll, even with the aid of the vortex, and the nose will drop so much no matter how you pull, recovery within hundreds of feet is impossible.
The behavior of vortex wakes and how to avoid them is well understood. If we follow wake avoidance guidance the odds of a vortex encounter are very low.
As in all things aviation, wake avoidance is not absolutely perfect. The most recent fatal crash blamed on a wake I recall happened to a Baron pilot taking off at Memphis several years ago. The Baron had just lifted off when it flipped inverted in clear air and light winds. Investigators determined the cause was a wake from an airplane that had departed well beyond the time and distance parameters that would have normally made its wake a threat. The wake cause seems improbable, but there is no other reason for the loss of control. And there is no reason to believe that any level of pilot skill by the Baron pilot could have avoided the crash at such a low altitude after liftoff.
OK, but what about that Air France Airbus crew over the Atlantic, at night, in an area of very active thunderstorms where the crew lost all three airspeed inputs because, investigators determine, the pitot tubes all froze over?
That overstressed crew still had attitude information, altitude data, and ground speed information. But it was a black night in who-knows-what kind of turbulence with the crew advisory system (CAS) messages scrolling by faster than the tape out of an IRS examiner's adding machine. The CAS messages were accompanied by aural beeps and buzzes, and no doubt spoken warning words from the system.
Could they have maintained control without any airspeed indication if they had been upset trained? Probably, if the confusion and stress hadn't been so high. The cockpit workload would have been so over-the-top in such a situation that managing it would take lots of luck, as well as lots of skill. If you think you can't be overloaded in an airplane, just get in a Level D sim with an instructor determined to give you more emergencies, failures, and complex approach procedures than you can handle. Overload can and will happen to any of us.
Instead of flying mild aerobatics in an L-39, there is a technical solution that could have saved the day for that Airbus crew over the Atlantic. It's synthetic airspeed. The onboard systems knew the altitude, air temperature, groundspeed, ground track, magnetic heading, and—until just seconds before the pitots froze—wind direction and velocity. Given those data, a sharp private pilot student could work backwards with his E6B to come up with a very close estimate of indicated airspeed. The computer power found even in most piston singles could do the same thing if properly programmed.
With a close approximation of indicated airspeed/Mach, the Air France crew almost certainly would have avoided the deep stall that doomed them. They had all been trained to lower the nose to recover from a stall since their earliest days as student pilots, so it wasn't more training that was required, upset or otherwise. They simply needed life-saving airspeed information the onboard computers could have produced.
An upset training course can certainly make any of us more precise pilots, and probably more cautious pilots. Enhancing stick and rudder skills is always a good thing. But as a solution to loss of control in flight the upset training just isn't it. Avoiding the loss of control is what matters in every case, just as avoiding flying into the ground is of paramount importance. And the more we train and practice maintaining safe margins, the safer all of our flying will be, whether we have flown inverted or performed a roll, or not.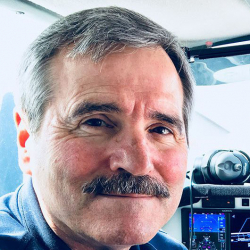 Latest posts by Mac McClellan
(see all)
https://airfactsjournal-images.s3.amazonaws.com/wp-content/uploads/2020/01/06145815/Upset-in-Citabria.jpg
545
900
Mac McClellan
https://airfactsjournal-images.s3.amazonaws.com/wp-content/uploads/2021/04/06142440/Air-Facts-Logo340.jpg
Mac McClellan
2020-01-13 08:46:34
2020-01-13 09:24:32
Why upset training just doesn't work