6

min read
As pilots we spend our flying careers amassing hours of experience. Our skill and competence, and qualification for new ratings, and certainly for flying jobs, is largely based on our hours of logged experience. That makes sense. We humans become better in almost every endeavor with practice.
But when does a pilot have too much experience? In other words, when do the number of years logged since birth matter more than the number of hours in the logbook?
This question has assumed new importance to me because I just turned 70. A guy I fly with regularly in a corporate King Air 350i is 75. Together we have more than 102 years of flying experience. Is that too much? If not now, when will it be?
The FAA and its rules are silent on maximum pilot age except for pilots who fly for scheduled airlines. That maximum age is 65, up five years from the age 60 maximum that held for decades. There are rumors – perhaps circulated by old pilots like me – that the FAA is considering another maximum airline pilot age increase to 70, but I know of nothing even resembling the beginnings of new rule making.
For the rest of us, whether we fly for business under FAR 91, for hire under FAR 135 on demand, or for personal reasons, the FAA offers not even a suggestion of a maximum age. The requirements to obtain the appropriate medical certificate remain the same no matter our age, so that's no guidance. And the medical standards for even professional pilots are not overly sensitive to the normal ravages of age that eventually affect all of us.
The reality is that insurance underwriters have been the enforcers of what I would call more realistic pilot standards. It's the insurance companies that set requirements for total time, or time in type, for example, to qualify for specific coverage. And the underwriters are the ones, not the FAA, who send most pilots back for recurrent training that the FARs don't demand.
But, so far, aviation underwriters haven't taken a solid, much less a consistent, position on the question of how old is too old for a pilot. Word around the airport is that after age 70 it may become more expensive to buy insurance for pilots flying for personal reasons, or that high limits on liability may be unavailable beyond that age. But those are just rumors, impossible to confirm.
Several years ago the head of an insurer that covers many personal airplanes told me a story. His company had insured an 80-year-old pilot who owned and flew a cabin-class piston twin. That pilot crashed, killing himself and his three elderly passengers.
As you can imagine, the accident kicked up a lot of dust that Gramps had finished off himself and three of his equally elderly lady friends. The parent company of the aviation insurer went crazy demanding to know why a pilot of that age had been underwritten. The answer was that the aviation underwriters had no data that showed older pilots posed any additional risk. All of the company's data showed an 80-year old had an accident at the same rate as younger pilots with equal pilot experience and training.
The aviation insurer battled its parent who demanded that it stop insuring older pilots. Finally, a truce was reached with the aviation arm agreeing to charge a significant premium increase to pilots older than 70, even though it had no supporting risk data that warranted the higher premium.
The bottom line is that data ranking the risk of pilots by age doesn't exist. When the FAA was considering increasing the airline pilot maximum age from 60 to 65 before the rule changed in 2007, there were a number of safety studies conducted. The studies concluded there was nothing to support a difference in safety between a 60- and 65-year old pilot. The studies examined the accident records of pilots older than 60 who flew sophisticated non-airline airplanes. They also subjected 65-year old pilots to simulator tests, and cognitive and reaction tests. The results were the same. No difference between a 60 and 65-year old pilot could be confirmed.
But the studies didn't extend to pilots older than 65 because that was the maximum age being considered. So pilots like me, who are 70 and older, have absolutely no data to consider when trying to decide how old is too old. And neither do their passengers, employers or underwriters.
A pilot I know who is well past 70 has decided to up his simulator-based recurrent training from once a year to every eight months in the hope that will uncover any age-related loss of flying skill. Makes sense, I think.
But then I consider my late parents and the rules they drove under in Illinois, where they lived. Illinois has the most stringent requirements in the nation for older drivers, including taking a full driving test at every license renewal after age 75. Once an Illinois driver hits 81, they must take the driving test every two years, and then every year at age 87. In other words, Illinois was administering what we would call a checkride to elderly drivers to attempt to measure their performance behind the wheel.
My parents both made it to 93, in good health until near the end. And both had driver's licenses, having passed the required road test every year before the end. But to ride in a car with them those last 10 years or so of their life was terrifying. The last time I agreed to do that with my dad he made a left turn in front of an oncoming car so close that I could see the other driver hadn't shaved that morning.
So if older drivers in Illinois can get past a driving test that is intended to stress teenagers, can a checkride in an airplane detect pilot skills lost to age? Probably not.
How old is too old is the question that becomes more crucial to pilots every day because too few younger people are coming in the bottom to replace us oldsters. The average age of active pilots increases every day. And the pilot shortage – finally for real this time – means that we older pilots remain in demand because, well, there aren't enough younger pilots with the necessary credentials to replace us.
I ask myself often if I have lost a step to age. But I don't know the answer. At some age I, and all of us, will, but can we know when? I still touch down on the centerline in the appropriate zone from the threshold. I fly IFR all of the time so my performance is constantly monitored and recorded. And I have even mastered – I think – a new suite of integrated avionics. Adapting to new technology and operating systems is reportedly harder for old folks, so maybe that counts for something.
It's a truism that we all age at different rates, and that we need luck to avoid disease that can rob us of capabilities. And so far I've had that luck. Maybe my question will be answered when I just get tired of flying and have had enough. That hasn't happened yet, but showing up at the airport at 6 for another 7 o'clock takeoff in the coming winter darkness may do the deed before an AME tells me it's time to hang it up.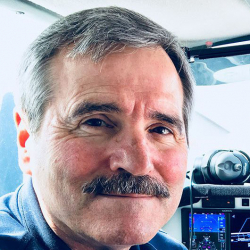 Latest posts by Mac McClellan
(see all)
https://media.airfactsjournal.com/wp-content/uploads/2019/10/06150623/7510460530_5109f5c8a3_b.jpg
790
1024
Mac McClellan
https://airfactsjournal-images.s3.amazonaws.com/wp-content/uploads/2021/04/06142440/Air-Facts-Logo340.jpg
Mac McClellan
2019-10-10 08:59:06
2020-07-30 10:15:44
When pilots have too much experience