12

min read
Mac helps us launch a new Air Facts series for summer on what he knows for sure – and what you need to know – about flying in a particular state. Mac writes about his home state of Michigan, and soon John Zimmerman will write about what he knows for sure about flying in Ohio.
1. Michigan has lots and lots of water.
Michigan calls itself the Great Lakes State, which makes sense. Michigan is made up of two peninsulas. Its borders are three of the five Great Lakes. The only way in or out without crossing water is into Indiana or the corner of Ohio to the south.
All that water, plus thousands of inland natural lakes, are a big reason to fly to Michigan. But they are also a reason to plan your route carefully if you are uncomfortable flying over many miles of open water far from shore.
So much water also alters the air we fly through because some of that moisture wants to get back up into the atmosphere. Michigan may not be the cloudiest state in the union, but I haven't spent time in one with more overcast days, especially in the winter. Typically the cloud cover is high enough for comfortable VFR flying, but if you can't confidently fly IFR, be sure to build flexibility into your Michigan flying plans.
In the winter, much of that water turns into snow and ice, which is a great reason to visit the state. Michigan is home to one of only a couple of Olympic class luge sled runs in the country. The skiing isn't anything like the Rockies, or even Vermont, but it's the best in the Midwest. And if snowmobiling, snow shoeing, cross country skiing or ice fishing get your heart racing, we have it all here.
But for pilots being in the lee of the relatively warmer waters of the Great Lakes is the perfect recipe for inflight icing. Icing is there, at least a little, on most winter days. In fact, a helicopter manufacturer from Japan rented a hangar at my home airport, Muskegon County, last winter because they believed it was the most reliable location to find inflight icing to test its new helicopter. Being internationally famous for icing should be enough to warn any pilot of the danger of flying an unprotected airplane here when the clouds are cold.
2. Michigan has uncrowded skies.
Michigan has only one Class B airspace in the whole state, and that's over Detroit in the far southeast corner. There are a smattering of Class C airspace circles around cities such as Grand Rapids, Kalamazoo, Lansing and Flint, but that's about it. And those airports are in the southern part of the lower peninsula. If you want to roam VFR over the rest of the state without talking to controllers, or worrying much about other air traffic, you're more than welcome.
Though the sky is not full of airplanes, Michigan has been very active over many years in building and maintaining airports. You're never far from a paved runway in the lower peninsula. In the UP (Upper Peninsula), airports and people are a lot more spread out. That's where you go to commune with nature, often in its undisturbed natural condition, so you won't find airports close together.
But if grass strips and camping under the stars are your thing, its hard to beat either peninsula of Michigan. And if you really want to get away from it all, fly up to Houghton County on the Keweenaw Peninsula where you can hop a seaplane or ferry out to Isle Royale National Park in Lake Superior. It's pretty much you, a few campers, and the wolves on that remote island.
3. Michigan's Mackinac: Flying Yes. Driving No.
Michigan's historic Mackinac Island may be the only place where you can fly, but nobody can drive. All motorized vehicles on the island in the Mackinac straits that link Lake Huron to Lake Michigan are banned. But airplanes—powered airplanes, not gliders—are welcome.
There is a perfectly maintained 3,500-foot runway on Mackinac Island that is located within the Michigan State Park that covers much of the island, including Fort Mackinac that predates the founding of the nation. You can't get fuel at Mackinac airport, or any other aviation service. You will be greeted by park rangers who direct you to parking and collect a modest landing fee. There are low minimum LPV RNAV approaches to both ends of the runway.
Horse-drawn taxis will carry you down the hill into the town of Mackinac which is built around the harbor. Or you can rent a bike at the airport, or make the 20-minute walk on foot. But you won't encounter a car, truck or even a moped. Boats in the harbor can have engines, and so can the airplanes at the airport, but all other travel is straight out of the 19thcentury.
The Grand Hotel with the world's longest front porch looms over the town and harbor of Mackinac Island and the straits. It truly lives up to its grand name. It's a pricy place to eat or stay, but is one of a kind. There are other less expensive hotels and many restaurants on the island but be sure to plan ahead because everything fills up fast.
One of the more gratifying things to do on Mackinac is watch all those poor ground-bound souls shuffle on to the ferry while your airplane awaits just up the hill at the airport. Where else does a horse pull you up to the ramp? Nowhere.
4. Michigan has miles and miles of sand.
I'm not sure how the icebergs that carved out the Great Lakes did it, but they left behind about 300 miles of beaches and sand dunes on the eastern shore of Lake Michigan. The entire shore from the southern end to the tip of Grand Traverse Bay is nothing but sand. And it's sand for several miles inland, too.
Sand dunes are just in from the beach and start at about 50 to 100 feet in height at the Indiana border. The dune is around 200 feet here in Grand Haven where I live, about a third of the way up the Lake Michigan shore. The dunes peak at 600 feet above water level at Sleeping Bear National Lakeshore that runs north from Frankfort.
Sleeping Bear is simply stunning in its natural beauty. You can hike the dunes, walk the beach, camp under the stars and let the kids run loose. And when you're tired of that, not far away are challenging golf courses and interesting places to eat and stay. You can admire Sleeping Bear from the air, but, because it's a wildlife refuge area, you're instructed to fly no lower than 2,000 feet agl.
If soaking up the sun on one of the hundreds of miles of Lake Michigan beaches doesn't suit your idea of summer, there are several locations that rent "beach buggies" so you can kick up the sand by pressing down with your right foot. One good place to rent a dune buggy to tear over the sand in is at Silver Lake. Check silverlakebuggys.com. Oceana County airport is nearby.
5. In Michigan, airports are plentiful. Cars not so much.
One thing I learned the expensive way is that rental cars at the smaller airports near Michigan's most popular destinations are hard to find and usually very, very expensive. If you think about it, that makes sense. When you head "up north"—which is the only direction to go in a Michigan summer—you want to get away. One of the many things you get away from is rental cars because the towns are just too small to support much of a fleet.
You can plan ahead and maybe find a "limo" service that can get you from a small airport to a resort. Maybe. But there just aren't enough people to support Uber or Lyft drivers. And if you want to visit several sites after you land, you'll need a rental car.
What I found is that Cherry Capital Airport in Traverse City is a great place to get a rental car at conventional prices. The major brands are there and the daily and weekly rates won't shock you. There's much to do and see around Traverse City, which is one of the fastest growing resort destinations in the country. And it's a reasonable drive to all the spots you will want to visit in northern Michigan.
6. Michigan offers a classical summer in the woods.
The Interlochen Center for the Arts draws students, teachers and performers from around the world to its beautiful campus in the woods about 15 miles southwest of Traverse City. Interlochen was founded in 1928 and is supported by patrons of the arts from around the country.
If you have kids with almost any form of fine or performing arts talent, they would certainly want to consider a stay at Interlochen as summer campers. But for the rest of us, attending one of the many summer concerts, or touring the campus to view the art, or even sit in on a class is a trip to remember.
7. In Michigan, you can watch huge ships go up and down.
Sault Ste Marie is the only place I know where you can stand a few yards away and watch a 1,000-foot long ship go up or down in a lock. The St. Marys River is the only link between Lake Superior and the lower Great Lakes. But rapids and falls blocked the passage until the first of the Soo Locks was constructed in 1855. The locks are the only and vital route to get iron ore from the mines on the range west of Lake Superior to the mills in the lower lakes. An average of 10,000 ships pass through the locks during a season so you're likely to see more than one ship during a visit.
The locks are a popular attraction for the town of Sault Ste Marie so getting from the airport and around town is easy. There are plenty of restaurants in town and there is a system to alert when a ship is approaching the locks so you won't miss it. A visit to a Great Lakes freighter turned museum that is moored in town is worth your time if you have any interest in ships, how they were built, and how a steam engine really works.
If you want to take a look at the Soo Locks from the air be sure to study the charts closely. The traffic area from the tower controlled Sault Ste Marie airport on the Canadian side overlaps the locks. You'll need to get permission from that control tower to fly over the locks.
8. In Michigan, you can golf the ski slopes.
For reasons I don't fully understand, the northern Michigan climate is perfect for growing grass, the kind that makes the most beautiful golf courses in the country. And years ago several ski area owners figured out that the same terrain features that put the schuss in winter make for stunning and challenging golf in the summer.
The Boyne ski complex has 10 courses on three resorts, several by big name designers. You can play your way down from the top of a ski hill, or on a course featuring 18 replica holes by the legendary designer Donald Ross, or golf along the shore of Lake Michigan on the Links that give a strong hint of being in Scotland. My favorite is the Alpine at Boyne Mountain with the first tee at the top of the hill. I can hit it 200 yards with a wedge from that high perch. A great way to start your round.
Boyne Mountain has its own runway for guests, but it hasn't been maintained well, and there are no services. Airports at Boyne City and Harbor Springs are good choices to either ski the resorts, or golf them in the summer.
9. In Michigan, consider the Holy Water.
In Michigan you can fish the depths of the freshwater oceans we call the Great Lakes, or you can cast for bass and walleye in hundreds of inland lakes. But there is only one spot fisherman named the Holy Water decades ago.
Fly fisherman—not necessarily strangers to exaggeration—call a stretch of the fabled Au Sable River the Holy Water for trout fishing. This approximately nine-mile stretch of the Au Sable, located near Grayling, is pristine and limited to catch and release only. Only flies, dry of course, are allowed. No live bait, and barbless hooks are preferred and the noble way to fish for trout. Google "Holy Water Michigan," and you'll find info on the fishing, guides and places to stay.
You can take a charter boat offshore from many ports on Lakes Michigan or Huron and land 30-pound or lager salmon, but for the angler who views fishing as a religion, the Holy Water is a must. The Grayling airport is owned by the U.S. Army, but is open to the public. But be sure to make your ground transportation plans in advance.
What about your state – or country? What do you know for sure about flying there?
Share your knowledge and experience with Air Facts readers following these guidelines: Pick between five and ten things you know for sure about flying in one particular state or country. Write it in a Word document and send it to [email protected]. Michigan and Ohio are taken so that leaves 48 states and hundreds of countries for our readers to write about.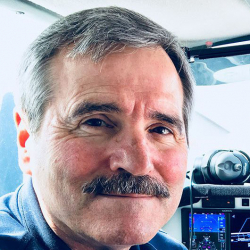 Latest posts by Mac McClellan
(see all)
https://airfactsjournal-images.s3.amazonaws.com/wp-content/uploads/2019/06/06152105/E5DD8E5C-6006-4840-871C-BBB5008509D6.jpeg
425
425
Mac McClellan
https://airfactsjournal-images.s3.amazonaws.com/wp-content/uploads/2021/04/06142440/Air-Facts-Logo340.jpg
Mac McClellan
2019-06-27 10:18:24
2019-07-30 18:12:48
Nine things I know for sure about flying in Michigan