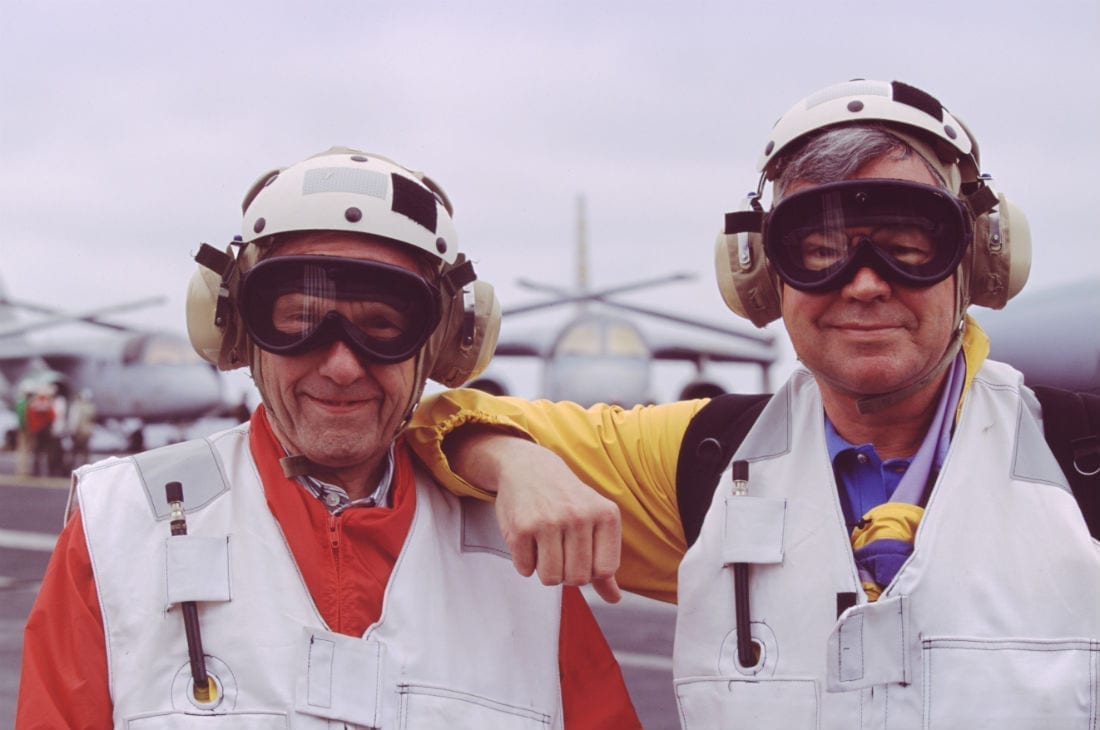 3

min read
Memories are stored like snapshots in a shoebox. Moments frozen in time. Dick Collins was hunched over his typewriter tapping away that day in the fall of 1964 when I first saw him. He politely said hello, but kept working against a deadline as his father, Leighton Collins, showed me around the Air Facts office in Princeton, New Jersey.
As a devoted subscriber to the magazine, I had stopped by to meet the father and son journalists whose words were gospel to serious pilots. I was in awe of them because they were oracles of the aviation world whose vast experience and talent in examining a subject, cutting through all the wrappings to its essence, and telling us what they discovered in an entertaining, straight forward, no punches pulled way was unmatched. I could not have guessed then that I would later be working closely with Richard for more than thirty years photographing and writing for FLYING magazine.
As I learned of his death, snapshot memories of Richard began flying through my mind like leaves in a wind. The long flights we had together in his Cherokee Six, 172, Cardinal RG, and P210 during which the hours passed like minutes as we discussed life and flying. The "Continued VFR" photo story we did in his 172 showing what the insidious trap of pushing too far actually looked like from the cockpit. And that night over Oklahoma when the devil suddenly flung an ungodly amount of ice on that innocent little Cardinal RG. Richard calmly amended our clearance to land at the nearest airport. I noticed that our approach was at a higher speed and power setting than usual. In fact, not much below those of cruise it seemed. No matter. There was so much drag from the slush on the runway we didn't need the brakes. Richard did everything right. Like always.
Above all, Richard was a kind and generous man, quick to laugh, and an excellent flight instructor happy to share his vast knowledge without ego. He nurtured new talent, and gave many their start in aviation.
When his wife, Ann died a few years ago a big part of Richard died, too. They were very close, and I believe he was ready to go any time after that.
Another memory. Must have been fifteen years ago at Oshkosh. Richard, former FLYING colleague and Collins mentee Patrick Bradley, and I were having dinner at the Pioneer Inn. Out of the blue, Richard turned to me and said, "Russell, when I go I want you to write my memorial. Pat, you're my witness."
Well, Richard, that's easy. You were the best in the world at what you did. But most important, you were a truly good man who lived your life with honor, heart, humor and kindness.
Latest posts by Russell Munson
(see all)
https://airfactsjournal-images.s3.amazonaws.com/wp-content/uploads/2018/05/06160047/CollinsMunson1000.jpg
730
1100
Russell Munson
https://airfactsjournal-images.s3.amazonaws.com/wp-content/uploads/2021/04/06142440/Air-Facts-Logo340.jpg
Russell Munson
2018-05-02 11:22:59
2018-05-02 11:24:06
The best in the world, and a truly good man