6

min read
Personal aviation lost its greatest champion when Richard L. Collins passed away. Richard was 84 and he died at home.
I was so lucky to work for and with Richard for more than 40 years. Richard refused to be called an aviation journalist. What he did, and I did, at FLYING magazine, and for him at AOPA Pilot, and then for Air Facts Journal on the web, is personal aviation promotion. Richard championed the cause of using our own airplanes for personal travel on our own schedule with a maximum of schedule reliability and safety.
Richard's understanding that private airplanes could be more than fun flyers that could get the aviation enthusiast off the ground flowed directly from his father, Leighton Collins. Leighton was a true pioneer who sold airplanes starting in the 1930s. After the end of World War II, Leighton recognized that the new crop of airplanes could and should be useful traveling machines. But to achieve that goal, the safety record had to improve, and pilots needed to be able to fly safely in most weather conditions.
To help educate pilots on how to safely and effectively use their airplanes Leighton founded Air Facts magazine 80 years ago. It was a compact publication that became the bible for a generation of pilots who were first putting their airplanes to use for travel.
Richard wrote his first articles for Air Facts and later he brought the same airplanes as traveling machines philosophy to FLYING magazine. And most importantly, and controversially, Richard brought the study of accidents as a vital teaching tool. Before Richard, the general aviation industry tried to minimize accident reporting. The attitude was flying is easy and safe. Take a drive in the sky. Anybody can do it.
What Richard understood, and reported, is that it was true, most anybody can be taught to be a safe pilot, but flying your own airplane is not easy, and can never be safe enough until pilots understood the real risks and learned how to minimize them.
It didn't take much study to know that weather was a huge factor in the safety of personal flying, and is the primary limitation on travel schedule reliability. So Richard threw himself into the study of how weather affects everything a pilot does.
Many readers over the years have commented to me on how much bad weather Richard flew through. But that wasn't true. I often was surprised by the deviations or delays Richard would make for weather when I would have plunged ahead. But he understood the conditions, what the airplane and pilot could handle, and how to adjust route and altitude to avoid the worst.
We constantly talked and compared experiences on our trips. He was the best at analyzing the big weather picture and could explain why I was hitting my head on the overhead in turbulence when I could have turned right or left, or gone up or down, and avoided it if I had his experience and understanding.
Richard was not one to jump at all new aviation technology as a way to control risk. His most surprising finding was that multiengine airplanes were not automatically safer than singles. In the post-war era, and even through the 1970s, it was conventional wisdom in personal aviation that a twin was safer than a single, especially at night or flying IFR. It seems so obvious. A twin has the potential to continue to a runway after an engine failure while the single will make a forced landing.
Richard's study of accident statistics showed that pilots of twins weren't doing so well at getting to a runway after an engine failure. In fact, accidents in twins after engine failure were statistically more serious and more often fatal than engine failure accidents in singles.
His findings stood most of our thinking on its head but he didn't really find anything wrong with twins in terms of true safety potential. What Richard's work proved is that the safety offered by another engine was only available to pilots who were trained and proficient enough to fly the twin with an engine out.
Richard was not quick to promote autopilots as a safety technology because, well, they weren't very good in the early days. But as autopilots became better, and redundant systems for operating gyros came on line, Richard became the strongest proponent for having and using an autopilot for all IFR flying.
In contrast, Richard immediately saw the value of the Stormscope and had one of Paul Ryan's very first systems installed in his airplane in the mid-70s. The Stormscope sure couldn't reliably pinpoint the exact location of a thunderstorm, but it was the first real storm avoidance aid available to piston single pilots so it was a huge safety advance, and Richard embraced it.
Richard didn't like the term "general aviation" much because, well, it was too general. When he studied accidents and utilization he always eliminated Alaska, ag flying and charter. Those activities all fell into the FAA's broad general aviation category, but they weren't personal flying. And personal flying is what Richard did, and what his thousands of readers wanted to learn how to do.
Richard and I agreed that his timing was excellent. He was there for the big post-war growth in personal flying. He got to fly and write about all of the important airplanes that set the standards, and many of which still fly on. And in the magazine business he was there for the best years when Flying circulation approached half a million and more than 100,000 single copies sold on newsstands.
By any measure personal flying and magazine publishing have passed their peak. But what a ride it was. Richard pioneered personal airplane travel by flying his fabric covered Piper Pacer IFR when almost no other light airplane pilot was. And he ended his career flying GPS LPV approaches in a fully ice-protected and weather radar equipped pressurized single.
I talked with Richard on the phone a few days before he died. We spoke often, and I thought he sounded a bit frail on the phone, but he didn't mention any health issues. Nor would I expect him to.
As always, he thanked me for calling and told me to stay in touch. I told him to hang in there. If either of us had known what was just days into the future, I don't think we would have said anything different.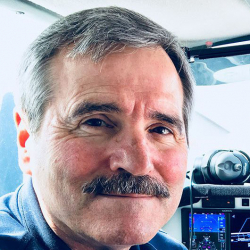 Latest posts by Mac McClellan
(see all)
https://airfactsjournal-images.s3.amazonaws.com/wp-content/uploads/2011/03/06181221/P210.jpg
355
600
Mac McClellan
https://airfactsjournal-images.s3.amazonaws.com/wp-content/uploads/2021/04/06142440/Air-Facts-Logo340.jpg
Mac McClellan
2018-05-01 11:45:02
2018-05-01 11:45:18
Personal flying's greatest champion