8

min read
When one examines a failure of such monumental scale as the Beech Starship program, the inevitable question is, "Why did they do that?" As in almost every instance where things go badly wrong, it was a series of decisions made under shifting circumstances that led to the ultimate disaster.
To understand the roots of the Starship program decisions, we must think back to the early 1980s when they were made. Beech had been acquired from the founders by Raytheon, a leader in high tech of the day. A recession — that hit general aviation particularly hard — cast a pall over the future. And so did memories of the crushing oil embargos of the 1970s. Serious and knowledgeable people predicted the world would run out of oil, not just run out of cheap oil.
Beech dominated the turboprop market with its King Air family. In fact, other makers of turboprop twins had dropped production, or gone out of business entirely. We could not then predict the steady and impressive gains turbofan engines would make in fuel efficiency so the turboprop held important advantages in an oil worried world.
That was the setup for the decision makers at Raytheon. The thinking went something like, "Our company, Beech, dominates the turboprop market. Turboprops hold a vital fuel efficiency edge. Ergo what we need is an advanced turboprop to cement our market position for decades to come."
When an aviation decision maker goes looking for great leaps forward there is always somebody with an unproven idea ready to fulfill their dreams. In the early 1980s one of the most talked about bits of aviation magic looming on the horizon was composite construction. Using carbon fiber reinforced plastic could cut airframe weight by huge amounts, proponents claimed. And we all know that a lightweight airplane is everything good. It's faster, carries more, and is more fuel efficient.
And composites seemed to be at least somewhat proven. I remember that Gulfstream made a composite rudder for its jet and saved 200 pounds. If you can save that much on a rudder, think how light an airframe built entirely from composites would be. The mind boggles.
The other propeller airplane configuration that always tantalized, and even could be proven in wind tunnels, was mounting the engines on the rear as pushers. A pusher prop produces more thrust on the same power, and because the props are aft of the cabin, the passengers experience jet-like smoothness and quiet.
Once the Raytheon decision makers bought into the incredible weight savings promise of composites, and the benefits of the pusher propellers, the other design decisions — most of which turned out to be awful — cascaded down on them.
The Starship could have been designed with a conventional wing and tail, much like its contemporary, the Piaggio Avanti, was. But the futuristic look of Burt Rutan's canard creations was so exciting. Burt's "Eze" homebuilt designs were popular, looked fast, and were. The fact that an Eze empty CG is so far aft that the empty airplane can't even sit on its nose gear without tipping over backward didn't seem to register with Raytheon.
To get that futuristic look and make the airplane practical in terms of CG location the Starship wing needed a large amount of sweep. Wing sweep looks fast, and does reduce drag above critical Mach that is usually faster than Mach .70, but at turboprop speeds sweep adds headaches and penalties with no benefits. A swept wing is less structurally efficient, which means it's heavier than a straight wing. And sweep degrades stability, particularly in yaw-roll coupling.
Some believe a forward wing (canard) instead of a conventional horizontal tail is more efficient because it always lifts while the normal tail produces balancing downforce. But because it's always lifting the forward wing must always stall before the main wing so the nose will pitch down making recovery possible. But to have enough lift at low speeds for adequate pitch control with wing flaps extended, the Starship forward wing had to be too big to not stall at higher airspeeds. The solution was a mechanism that would sweep, and unsweep the forward wing.
Because the forward wing sweep was obviously critical to airplane performance and stall behavior, lots of monitors and backup equipment were required. The result was more weight and complexity with not much, if anything, in the way of measurable performance benefit.
The Starship also had the unfortunate timing of being caught between avionics technological developments. Electronic flight instrument systems (EFIS) were in service, but the displays were actually little more than TV tube pictures of conventional instruments. It was not possible to combine all six primary flight instruments into a single display. But, to continue with the airplane of the future theme, the Starship designers opted for an EFIS display of every individual cockpit instrument. There were 16, as I recall, individual TV tubes in the instrument panel burning amps and pumping out gobs of heat. The avionics cooling fans were an absolutely critical item.
If you lived through that time you'll remember the aviation world being divided on the Starship. Not necessarily evenly, but divided. One camp believed that airplane would deliver its promise of 400 mph cruise speed, jet level of vibration and quiet, and range pushing out close to 2,000 miles. The other camp believed a plastic airplane couldn't be built and certified, and the strange configuration would not work, and the whole program would flop.
I remember one evening sitting in a Wichita bar with Mike Potts, who worked in Beech PR at the time — imagine that, a writer and PR guy in a bar — discussing the Starship's future. In a stroke of brilliance, or maybe it was gin, we realized there was a third possible outcome. What if the Starship is certified and built, but just doesn't do anything well, and certainly not better than other airplanes.
And that's exactly what happened.
It didn't take long to learn that composite construction could not deliver the promised weight savings. As the Starship empty weight soared, the whole program would have collapsed except for a new FAA certification program called commuter category. The "small" airplane category the Starship was launched under maxes out at 12,500 pounds takeoff weight. In exchange for more stringent structure and performance requirements the commuter category allows takeoff weight to go higher. Those commuter category requirements undoubtedly added even more weight but did allow the program to continue. The eventual maximum ramp weight of the Starship topped 15,000 pounds.
More than the usual amount of tweaks and mods were required to bring the Starship flying qualities in line with the rules, but Beech persevered. In the end the Starship was the most stable airplane I have ever flown. I didn't believe an airplane could be too stable, but the Starship is. It plows through bumps like it's on rails. And the only way to initiate a reasonable roll rate is to stomp the rudder hard as you turn the wheel. Stability is great, but stability is the antithesis of low drag. Because of that, the big miss on weight, and no realized efficiencies from the forward wing configuration, the Starship missed all of its performance goals, by a lot.
Beech built 53 Starships and only a handful were sold. The rest were leased because almost nobody wanted to sign on for an open-ended conventional ownership. In the end Beech tried to buy back all of the Starships to put a couple in museums and destroy the rest to end the cost of supporting the tiny but complex fleet. I was invited to fly a Starship on its final flight into McConnell Air Force Base in Wichita where it would go on display at the air museum there. It was fun to make that final flight, and to buzz the runway a few feet high at red line airspeed. But I couldn't help thinking what could have, and should have, been instead of the Starship.
The Starship disaster is unusual on the long list of new airplane failures. Most importantly it did get built. Most paper airplanes never fly, and certainly almost none are certified and produced. The other big difference is that no order holder lost their deposits on the Starship. Raytheon stockholders didn't do so well, but Beech didn't screw the aviation public.
But the Starship was a disaster for all of aviation in terms of lost opportunity. The billion bucks — closer to two billion in today's dollars — that Raytheon spent going down the wrong technology paths could have been, and should have been, spent on an improved conventional turboprop. Today's King Air 350 is a terrific airplane, and a best seller, but if that billion dollars had gone into building on the King Air instead of chasing a dream we would have an airplane now that is several inches larger in cabin section, more fuel efficient because of a newer wing design, and less costly to maintain because of modern system design and materials use.
I cringe still when the Starship is described by so many as high-tech, and futuristic. It was a failure in every respect. Raytheon shot for the moon and ended up with an exotic looking airplane that didn't do anything as well as airplanes already there, and costing much less. And all of aviation was robbed of the really terrific airplane that a billion dollars could have created.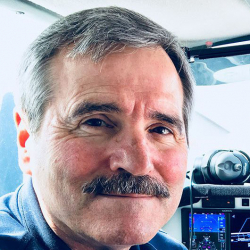 Latest posts by Mac McClellan
(see all)
https://airfactsjournal-images.s3.amazonaws.com/wp-content/uploads/2018/01/06155543/1024px-Beechcraft_Starship_in_flight.jpg
552
1024
Mac McClellan
https://airfactsjournal-images.s3.amazonaws.com/wp-content/uploads/2021/04/06142440/Air-Facts-Logo340.jpg
Mac McClellan
2018-01-03 14:18:12
2020-03-04 10:37:33
Why the Starship was such a disaster