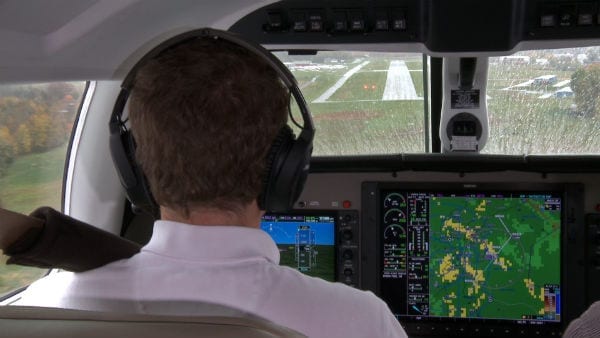 14

min read
To me, the sweet spot on a VFR approach is when 500 feet above the ground and descending toward the runway. Here, if the sight picture of the runway is correct and the configuration, speed and rate of descent are right on, the fun part, the landing, should be a piece of cake. The question is, how do you get to that sweet spot with the least possible risk?
To do it right you need to start early and plan the whole arrival process carefully. I don't think there is enough training emphasis on arrivals and my feeling about this was reinforced when I had good sessions with Concorde training in the 1980s.
The Concorde flew all its life with few additions to the original avionics. There was no electronic vertical navigation feature and no big nav screens. The instruments remained mechanical.
I have told this story before but it relates to the subject I am about to explore. Picture yourself cruising along in excess of 1,100 knots, up near 60,000 feet, with the challenge of making all that energy come out even with a gentle stop at the JFK gate. One Concorde captain told me that all you have to do is use the computer up here as he tapped his head.
The importance they placed on a good arrival was shown in a simulator session that covered a Heathrow-JFK hop. Once at cruise the sim was moved across the Atlantic at super-supersonic speed but it was not moved to the point where the approach to the runway started, it was moved to what they called the deceleration point. That was where the slowing down and starting down process got under way.
This is just as important on the airplanes most of us fly as it was in Concorde. If the letdown and arrival is botched, nothing that follows will likely work well.
I used to ask arriving pilots how many flying miles they thought we had to go until touchdown. Many would look at me like I was crazy because there was nothing like that on the FAA written or in the training materials.
If they didn't have a clue about miles, I might then ask how many minutes to fly until touchdown. The purpose of either question is to define the amount of time available to do all the things that are required before reaching the sweet spot, followed by the tires going chirp chirp. What I learned is that most pilots just don't think about either miles or minutes to touchdown when arriving.
For now let's think of a VFR arrival at an uncontrolled airport.
If there are no terrain or obstructions that dictate otherwise, the plan should be to arrive at the traffic pattern altitude a few, say three, miles from the airport. I would plan to do that based on starting my descent five miles away from that point for each 1,000 feet high. That is a descent rate of 500 feet per minute at 150 knots groundspeed, add or subtract 100 fpm for each 30 knots above or below 150.
That is a leisurely descent rate but I always felt it to be the most efficient and comfortable way to let down.
A little AIR FACTS history for your amusement: The call on the Common Traffic Advisory frequency when five or ten miles out actually stems from a proposal my father, Leighton Collins, made in the September, 1967 issue of AIR FACTS. He called it a Traffic Pattern frequency but most of what the FAA developed as the CTAF followed his idea.
There is one questionable procedure in the AIM recommended CTAF procedures. Why identify by N-number? That means nothing to the other traffic which might be able to see you as a Cessna 210, for example, or a green and white Cessna 210 if close enough. The main thing is to state your position and intentions. Cutting down on words is especially important at busier uncontrolled airports where the CTAF can get pretty congested.
Best have a plan for the traffic pattern when three miles out, too. By regulation, there is only one traffic pattern requirement and that is for all turns to be to the left unless otherwise dictated by Notams or, I presume, word from a Unicom operator. If the active runway can't be determined by other means, the old practice of circling the field and looking at the wind sock is still there to use.
There are traffic pattern recommendations and over the years these have been studied and hashed over many times. Often the product of these studies seems to have come from good folks who could make scratching your head complicated and expensive.
The recommended attitude of 1,000 feet above ground level has been around for a while but it was once 600 feet. It is hard to argue with the suggestion to enter the downwind at a 45 degree angle but, for me at least, it is also hard to argue with a left base entry or a straight-in approach if either fits the direction from which you are approaching.
It takes a good awareness of what is going on to avoid two well-proven hazards when maneuvering for landing at an uncontrolled airport. This is prime territory for collisions and low-speed losses of control.
It has long been true that most midair collisions happen in the vicinity of uncontrolled airports. Proper use of the CTAF helps here and a traffic advisory system in the airplane is also an excellent aid. Defensive flying can be added to the mix but when all is said and done the only way to avoid a collision is by visually acquiring any threat and then avoiding it.
Seeing other traffic works better if the traffic is above you, with the sky as a background. Airplanes below can blend in with the terrain or other features on the ground. This suggests that any pattern be flown a bit on the low side. Maybe that is a good idea but if everybody did it then it wouldn't work for anybody.
Perhaps the best defense is to consider the announced traffic, from the CTAF, along with traffic shown on your screen and work hard at spotting those airplanes. Then you can fit your airplane into the traffic regardless of where you are joining the flow to the touchdown zone of the runway.
One other thing to consider is that in most midairs that occur in the landing pattern one or both airplanes is descending. Look where you are going. A midair spoiled my whole day many years ago and the other airplane was there for the looking by either pilot but neither looked in the right place. There is no way to know exactly where other airplanes are or what they will be doing but you do know where your airplane is and where you want to go. Just be sure the way ahead is clear of other traffic.
The other proven pattern hazard is the stall/spin event that comes when steep low-altitude turns are attempted while trying to salvage a screwed-up approach and get lined up with the runway.
Something to consider here is that all those wonderful stalls and recoveries you practiced at altitude will not do you one bit of good if you fail to manage angle of attack down low and let the airplane depart from controlled flight. There simply won't be enough altitude for a recovery.
I have always thought that we should teach pilots how to fly without stalling instead of doing all that relatively worthless stall practice at altitude. We do need to add spin demonstrations to the mix, too. If a pilot has seen a few spins, he will know what happens if he gets too low and too slow and the only spin he ever sees is the last one. It is just not possible for a pilot to appreciate the hazards of a low-speed loss of control if he has not seen a few spins. To me a few spins are worth more than a thousand stalls at altitude.
One pattern item of prime consideration is the wind. In a crosswind situation there will be either a tailwind or headwind on base leg. A headwind doesn't cause problems but a tailwind can push a pilot into an overshoot of the final approach course. If that happens, best fly the pattern again with the downwind leg farther away from the runway.
There's a good rule of thumb to follow here, too. If maneuvering for any purpose at a relatively low altitude, best put an absolute limit of 30 degrees on the acceptable angle of bank. The increase in stalling speed goes out of sight when the bank steepens past 30-degrees.
My traffic pattern flying underwent a substantial change after we ran Landing as a Science in the February, 1966 issue of AIR FACTS. The author, Captain Gordon L. Graham, USMC, was an instructor-pilot at Pensacola where the most demanding arrivals and landings of all are taught with a great deal of care and precision.
The last of the traffic pattern is taught as a continuous turn from downwind to final commencing when abeam the approach end of the runway. That is based on the runway being a carrier which is moving forward enough for this to result in a bit of a final approach. If landing on a fixed runway, they taught to make the first part of the turn at a shallower bank angle to make room for a bit of a final.
My concern about this procedure was based on being able to judge a proper approach path while turning. Gordon, whose father Art was tower chief at LGA and an old friend of my father's, tried to explain this in the article as well as to me on the phone. That wasn't working so he arranged a rendezvous and took me flying in a Navy T-28C for a little show and tell.
I got it, and from then on when I did a downwind pattern entry I'd make that close-in continuous turn to final starting just after I was abeam the approach end of the runway. I could tell, from halfway through the turn, whether or not the end of the runway was coming at me properly just as well as I could tell on a straight-in approach and any adjustment was easy to make. I think the circle to final made it easier to anticipate any developing problem as long as I was thinking well ahead of the airplane, something I always tried hard to do. If your thinking gets behind the airplane then a successful conclusion depends more on luck than anything else.
In a low-wing airplane the circle to final would block the view of any airplane that might be on a long final so it was proper to take a look when about half way around in the turn. In a high-wing, the view of anyone on a long final was unobstructed.
It might be suggested that this reduces the risk of a mid-air collision by limiting the time in the pattern but that's a stretch. To me, the main advantage was in ease and efficiency. I always flew the downwind at a distance that allowed that final turn to be at about 20-degrees of bank so there was no steep turn at low altitude.
I know that some folks want to teach long and stabilized straight-in approaches and they are perfectly free to do so. But the continuous turn to final was always pretty fun to me and after I had done it for a while I couldn't imagine doing it any other way.
As related by Gordon Graham, the Navy taught that the airplane should be in the landing configuration at the 180 point and that the approach should be stabilized throughout the turn. That seemed a bit much to me and I usually didn't select landing flaps until I was at the 90 position. That would just be a matter of choice.
Gordon also said that it is easier to teach approaches and landings to people with an athletic background. I can hit the sink with the washcloth from the shower every time. Does that count?
For John's take on current research on patterns flown like this, see his December 1, 2016 blog Searching For A Miracle Cure To Loss Of Control Accidents. John accurately points out some potential flaws in the continuous turn from downwind to final but I think both he and the entities researching the possible adoption of this miss one big point. There is no requirement to fly a traffic pattern so anything anybody comes up with is meaningless. At the most it could become a recommendation. My point is simply that the continuous turn from downwind to final is easier and it gets you to happy hour a few seconds quicker if things like that count. I also do think it might help pilots stay away from those deadly steep turns at low altitude.
There's one other variation to consider and that is the sweet spot in a power-off approach. These used to be the norm in light airplanes and a power approach was rather derisively referred to as dragging it in. Now, though, the power approach is more the norm and I have to agree that they are somewhat easier and more suitable in heavier light airplanes.
Just as twin pilots practice engine-out approaches, though, pilots of singles, even relatively heavy singles, need to practice power-off approaches. In many airplanes, a real energy-management challenge can be found there.
I think my P210 might have been the poster child for power-off approaches that almost resemble autorotations in helicopter.
If the throttle was cut abeam the end of the runway and a turn to final started at that point, the recommended 1,000 foot pattern altitude wasn't enough. It took an extra couple of hundred feet to be able to reach the runway with the power off.
I would put out approach flaps to begin, saving full flaps until a landing at the desired spot was assured. For speed, I used a bit more than 78 knots, 1.3 Vso, because it takes quite a bit of energy for a regular flare and transition to a landing attitude. I found 85 to be adequate.
At 500 feet I wanted to have the sight picture of the descent exactly right, or very slightly on the high side. When powerless, there are things you can do to descend faster but not much you can do to descend more slowly. It's important to know the effect of flaps setting on stalling seed, too, because if the last part of flaps extension doesn't lower the stalling speed much that's because it is mostly drag and that could be used to modify the approach path. The flat plate drag of a windmilling constant speed prop might also be reduced by pulling the prop control all the way out and getting it out of flat pitch. You need to know whether or not the prop on the airplane you are flying is controllable in a power-off glide.
Power-off spot landing used to be a staple in training and when check flights were first given to aspiring pilots the inspector would often stay on the ground and observe a couple of spot landings and a two turn spin (at altitude) and issue a certificate based on those two items. For my nickel, spot landings should still be on all check rides in single-engine airplanes.
Why do I think all this is important in relation to the current evangelical zeal about a problem (loss of control) that was one of the things that prompted my father to start AIR FACTS in 1938? Then and now, when the fatal accidents are examined it is apparent that pilots lose control because they fly themselves into sinister places and either don't recognize what they have done or recognize it too late.
Designating a sweet spot on the approach that is flown to with great planning and care and beyond which the approach is not continued unless everything is just right simply addresses a whole bunch of problems including losses of control on go-arounds which seem to becoming more common. There's also the reward of a perfect landing which is far more likely after a perfect arrival.
Latest posts by Richard Collins
(see all)
https://airfactsjournal-images.s3.amazonaws.com/wp-content/uploads/2012/11/06175602/Malibu-short-final-rain.jpg
338
600
Richard Collins
https://airfactsjournal-images.s3.amazonaws.com/wp-content/uploads/2021/04/06142440/Air-Facts-Logo340.jpg
Richard Collins
2017-01-03 17:34:50
2017-01-05 12:39:58
Arriving at the VFR sweet spot – without colliding or spinning in