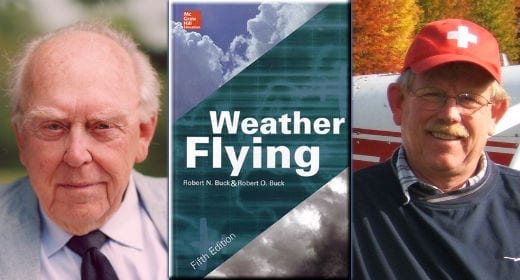 2

min read
When Bob Buck's book Weather Flying was released in 1970, it became an instant classic. Wolfgang Langewiesche said of it, "Other books explain how weather is made; this book explains how weather is flown." Truer words were never spoken.
Bob Buck died in 2007 at 93. His son, Rob, picked up the torch and brought everything up to date in the fifth edition, now available.
Bob started out in 1930, set records as a teenager and flew for TWA in an airline career that saw him fly everything from the DC-2 to the 747. Along the way, during World War Two, he flew a B-17 and other airplanes while doing some of the most remarkable weather research flying ever done. He probably knew more about airplanes and weather than anybody.
Rob, his son, worked in general aviation, including a time at Business & Commercial Aviation, from the same publisher as FLYING. Like his father, he went on to an airline career and retired from Delta as an international captain.
So, what you have in "Weather Flying" is a compilation of weather wisdom that was amassed over an 83-year period. There is nothing else like that available and there never will be. So, calling it a unique book is absolutely factual.
There is a lot of detail in the book and I doubt if every reader will read it from cover to cover in one sitting. There is just too much there to savor and when you later become curious about some aspect of flying weather, the book is well indexed with an answer to most any possible question.
Bob Buck wrote a lot about weather in the original AIR FACTS and we have picked up some of that in this publication so if you are not familiar with Bob's writing you can go back through the older posts here and have a sample.
I will admit to a bias, too. Bob was one of my father's oldest friends and "Weather Flying" is indeed dedicated to Leighton Collins. I knew Bob for a long time, too, and when he was retired in Vermont and in his late 80s and early 90s, I would fly up for lunch and a visit. I never failed to learn something from him. Rob would often be there, too, and we were in touch as he labored over this new version of the book.
I have written aviation weather books, too, and will share with you the thought that Weather Flying is the most complete book available on the subject. Do read my books but don't fail to read the Buck boys' book. "Weather Flying," by Robert N. Buck and Robert O. Buck. It is $29.95 and available from Sporty's.
Latest posts by Richard Collins
(see all)
https://airfactsjournal-images.s3.amazonaws.com/wp-content/uploads/2013/11/06174027/AF-weather-flying-feature.jpg
280
520
Richard Collins
https://airfactsjournal-images.s3.amazonaws.com/wp-content/uploads/2021/04/06142440/Air-Facts-Logo340.jpg
Richard Collins
2013-11-08 09:43:21
2013-11-08 09:43:21
Weather Flying, fifth edition – the legendary book flies on