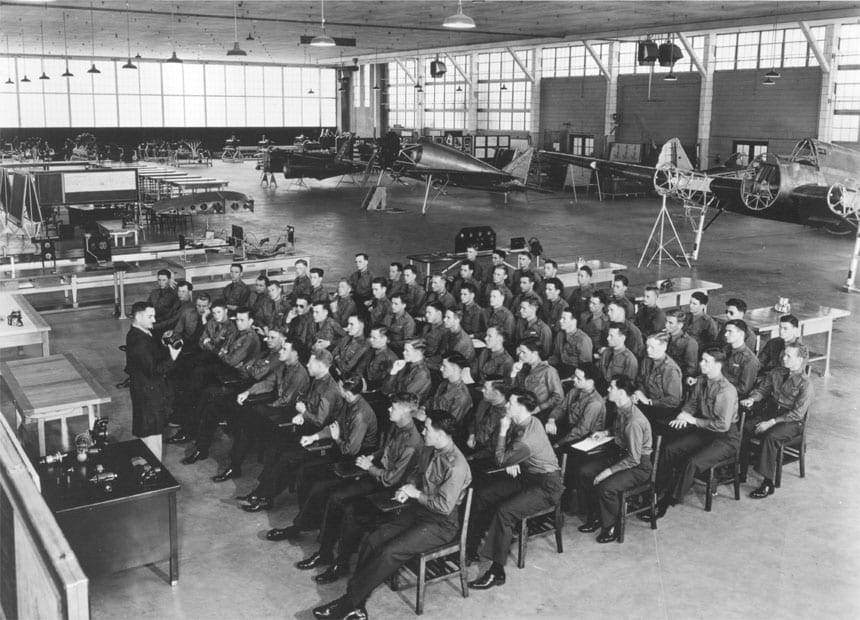 8

min read
Editor's note: This is the second in a series of five articles called Mayday! The declining pilot population. You can read all the articles here.
Stories about the declining pilot population never surprise me, because they never fail to trigger the memory of two sadly illustrative experiences that might have put me in that category.
The first occurred in the early 1990s when, having finished private pilot ground school, passed the knowledge test, and acquired my student pilot certificate/medical, I visited the nearest flight school to see about flight training. I found myself in a dark and dingy facility, partly excused by the "pardon our dust" construction signs but nonetheless uninspiring. No one at the counter seemed interested in helping me. When I politely inquired about flight training, they handed me a single sheet of crookedly-copied information on flight training packages. There was no conversation. No offer to show the facility or the aircraft. So there was also no sale. I wanted flight training badly enough to keep searching, and I eventually found a school that wanted my business. But I have often wondered how many potential pilots simply gave up at the counter.
The second occurred just three years ago, when I wanted an aircraft checkout in a city I visit often enough to make the exercise worthwhile. I was in the company of a couple who owned the nearly-new Cessna T206 Stationair we had just refueled. The counter attendant looked panic-stricken when I asked about checkout requirements, but pointed me to "one of the instructors" on the sofa behind me. Said instructor was engaged in a lively shoot-the-bull conversation with a fuel truck driver, and both appeared annoyed by the interruption from this pesky potential customer.
Neither bothered to stand. No one offered a handshake, an introduction, or an invitation to sit. And then, while I stood in front of them, the instructor proceeded to conduct an almost hostile interrogation on my qualifications and experience. His description of the overlying Class B airspace seemed designed to intimidate and discourage me–hard to do, not only because I'm relentless when I want something, but also because my home airspace in the Washington, DC Tri-Area Class B and Special Flight Rules Area makes anywhere else seem simple by comparison. Again, no sale. I found another school, but I continue to wonder how the first one stays in business. I do not wonder why anyone in search of flight training might well find some other way to spend large sums of money.
There's a lot of competition today for discretionary income, and there's a lot less tolerance for the kind of experience too many potential pilots have when they walk through the door of the typical flight school. The high cost of flight training is certainly one factor in the declining pilot population, but it's not the only factor. I'm not convinced it's the primary factor, either. Treating potential pilots like valuable and valued customers is certainly a necessary start, and I could write a lot on that particular subject.
But if we want to reverse the declining pilot population, it's not enough to treat potential customer-pilots well enough to enroll them in flight training. We also have to keep them in flight training, and keep them flying when they finish.
Here too, my experiences–by no means unique–may be illustrative. During my primary training, I was fortunate to have a fine instructor. The school used a respected commercial syllabus. I never had cause to worry about the airworthiness of the training fleet. Still, the overall approach to training was unimaginative, an exercise in marching through set maneuvers-based lesson plans that sometimes seemed irrelevant to my reasons for learning to fly. Even for a highly motivated, absurdly enthusiastic student like me, it was sometimes difficult to keep going.
When I did finish, the school seemed oblivious to the marketing axiom that keeping an existing customer is far less expensive than acquiring a new one. They sent me off with a cheery "congratulation–have fun–be safe" farewell, but I was basically on my own to figure out how to use my shiny new license to learn. If I had not independently set my next aviation goal for an instrument rating, which gave me a reason to go flying and, eventually, a reason to sign up for more flight training, I too might have drifted into the declining pilot population.
To that end, I think another key to reversing the declining pilot population lies in principles outlined in The Experience Economy (Pine and Gilmore, 1998). With apologies to the authors for oversimplification, the premise is that the focus of economic activity in the last century has evolved through agrarian, industrial, and service phases.
Economic value-added now comes from carefully structured, staged, and "mass-customized" experiences–think Disney World or Amazon–that offer positive and memorable experiences that the customer wants to repeat. Pine and Gilmore posit that the next and final phase of economic evolution is the "aspirational economy," in which economic value-added comes from helping the customer achieve a personal aspiration in some area.
Now apply those concepts to flight training. Although scenario-based training is verbally in vogue, the existing model still largely markets flight training as a product (pilot certificate) and/or a service (training needed to obtain it). At the very least, though, flight training in today's highly competitive market for discretionary income needs to be a carefully structured, staged, and customized set of positive learning experiences – experiences that fulfill a customer's aspiration (e.g., self-improvement through acquisition of a new skill), contribute to another aspiration (e.g., fly my family to the beach next summer), and provide reasons to keep flying.
Here's how an experience-oriented, scenario-based training program might operate for a potential pilot who wants to fly for vacation and business travel. At the very first meeting, the school ascertains the customer's goals in learning to fly so as to understand, and meet, that person's individual aspiration. The school then uses standard tools to create a "customized" training program and–this is important–explains and discusses that program with the customer-pilot. Since the first part of any flight training program is necessarily a maneuvers-based focus on attaining fundamental stick-and-rudder skills, the school should use this discussion to motivate by relating those maneuvers to the customer's ultimate goal (e.g., you'll need short-field landing skills to use XXX airport for family vacations).
As to what the rest of the program could entail, I have often thought flight schools are missing a real training and marketing opportunity in states that have a formal airport visitation program. In my state, flight schools could include the "aviation ambassador passport" booklet and a recommended training and post-training sequence of airports to visit in the enrollment package. Since some of these activities would qualify for FAA Pilot Proficiency Program (WINGS) credit, the school could include that information as well. During the cross-country phase, each dual and solo XC is part of the airport visitation program experience, with passport stamps and WINGS credits serving as visible evidence of achievement and progress.
When the customer-pilot finishes training, the school encourages use of WINGS and the recommended airport visitation sequence as a structured post-training reason to fly. Since some airports are more challenging, a discount on dual instruction for certain trips would not only encourage safe stretching of the fledgling pilot's skills, but it would also give the new pilot and the flight school an opportunity to reconnect, thus bolstering both training and marketing relationships.
In my state, completion of the state airport visitation program (which also requires attendance at safety seminars) earns the pilot a nice leather jacket. Flight schools could create their own form of recognition for "ambassador-level" pilots, which could bolster pilot community camaraderie and provide another opportunity to connect with the customer-pilot. Since a pilot who has visited the entire set of airports is likely to have both enough XC hours for an instrument rating and an appreciation for its utility, it's also a perfect time to offer an instrument training outline.
Modern educational theories have a lot to say about the importance of meaningful experience, personal relevance (aspiration), and "scaffolding" to support and strengthen the process of acquiring new knowledge and skills. I can't help but think–or at least hope–that a flight training program that uses these principles for training and post-training support could do a lot to get 'em flying … and keep 'em flying, too.
About the author: Susan Parson is an active general aviation pilot and Master flight instructor in northern Virginia. She holds an ATP certificate, as well as ground and flight instructor certificates with instrument, single engine, and multi-engine land ratings. She instructs for her Leesburg-based C182 flying club and the Civil Air Patrol. Both for CAP and as editor of FAA Safety Briefing magazine, Susan has authored several online training courses and over 80 GA safety articles.
Latest posts by Susan Parson
(see all)
https://airfactsjournal-images.s3.amazonaws.com/wp-content/uploads/2012/10/06175741/Ground_School.jpg
620
860
Susan Parson
https://airfactsjournal-images.s3.amazonaws.com/wp-content/uploads/2021/04/06142440/Air-Facts-Logo340.jpg
Susan Parson
2012-10-02 09:58:27
2016-02-27 10:44:11
From frustration to aspiration