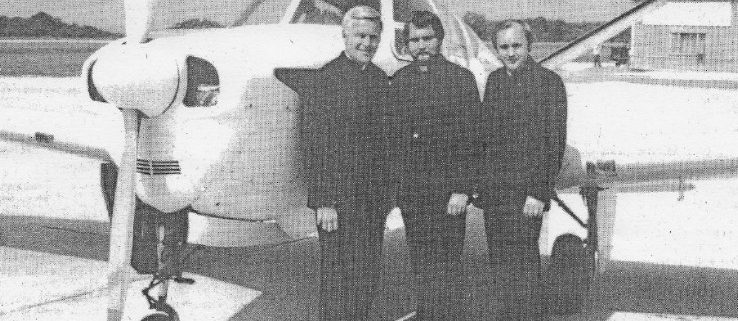 4

min read
The recent death of Astronaut Michael Collins brought back some interesting memories of years gone by for the Hemann flyers, Mel, John and Ev. When Mike left the Astronautical group, he was offered the opportunity of joining a group planning a new Smithsonian Museum dedicated to Air and Space in the Mall near the other Smithsonian structures in Washington, DC.
Mike ended up heading the new Air and Space Museum. One thing important to him was a section devoted to general aviation, and notifications went out for suggestions. Fr. Dick Skriba of Chicago (died March 17, 1998) recommended the three of us. No one doubted we were weird in many ways, but Dick felt we did offer something unique to the flying world: three brothers, Roman Catholic priests, and all priest pilots.
Mel:
ATP (At the time, FAA said I was the first priest with an ATP license. I personally have doubted that statement but?)
ASMEL
CFI-I
Instrument rated
John:
Private license
ASEL
Instrument rated
Ev (died April 24, 2012):
Commercial license
ASEL
CFI-I
Instrument rated
(John stopped flying two years after Ev's death. Between the two of them, they accumulated over 7,500 hours total. Mel continues his passion for flying and to date has logged over 19,600 total hours, over 11,700 hours of dual given and, while age has slowed him down a bit, he continues providing instruction.)
I got a letter from Mike requesting a picture of the three of us that could be displayed in the GA section in the new Smithsonian. John and Ev were in a club that had a Bonanza. We got a photographer, took the picture and sent it off. And forgot about it.
After the museum opened, John was greeting parishioners one Sunday as they left Mass. A family stopped and one of the kids said, "We saw your picture yesterday."
"Where?"
"The Smithsonian."
That remark ignited our normal high level of interest in museums to a much more urgent level and a trip was planned to visit THE PICTURE. John Hemann, Mel Hemann, John Herzog, and Phil Schmitt, all National Association of Priest Pilots (NAPP) charter members, flew the Bonanza to DC. (These same four made the trip in a Cessna 170 to the 1964 organizational meeting of the NAPP in Carrollton, Kentucky.)
As John and I stood beneath our picture (6×4 feet), a mother with two small children passed, they stopped and one child said, "Look, Mom, those two guys look just like the guys in the picture."
As we moved about the room, we were amazed at our surroundings in the museum. Next to our picture was Jerrie Mock's Cessna 180. A few months before our initial NAPP meeting in Carrollton, Jerrie had become the first woman to fly solo around the world. She was invited by a friend to Carrollton.
Among other things of interest were items from Max Conrad. At that time Max was the most renowned pilot in the world. He held every record except to fly around the world over the poles.
Max was our principal speaker at Carrollton and the FLYERS ROSARY on the back of the NAPP membership card are the concluding words of his talk. NAPP has remarkable connections in the aviation community.
Upon hearing of Michael Collins's death, John and I reminisced on other experiences that tie us together. When the space program was in high gear, a friend informed us he was in charge of the NASA simulator training program in California. "If you are ever in town, give me a call and we will put you in the simulator."
Following our July 1969 meeting in San Diego, we called our friend and took our turn in the simulator. As Apollo 11 was halfway to the moon, John sat in Neil Armstrong's seat. I had the honor of sitting in Michael Collins's place.
Museums must keep interest alive and so revisions are a necessity. After seven years the Hemann picture had run its course and was replaced by other old and more interesting paraphernalia. Supposedly the picture was donated to the EAA Oshkosh museum. There is no record in Oshkosh that it ever happened and the picture's whereabouts remain one of today's archaeological unsolved mysteries.
I often think somehow Ev got hold of it and has been parading around heaven showing that prized possession to Galileo, Orville and Wilbur, the famous and the infamous, until he was able to meet Michael in the heavenly kingdom and say:
You finally made it! Welcome! The story is now complete!
Latest posts by Mel Hemann
(see all)
https://airfactsjournal-images.s3.amazonaws.com/wp-content/uploads/2021/08/06141539/Three-priest-pilots.jpg
460
738
Mel Hemann
https://airfactsjournal-images.s3.amazonaws.com/wp-content/uploads/2021/04/06142440/Air-Facts-Logo340.jpg
Mel Hemann
2021-08-31 08:35:17
2021-08-31 09:39:41
Three brothers, all priests and pilots