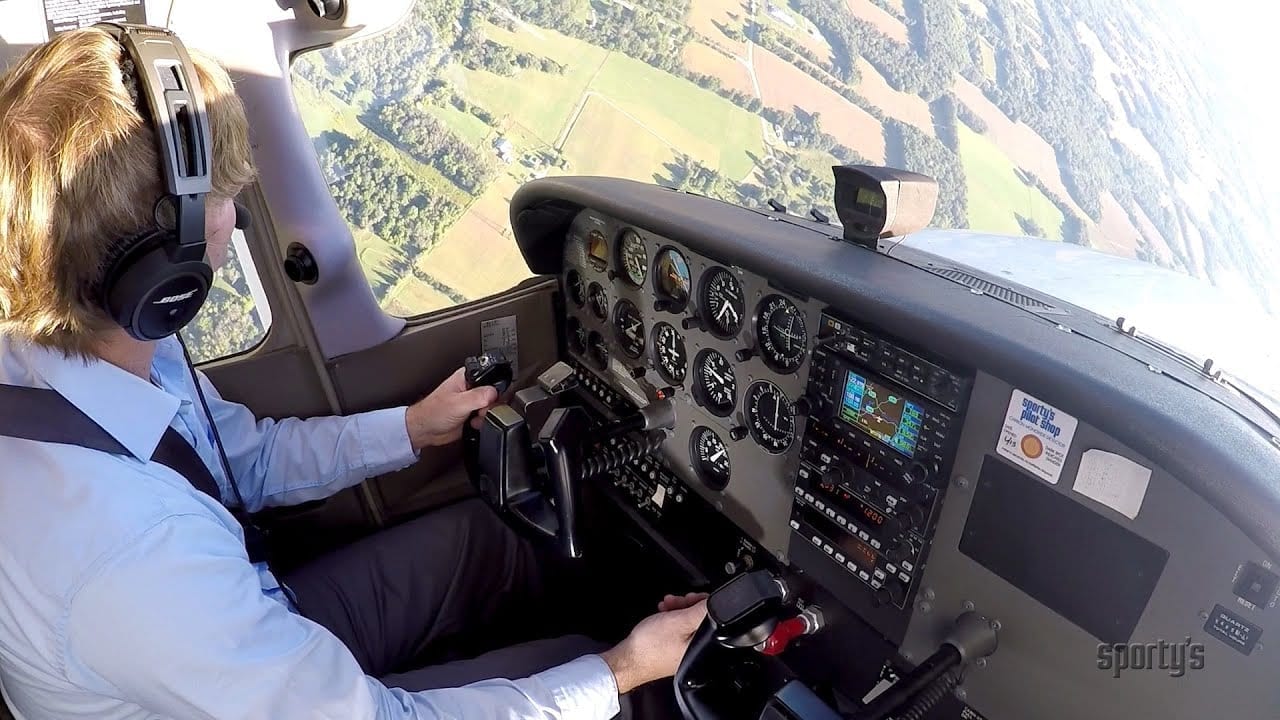 9

min read
The impossible turn, for those of you not familiar with that term, refers to a single engine aircraft losing power after takeoff and executing a 180-degree turn and landing successfully on the same runway from which they just departed. The FAA's official recommendation on losing power after takeoff is to proceed straight ahead and not to attempt to return to the runway or airport. That existing policy position by the FAA assumes there is an open area available for a successful touchdown. The second assumption is that pilot skill level is not sufficient to execute a 180-degree turn in order to return to landing without stalling and spinning in. Both positions are not much help.
The best advice at this time comes from the aviation master Bob Hoover. To quote: "Fly the airplane as far into the crash as you can." Or as my original flight instructor once told me while discussing the subject, "Pick out the cheapest thing available and aim for it."
Right now there are thousands of CFIs conducting touch and goes or options around the country. On the 1500 touch and go around the pattern and just before turning crosswind, they get the idea that it would be possible to perform the so called impossible turn and quite easily too.
Now, as I approach my 50th year of flying, aviation, engineering, and flight research, I can recommend an engineering approach along with my flight training experience on how to successfully conduct this emergency flight procedure.
So like any sound engineering and research project, we begin by asking ourselves the following:
Is there any literature on this subject?
Has this subject been researched before?
Is this emergency procedure maneuver conducted now?
Can this 180-degree turn existing maneuver be applied to single engine aircraft?
The answer to all of the questions is yes!
The literature search
Some time ago, I was lucky to locate several texts both published in 1947. The first, Airplane Performance Stability and Control, by Robert E. Hag and more importantly Technical Aerodynamics by Karal D. Wood.
Mr. Wood addresses the problem succinctly on page 289. He states, "Calculations on gliding turns are of practical importance because they permit determining the minimum altitude from which a return to the airport is possible in the event of motor failure soon after take off…"
Without reviewing the recommended math calculations here, he states this would show and determine helical path that may be considered wound on a cylinder and the altitude loss in completing a turn. The equations can solve for minimum loss of altitude in gliding turn.
He further states: "for minimal loss of altitude it can be shown that an angle of bank should be about 45 degrees and the wing should operate at maximum lift."
So, what do we have here?
Mr. Wood has provided us with two data points:
It is aerodynamically possible to execute a 180-degree gliding turn successfully back to the runway.
An angle of bank of about 45 degrees may be used to do so.
So far so good. Now what is needed is the altitude to execute this maneuver, which way to turn (left or right), and why.
Approved FAA flight test standards and advisory circulars, along with accepted training manuals, provide an answer to our first questions: Is this emergency procedure maneuver conducted now? Can this 180-degree turn existing procedure be applied to single engine aircraft?
Our brethren who fly and instruct in helicopters and gliders practice this impossible turn while teaching and obtaining their respective ratings. With respect to our literature search, we will reference two glider publications plus an unlikely approach.
Gliders 
The Joy of Soaring, a training manual by Clark Conway from the Soaring Society of America.
The Art and Technique of Soaring, by Richard Walters.
It may be somewhat out of scope for this subject but the Space Shuttle—which is also a glider, by the way—had an emergency, 180-degree turn procedure. Fortunately, it was never used. I refer to the Return to Launch Sight, or RTL, emergency maneuver. When free from the solid rocket boosters and jettisoning the external tank, the shuttle was to execute a modified split-s maneuver and attempt to return to the runway. A gutsy maneuver to say the least. However, this proves the space shuttle did have an emergency plan if the need arose.
Soaring publications refer to the so-called impossible turn, known in the soaring world as the rope break procedure. Gliders are launched into the air by air towing from another powered aircraft referred to as a tug. Briefly stated, both publications recommend the key decisions height or point as 200 ft AGL.
Below 200 ft., recommended procedure is to land straight ahead. Above 200 ft., the rope break procedure is recommended to a downwind landing. At 1000 ft., a normal arrival traffic pattern is flown. So now we have two altitude recommendations to work with: 200 ft. and 1000 ft.
On the subject of which way to turn, turn into the wind. A turn into the wind will provide the least radius of action in the turn. Turning with the wind will cause the aircraft to drift away from the runway. The time spent realigning with the runway centerline may not allow completion of the turn or proper alignment with the runway allowing for a successful landing. Airspeed used by gliders is known as best distance speed. In a powered aircraft it would be best glide speed.
This is where we do not want the aircraft's nose on or above the horizon. Keeping it there will get you into an accelerated stall. Not something you want close to the ground. Keep your nose below the horizon and your best glide speed. Let the aircraft proceed in a controlled spiral as stated previously by Mr. Wood.
Helicopters
Our helicopter brethren have an easier method in determining the best altitude and airspeed to employ in executing the impossible turn. In helicopter training and in actual emergency procedure, the student is introduced to the 180-degree autorotation procedure.
Altitude and airspeed for this maneuver is provided by a HV diagram or velocity/altitude graph. The graph shows altitude scale on the vertical axis and airspeed on the horizontal axis. Shaded areas on both axes indicates areas that autorotation, or engine out procedures, are not recommended. Read that as not successful. This H/V diagram can be found in Helicopter Flying Handbook 8083-21 on page 11-8.
Conducting my first 180-degree autorotation it was an eye-opening experience. Looking directly down is not recommended by the instructor. I did look anyway. It really got my attention and caused me to say bad words. The instructor found this very funny as I recall.
So important is this maneuver to the FAA and helicopter operations that this subject of 180-degree autorotation is also addressed in AC-61-140, Autorotation Training.
Why the comparison? Well gliders, while having a great lift to drag ratio, are somewhat slow in turning. What that means is while they stay up longer they do not turn quickly. Helicopters are handicapped by not having much of a glide capability, often referred to as the glide ratio of a crowbar. However, they can turnaround in their own airspace. Fixed wing aircraft fall somewhere in the middle. My 1939 Aeronca has a glide capability not unlike a Schweizer 2-33 training glider. A Cessna 172 easily performs an impossible turn. This type of emergency procedure both glider or helicopter must be done without hesitation. Both procedures are required training maneuvers that are demonstrated by the instructor and accomplished by the student before proceeding to the checkride.
Training and dog bones
So, what do we have to begin with? Mr. Wood has proven aerodynamically that it is possible to successfully execute a 180-degree turn with a bank angle of about 45 degrees.Our helicopter brethren train for this maneuver employing a HV diagram for altitude and airspeed in which to operate. The glider community employs 200 ft. AGL as the desired altitude, knowing the direction of the wind to determine which way to turn and keeping the nose below the horizon to avoid stalls in the turn. Both are required maneuvers.
Dog bones is a slang term for an abbreviated traffic pattern. After departing, make a 180-degree turn and land on the same runway downwind. Runway length permitting on touchdown, add full power, climb out and again cut the power and execute a 180-degree turn, landing on the same runway—this time into the wind. The name dog bones comes from the pattern the aircraft makes over the ground.
This procedure can be repeated until boredom sets in or ATC needs the runway. I have done this maneuver with students in various single engine aircraft in day and night conditions. During the day, this procedure is fun and after several tries the students really enjoy it. Night is more fun as you usually have the airport all to yourself. Have an experienced flight instructor show you how to conduct dog bones before trying them yourself.
What aircraft you fly will determine the altitude you know you can conduct a 180-degree turn and align with the centerline of the runway. When you are comfortable with handling the aircraft and noting how much altitude it would take for you to turn 180, that altitude would be your go-to altitude after takeoff.
Starting high at 1000 ft. is a good altitude. You know the best glide speed for your aircraft, or you should know it. Remember, do not keep your nose on the horizon when turning; keep it below the horizon, fly the spiral as stated, and a bank about 45 degrees or less. DO NOT rush or pull the aircraft around and tighten up the turn. Doing so will get you into an accelerated stall.
Remember, this is an emergency procedure.
When conducting your dog bone pattern, you will establish your comfortable altitude from which you know you can successfully execute the maneuver. Remember, your bank angle is about 45 degrees and do not exceed that. You know your aircraft's best glide speed. Now you have the altitude you need, your aircraft's best glide speed, and the experience you need to execute this emergency procedure.
When practicing this maneuver, you can add power when you find yourself not aligned with the runway or coming up short. Landing downwind will be tricky at first but with a little practice you can overcome the new experience and soon master it. In a real emergency, ground effect will carry you farther than you might think. If not, well, there are not many obstacles just off the end of the runway and taking out several runway lights is a small price to pay vs. an off-airport landing. It's the best of a bad situation.
Find a good CFI, practice this often, and keep it in mind it is an emergency procedure to get you out of a no win situation.
Fly safe and let me know how it works out for you.
Latest posts by Skip Stagg
(see all)
https://airfactsjournal-images.s3.amazonaws.com/wp-content/uploads/2020/12/06143342/maxresdefault.jpg
720
1280
Skip Stagg
https://airfactsjournal-images.s3.amazonaws.com/wp-content/uploads/2021/04/06142440/Air-Facts-Logo340.jpg
Skip Stagg
2020-12-22 09:19:41
2020-12-17 15:55:56
An engineering approach to the impossible turn