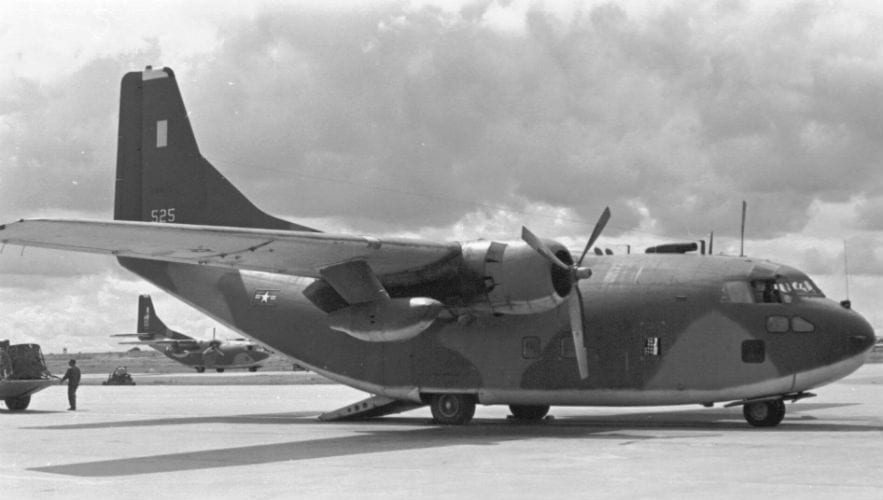 5

min read
The U. S. Air Force Fairchild C-123K Provider was a tactical airlift workhorse during the Vietnam War. This 60,000 lb. airplane, with its two Pratt & Whitney R2800 18-cylinder radial engines and two General Electric J-85 wing-mounted jet engines, was well suited for both the tactical airlift mission and the combat environment.
I flew the C-123 out of Phan Rang Air Base in Vietnam, and soon learned to appreciate this rugged and dependable airplane. All of the hundreds of sorties I flew in the combat theatre were interesting, and most were also challenging in one way or another. Many of the forward bases we frequented, for example, had no instrument approach, the runways were sometimes surrounded by rugged terrain or shrouded in layers of low scud clouds (or both), and the landing surfaces were often unimproved, meaning that they were "paved" in pierced steel planking (PSP) or even dirt. The PSP runways actually weren't bad when they were dry, but they could be like landing on butter when they were wet. More challenging than the flights, however, were the horrors of the war itself.
In my job as a tactical airlift pilot, I crisscrossed the length and breadth of the war zone on a regular basis. Therefore, I constantly observed the realities of war and the impact of combat on the people involved. Occasionally, this meant seeing up close the terrible physical toll of the Vietnam conflict: the dead, the injured, or the tragic collections of GIs chained together en route to an in-country detox center. It also meant seeing the war's appalling emotional toll.
Frequently, for example, I observed the fear and uncertainty in the eyes of the newly arriving troops traveling from Saigon or Cam Ranh Bay to their forward bases. I couldn't help but wonder how many of them would survive their tours of duty. I also learned to recognize the resignation and despair on the faces of the battle- and boredom-weary soldiers, sailors, marines and airmen who shuffled on and off of my C-123 each day. The war and its painful by-products seemed to eventually erase all other expressions from the faces of most of them.
It's not hard to understand why. Few of these men were volunteers; they were not there because they wanted to be, but because they had to be. And, many had already known a buddy or – at least – had heard of someone who had been killed in an ambush, maimed by a booby trap, or caught in the web of cheap and easily accessible drugs. Unfortunately, all of them were also aware of the loud and negative segment of the population back home that seemed to neither care about them nor about what they were going through day after day. Those facts all helped to make my flights on December 24th and 25th of 1971 even more significant.
My C-123 unit had asked for volunteers to fly troops to and from the Bob Hope USO Christmas shows in Bien Hoa those two days. Flying certainly seemed to be a better alternative than spending a lonely Christmas in my room, I reasoned, so I gladly signed up to be scheduled as needed.
I flew 13 sorties back and forth to Bien Hoa before Christmas Day ended. Every flight was packed with as many troops as we could legally carry aboard the C-123. The field commanders, it seems, did a good job of getting as many troops to the Bob Hope shows as possible.
The flights to the shows were pretty much normal troop transport flights. The troops were still mostly expressionless; they were just glad to be getting a break from the war.
Each return flight, however, was the absolute opposite. The physical gross weight of the airplane, of course, was always about the same as it had been en route to the show. But, the emotional weight of the airplane seemed to be thousands of pounds lighter. Most noticeable were the restored expressions of life and laughter on the men's faces. It was as though Bob Hope had turned the light back on in their souls. That, I believe, was not the result of the men having been entertained, but of their having been appreciated.
One flight also stands out for another reason. It was my last return flight late Christmas Eve night. We rarely flew our C-123s at night, but everything about this particular cloudless, full moon-illuminated night was even more unique. It was a strangely silent night, an almost holy night. All was uncharacteristically calm. All was spectacularly bright. And the cognitive camera snapshot I took that night of this beautiful and surreal-yet-peaceful view of a tragically war-torn land will forever be etched on my mind.
I am very grateful for the support that our men and women in uniform currently receive from most sectors of America. All of the various "support our troops" programs, the very meaningful and practical assistance provided to our active duty, reserve and guard troops, and the encouragement expressed to both our deployed troops and their families at home all needs to continue and even be expanded however and wherever possible.
Such support, however, was just not the case during the Vietnam War. The very genuine care and appreciation that Bob Hope and his companions expressed to the troops in just a couple of hours during each Christmas show, therefore, was probably quite literally more encouragement and support than many of these young men experienced before, during or – sadly – after their tours of duty.
Bob Hope made nine consecutive USO Christmas tours to Vietnam between 1964 and 1972. He entertained, yes, but – more importantly – he also imparted sincere value and respect to thousands who had not received much of either for a long, long time. We, as a nation, owe him and those who have followed after him more thanks and gratitude than we could ever repay.
Although my flight schedule kept me from attending a Bob Hope USO Christmas show myself, I was able to personally witness – and will never forget – the incredible impact that he and those with him had on the morale of our troops. And, I count it a tremendous privilege to have had a part in providing several hundred of America's finest with airlift to the appreciation that they so desperately needed and so richly deserved.
Latest posts by Jerry Tobias
(see all)
https://airfactsjournal-images.s3.amazonaws.com/wp-content/uploads/2017/12/06161522/C-123K-in-Vietnam883.jpg
500
883
Jerry Tobias
https://airfactsjournal-images.s3.amazonaws.com/wp-content/uploads/2021/04/06142440/Air-Facts-Logo340.jpg
Jerry Tobias
2017-12-18 17:07:08
2017-12-18 17:08:24
Airlift to appreciation: spreading a little Christmas cheer in Vietnam