7

min read
From time to time, we ask a particular aviation personality to answer some random questions. Today it's Mark Baker, the new president of the Aircraft Owners and Pilots Association (AOPA). Baker is only the fifth president in the association's 70+ years, and he takes over at a difficult time for general aviation. We asked him about his background and his vision for the future of GA.
1. How did your interest in aviation develop and when did you start flying?
I have always been fascinated by airplanes. I was one of those kids who rode his bike to the airport just to watch them take off and land. I guess you could say I started flying when I started bumming rides from the pilots at my local airport as a kid. I was a little older before I started formal training. I passed ground school in high school and earned my certificate when I was in my twenties.
2. You have one more flight. Where to and what are you flying?
I hate to think there will ever be a day when I have just one more flight! I don't know if I could choose just one location. There are so many great airports and seaplane bases where I love to fly. I guess I'd just have to make a lot of stops. But I do know exactly what I'd fly—my Piper Super Cub. It's been with me for more than 20 years, and I just can't have a bad day in that airplane.
3. What do you bring to the job that's different than past AOPA presidents?
Each of AOPA's presidents has brought some excellent qualities to the role. With only five presidents in almost 75 years, we've really had a record of strong and committed leaders. I guess my unique perspective comes from having spent so many years in the business world. I've spent a lot of my career growing companies. Now I have the chance to help grow general aviation, and I think that will be extremely rewarding.
4. We'll ask you the same question we've asked Mac McClellan, Richard Collins and others: are general aviation's best days behind it?
If I thought GA's best days were in the past, I never would have accepted this position. In fact, the first question I asked myself when I was approached for this role was whether I could make a difference for GA. My answer was "yes" so here I am.
Certainly general aviation has struggled, as has every industry in the past few years. But I am optimistic about the future. We've got a rush of innovation happening in avionics, airframes, training, and everything in between. We've got millions of people in this country who say they'd like to learn to fly. And we've got hundreds of thousands of active pilots who are committed to GA and want to share what they love. We can accomplish a lot if we energize our own community.
5. Many point to the cost of flying as the evil that is hurting activity. Do you agree?
The cost of flying can be a challenge, and I know that. There was a point in my own life when I stopped flying and cost was one of the reasons. (The demands of work and kids played an important part, too, as they do for many people.) That's why AOPA fights so hard to save pilots money. It's why we are collaborating with EAA to petition the FAA to expand the driver's license medical standard. That would save pilots millions of dollars.
It's also why we put so much energy into state legislative issues. Our team is out in statehouses fighting for tax cuts—and it's working. We've seen big tax cuts in several states, including Indiana. And we haven't seen a state GA tax increase in five years. That's pretty impressive when you see what's happening to other industries. It's also why we have people working on regulatory issues like Part 23 reform, NextGen implementation, and avgas.
Of course, cost is just one of the challenges facing general aviation. There are many reasons pilots stop flying, and we are working to address those, too. For example, our work to support and grow a national network of flying clubs can not only save pilots money, it can also increase their access to aircraft and give them the support and camaraderie they need to keep flying.
6. What do you think could be done to encourage more student starts and, more important, more student completions?
I think work on reversing the decline in the pilot population is incredibly important. AOPA's own emphasis has been on working directly with the flight training providers. Most recruitment and training of flight students happens at a very local level, through a patchwork of flight schools, flying clubs and independent flight instructors. Our first job is to help them find more students, which will mean creating marketing initiatives that are effective at a local level.
But, as you say, the customer experience of flight training is perhaps even more important. There's little point attracting more students if they don't actually become pilots. It is important that as an industry, we all work to raise standards across the flight training industry by providing knowledge, training and recognition. Finally, while we think there's a lot we can do to help people start, and finish, training, AOPA isn't working alone. We want to work as collaboratively as possible with all the organizations, businesses and community groups that are working hard to attract kids and families to aviation, and to make flying fun and exciting again.
7. Government and industry have vacillated between technology and basic flying skills as the key to safer flying. Any thoughts on this?
To choose one or the other seems a little shortsighted. Basic flying skills are, well, basic. Being able to control the airplane in a wide range of circumstances is critical and we have to teach and reinforce those skills. But there's no reason we shouldn't also use the great technology that's available to us. Think about cars as an example. Driving skills are important and need to be maintained. But decades ago, driving meant being able to operate a stick shift. That's no longer true, so it doesn't make sense to demand that everyone know how to use a standard transmission. At the same time seatbelts, airbags, and even better headlights have made dramatic contributions to safety. These are technologies that didn't exist 50 years ago, but I wouldn't want to drive without them.
8. The FAA made EAA pay for air traffic services at Oshkosh. Do you think that set a bad precedent?
Air traffic control services are meant to provide a margin of safety to pilots and public, especially in high-traffic environments. In some ways, charging for those services defeats the purpose. What if they had been charges to individuals? Some pilots might opt out to save money. If enough pilots did that, the system wouldn't be able to operate effectively, and that would create, not prevent, a hazardous situation.
9. If you had to pick just one, what would be your best aviation day so far?
That's a little like the question about my last flight. How do you pick just one? Any day I'm the air is a good day. So is any day I spend with other pilots, even if we're doing more talking than flying. I guess I'd have to say my best aviation day is the next one.
10. What can the average pilot or AOPA member do to help GA?
We can do a lot. AOPA members and pilots are such energetic people. The challenge is to channel that energy where it can do the most good. For now, though, I'd say every pilot can do two things: fly and share the experience. Every time you fly, you prove that GA matters to you. When you fly you help support our industry and you show decision makers that you're invested in GA. Every time you share your experiences, whether that means telling people about flying or inviting them out to the airport to look around, you are giving those people a chance to fall in love with aviation, too. Every pilot I know fell in love with flying at some point—usually long before they earned a certificate. But that only happens if you are exposed to GA. Every one of us can give someone that opportunity.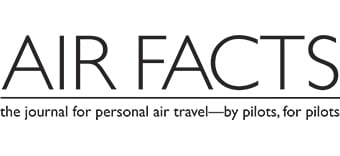 Latest posts by Air Facts Staff
(see all)
https://media.airfactsjournal.com/wp-content/uploads/2013/09/06174247/AF-baker-feature.jpg
280
520
Air Facts Staff
https://airfactsjournal-images.s3.amazonaws.com/wp-content/uploads/2021/04/06142440/Air-Facts-Logo340.jpg
Air Facts Staff
2013-09-20 09:59:12
2013-09-23 12:15:41
10 questions for new AOPA President Mark Baker