1

min read
Before every flight, pilots make some sort of go/no-go decision, even if it happens nearly instantly. A good decision-making process involves a review of the weather conditions, the health of the pilot and the condition of the airplane. On a sunny Saturday this can be easy. But when bad weather moves in or there's a significant squawk on the airplane, making the decision not to fly is often the toughest one we make as pilots.
But there's another factor that comes into play more than we probably admit: passengers. We all want to make a good impression on our passengers, and prove that we are safe and proficient pilots. And the added stress of a personal relationship–especially if it's your spouse–can make the go/no-go decision a lot tougher than what an airline pilot might face with anonymous passengers concealed by a cockpit door. You can see this "spouse factor" when you read the reader comments in many of our Go or No Go articles (where we present a real weather briefing and you decide if you would fly the trip). Often times pilots comment that they would fly the trip solo, but not with their spouse on board.
That brings up today's question: Do passengers change the way you plan or fly flights? Should they? And how do you deal with a nervous spouse? Are there any good ways to "sell" non-pilot passengers or spouses on flying in general aviation? Add your answer below.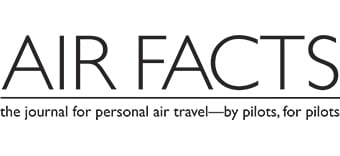 Latest posts by Air Facts Staff
(see all)
https://airfactsjournal-images.s3.amazonaws.com/wp-content/uploads/2012/12/06175547/spouse-flying-wide.jpg
280
520
Air Facts Staff
https://airfactsjournal-images.s3.amazonaws.com/wp-content/uploads/2021/04/06142440/Air-Facts-Logo340.jpg
Air Facts Staff
2012-12-05 09:23:31
2016-02-27 10:49:27
The great debate: the "spouse factor"