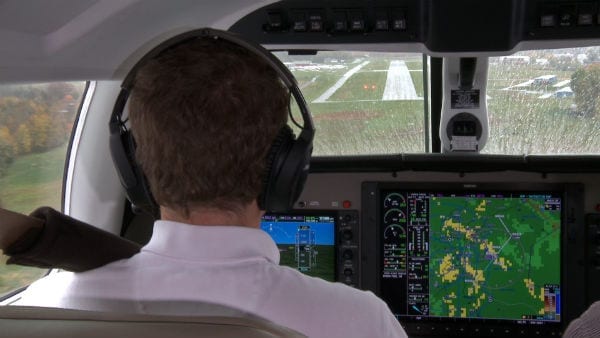 6

min read
It's become fashionable to complain about the lack of stick and rudder training today–just tune into our long-running debate about stall training if you don't believe me. Beyond complaining, though, recent headlines do seem to support the idea that pilots' basic airmanship skills are withering, whether it's Air France 447 or the Colgan crash in Buffalo.
But before we run off and mandate 100 hours of taildragger training for every pilot, we should step back and look at the numbers. What they show is that, while loss of control accidents do account for a large percentage of accidents, they are not the main cause of fatal accidents (many are of the "fender bender" variety). Indeed, one reason these two airline crashes made headlines is that catastrophic loss of control accidents by experienced crews are pretty rare.
Weather, on the other hand, is fatally unforgiving–especially for general aviation pilots. According to 2010 statistics, only 5% of accidents happened in IMC, but these accounted for 18% of total fatals. The accident record in IMC at night is even worse. Many of these accidents are the classic VFR-into-IMC scenario, but icing, thunderstorms and even high winds play a role in a lot of other accidents. And it's not just new pilots that are affected by weather; it must be dealt with on every flight by every pilot.
Are we preparing new pilots to deal with the threat of weather? Yes and no. Student pilots are taught how to read METARs and TAFs, and we spend a lot of time talking about pre-flight weather briefings. But most of the weather lesson stops at the flight school door, and very little time is spent learning what weather looks like in flight and how to adjust to changing conditions from the left seat. The result is we focus on weather theory and especially the go/no-go decision, to the exclusion of more nuanced decision-making.
This simplistic approach leads to either canceling every flight because of weather, or naively blundering into dangerous conditions. Neither one is good. The balance between good utility and safety is a famously difficult one, but done properly it's the most rewarding part of flying.
To be fair, it's easy to see why weather training is so lacking. For a start, weather is an incredibly complex subject, one that professionals spend years studying at universities. To try to cram even a quarter of that into a typical ground school class is impossible. There's simply a lot to learn, especially for instrument pilots.
FAA tests are part of the problem, too. They spend a lot of time talking about black and white radar summary charts and how to decode text AIRMETs, with very little emphasis on real world weather analysis or decision-making at 150 knots. If a flight instructor teaches to the test, the student won't learn much practical information about weather.
But the real problem is not with our book learning, it's with the application of it.
An understanding of textbook principles is an important first step, but what makes pilots unique is the need to translate that theory into practice. And the reality is that weather flying is very hard to practice in a simulator or visualize in a book. It requires the integration of technology, visual observation, air traffic control and a lot of good decision-making. Like learning crosswind landings, there's just no substitute for going out and doing it.
That's pretty rare today: just think of all the things you can learn by sitting on your couch with a computer. Technology has made it faster, cheaper and easier to learn almost any skill (including some elements of flying). Navigating thunderstorms or avoiding in-flight icing aren't on the list.
So the goal must be to gradually expose yourself to increasingly bad weather in order to learn where the line is and how to build in some margins. A great way to get started is to simply plan some cross country flights with no passengers (for comfort, not because you'll be unsafe) and expect to fly them unless the weather is truly awful. Doing this demands that you have hard limits and you a backup plan always in mind, but it can teach you more than any ground lesson ever will.
This real world approach also calls for some type of mentorship, either with a flight instructor or just another pilot with more weather flying experience. Airlines do this by pairing new first officers with more experienced captains; it's up to us to do something similar in our Cessnas and Pipers. A lot of this will probably happen after the checkride, and that's fine.
What about new cockpit technology? It can certainly help. The widespread use of datalink weather tools, whether from XM or ADS-B, has certainly made it easier to avoid convective weather. Likewise, TKS de-ice systems are showing up on more airplanes, giving pilots a few more options on cold days.
But these tools really just give pilots more options, they don't make the decision for us. At the end of the day it's all about judgment. And judgment, as any parent of a teenager will tell you, is hard to teach.
That's especially true in aviation. We seem to do a good job of training towards specific standards (perform a 45 degree bank turn within +/- 100 feet of altitude and roll out on the heading +/- 5 degrees). But when it comes to more nuanced goals, we struggle (get good utility out of the airplane, but don't push it and crash in bad weather). There's no single sentence PTS description for good airmanship or smart weather flying. That doesn't mean we can't train for it.
Part of learning judgment is becoming deliberate about what we do subconsciously. So much decision-making in life happens without us knowing–hundreds of times per hour we make educated guesses and jump to conclusions. This is often a useful tactic, saving us time on everyday tasks that don't need deep thought.
But things are quite different with a complex, ever-changing situation like aviation weather. We have to very explicitly consider the conditions we see, what the current plans are and what the options might be. Then we need to make a decision based on the facts. Gut feel gets a vote, but it's not the ultimate decision-maker.
With this type of decision-making, practice certainly pays off. So get out there and take a lesson from Mother Nature. Class is always in session.
What was your own weather training like? What do you know about weather now that you didn't know the day you passed your checkride?
Latest posts by John Zimmerman
(see all)
https://airfactsjournal-images.s3.amazonaws.com/wp-content/uploads/2012/11/06175602/Malibu-short-final-rain.jpg
338
600
John Zimmerman
https://airfactsjournal-images.s3.amazonaws.com/wp-content/uploads/2021/04/06142440/Air-Facts-Logo340.jpg
John Zimmerman
2012-11-26 12:04:54
2016-02-27 10:49:00
The sorry state of weather training