4

min read
General aviation worked its magic for the first half of this trip, with your Piper Saratoga delivering you and your spouse to the Bonnaroo music festival in rural Tennessee in just over two hours compared to the six it would have taken you to drive. Now can it work on the way home?
After a wet night in your tent (and some ringing in your ears from the concert last night), you are ready to fly from Tullahoma, TN (THA), to your home in St. Louis (SUS). Now you just need Mother Nature to cooperate—while you earned an instrument rating a few years ago, you are not current so VFR is the name of the game today. Read the weather reports below and let us know if it's a go or a no go for you. Departure time is 1800Z.
Overview
Most of the bad weather seems to have cleared out overnight, but ForeFlight still shows some scattered rain in the area. There is a colorful mix of both green (good VFR) and blue (marginal VFR) METAR circles along your route.
The surface analysis tells the rest of the story, showing a low pressure system centered on western Kentucky.
The upper air analysis charts show it is in fact a cutoff low, explaining the swirling mess of rain that is slowly inching northeast. The prog chart for tonight shows that, while you're definitely on the backside of this front, it's not going anywhere fast.
Even the forecast for tomorrow morning isn't exactly calling for clear skies.
Radar and satellite
With the big picture in mind, your eyes immediately move to the current observations, namely rain and clouds. The regional radar is mostly clear along your route, especially the convective stuff, but you'll be skirting the western edge of some rain. And remember—it's coming from northeast to southwest, so you can't count on it moving away from your route.
The infrared satellite shows plenty of clouds around this low, but everything along your route looks very thin.
The visible satellite fills in a few of those gaps, including a few rows of puffy cumulus in western Tennessee.
Cloud and convection forecasts
Now you need some detail about those clouds. First, is there a chance for convective activity? There are Convective SIGMETs out there, but not directly along your route.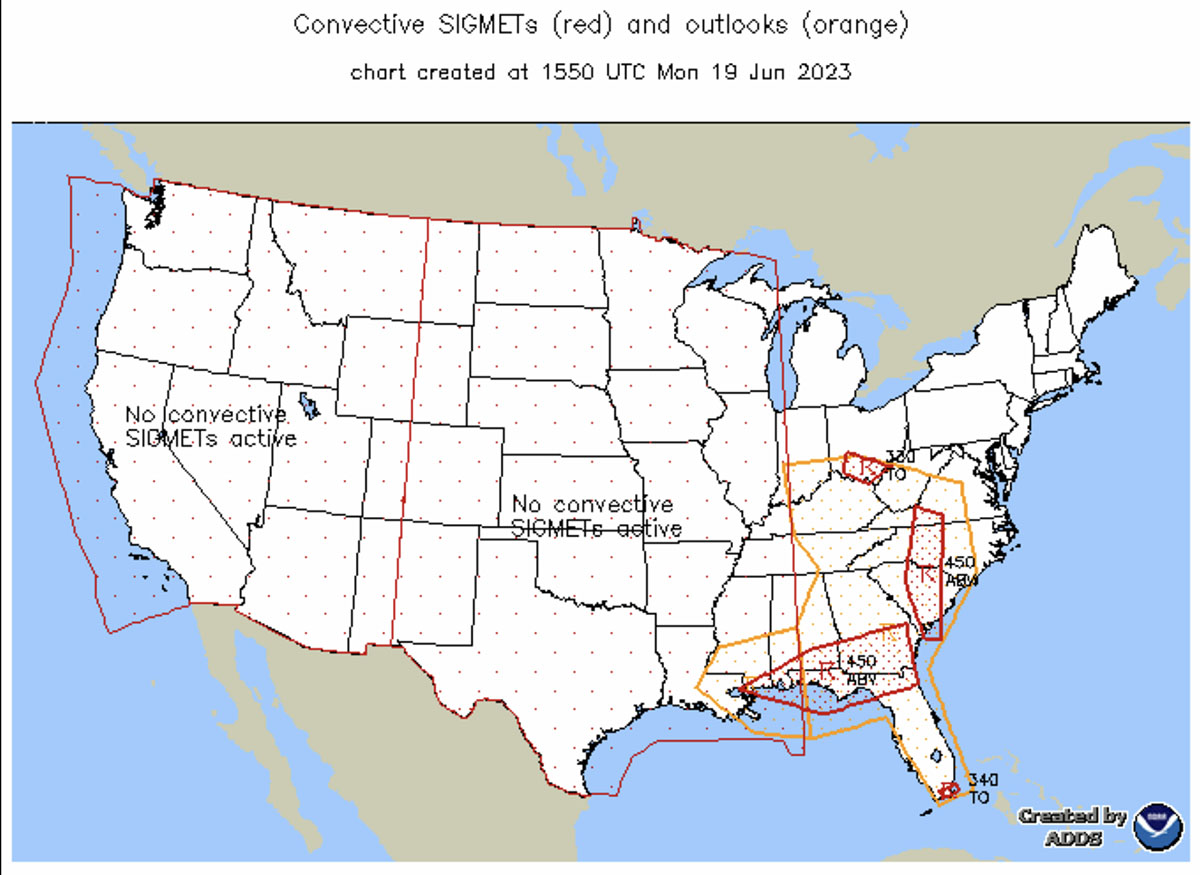 The TFM convective forecast also looks clear to the west of Nashville.
The cloud forecast suggests that while there is a solid layer of clouds out there, it is fairly thin and it breaks up the further west you fly.
There aren't many PIREPs, but they seem to back up this forecast. The first one, not too far from your departure airport, shows a 2000-foot thick layer with bases around 2500 feet.
Another one close to your destination reports a layer that's just 1200 feet thick, but with bases down to 1800 feet.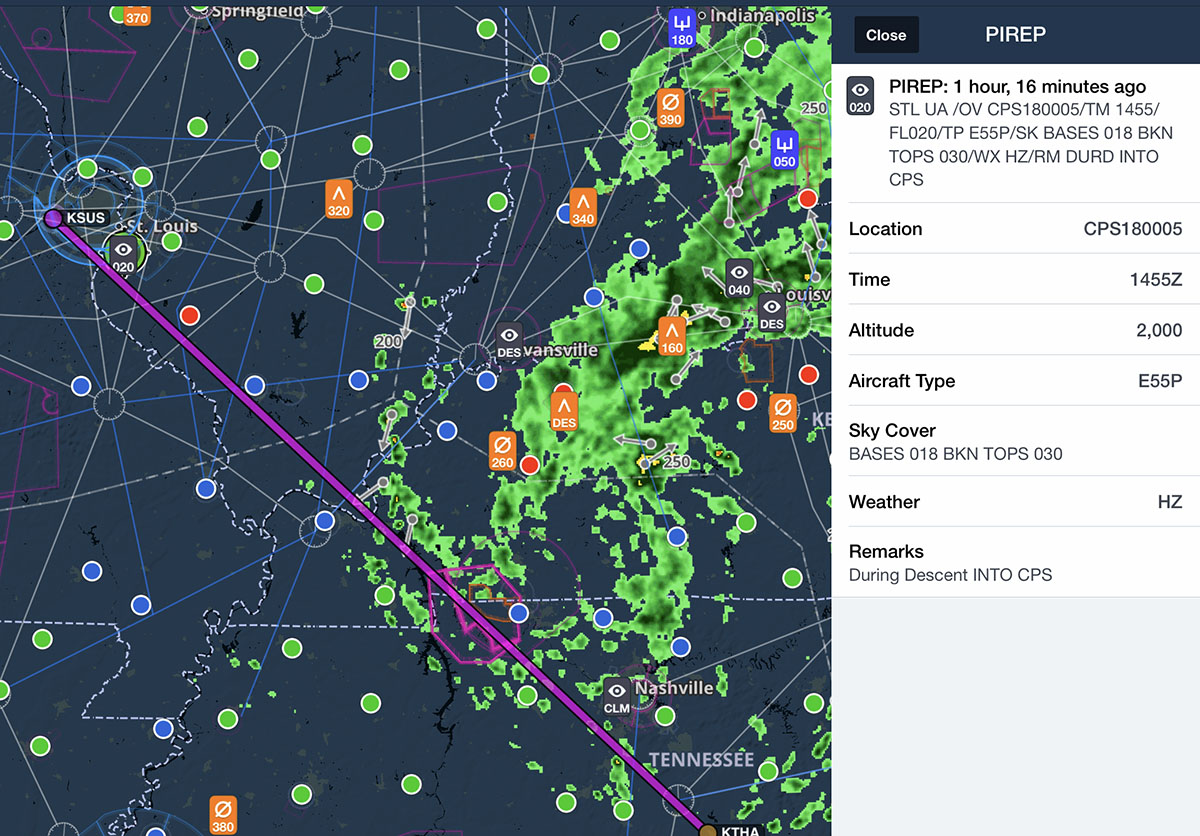 You also decide to step outside ForeFlight to look at some model imagery. Your favorite is the High-Resolution Rapid Refresh (HRRR) from Pivotal Weather. It suggests that more rain will swirl around from the northeast as the afternoon goes on, but it looks quite scattered.
Text weather
Since this is a VFR flight, the specific airport weather is probably the most important data point. Your departure airport has layered clouds, but it's definitely VFR. The forecast isn't very pretty for the overnight hours though, with conditions going to IFR by 10pm local.
En route there are conflicting reports. There is clearly a cloud layer at roughly 2000 feet AGL, but some places it's few and others it's overcast. Just west of Nashville, M02 is reporting few at 1600 and scattered at 2100, with the ceiling up at 5000 feet.
Further along your route, Paducah is broken at 1900 feet.
But nobody says you have to fly a straight line. Further west of your direct route, conditions seem to be more solidly VFR.
Your destination airport is showing good conditions and it's forecast to stay that way. The only issue seems to be a bit of summer haze, possibly caused by Canadian wildfire smoke.
Decision time
The tent is packed, so it's time to make that go or no go call. It's obviously not a CAVU day up there, with some leftover rain showers and layered clouds over western Tennessee and Kentucky. Some METARs are reporting marginal VFR, with good visibility but clouds starting less than 2000 feet above the ground. On the other hand, the weather to the west looks at least a little bit better—there might be an easy VFR route out that way.
Are you headed to the airport or headed to a hotel? Add your comment below.
Latest posts by John Zimmerman
(see all)
https://airfactsjournal-images.s3.amazonaws.com/wp-content/uploads/2023/06/19145709/GNG-THA-route.jpg
778
1200
John Zimmerman
https://airfactsjournal-images.s3.amazonaws.com/wp-content/uploads/2021/04/06142440/Air-Facts-Logo340.jpg
John Zimmerman
2023-06-21 09:15:40
2023-06-19 16:55:52
Go Or No Go: skirting a low