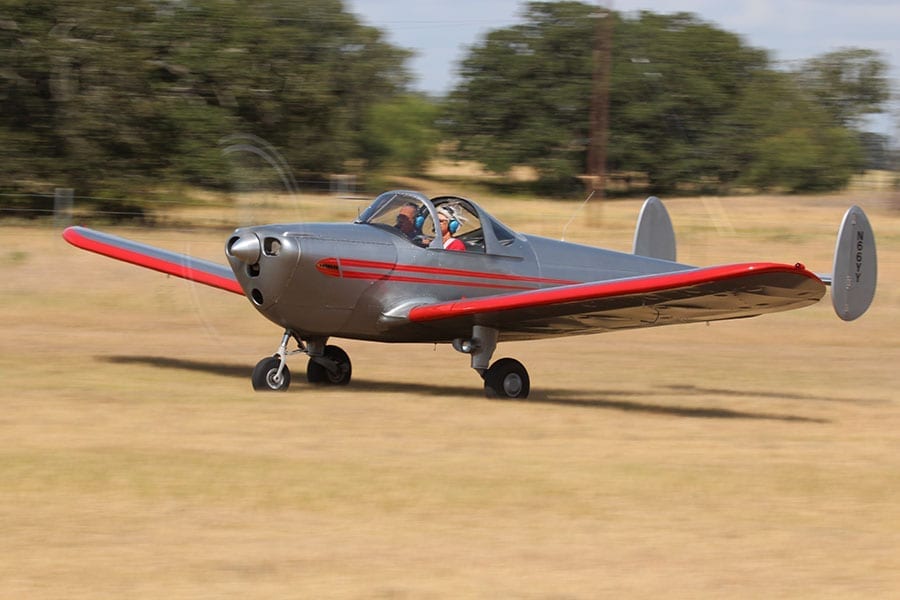 13

min read
On April 21, 2015, I accomplished something that I could have never imagined doing at the age of 63. I got a Sport Pilot certificate, and then with just 113 hours and three months as a pilot, I took off for the trip of a lifetime. I departed from Kingsbury, Texas (85TE), for Sheboygan, Wisconsin (SBM), to attend the 2015 National Ercoupe Convention (75th Anniversary) before continuing on to Oshkosh, Wisconsin (OSH), for AirVenture 2015.
I have to admit I was a bit apprehensive when my friend Steve suggested that I fly his 1946 Ercoupe (Miss Piggy) to the Convention. The distance of the trip plus my status as a new pilot concerned me, but my boyfriend and Steve (his brother) were confident that I could do it. I contacted the Ercoupe email list to find out if there were others flying from Texas so we could fly in a group (or gaggle). Texans Josef and John replied that they were also attending the Convention. Josef asked me to come up the night before so we could get an early start. On July 15th, I left Kingsbury and made a fuel stop in Lockhart before arriving at Breakaway Park Airport (40XS), just outside of Austin, where I was an overnight guest of Josef and his wife Lisa.
At the break of day we were off to meet up with John — Josef in his Ercoupe and me in Miss Piggy. I was very excited to be on such an incredible adventure. John was waiting at Lancaster Airport (KNLC) when we arrived. After fueling our planes, John led the way out of the Dallas-Fort Worth area.
We made our first fuel stop at Neosho, Missouri, and the second in Moberly, Missouri. We planned our stops every two to three hours to fuel the planes, but more importantly, to get some relief as sitting in an Ercoupe for a long time is hard on your "bottom." How beautiful the U.S. is from 3,500 feet! I was amazed at the beauty of the country as we passed the flatlands of Texas and the wooded hills of Oklahoma. At times, I couldn't believe I was flying an airplane all by myself!
The plan was to arrive at our destination in one day, but as luck would have it, the plan changed. There was a storm brewing ahead of us so we decided to land at Macomb, Illinois. Josef landed first, then it was my turn. There was a 20-knot crosswind and I had never landed in such a strong crosswind before. I positioned myself above the runway.
The Ercoupe has no separate rudder control so you have to crab into a crosswind and land sideways; the plane will straighten up on its own. The wind picked me up and pushed me over the taxiway where Josef was crossing. I hit the power and went over him. "Good call," he said. John landed as I came around again, but the wind swept me over the taxiway again. I thought enough of this, threw my iPad on the floor, took a deep breath and told Miss Piggy that nobody could do this but me. John and Josef talked me down, telling me I could do it and that I had to get low and trust the plane. The third time was a charm and I was glad to be on the ground!
We fueled up and talked to another fellow (David) who had been grounded by the weather. The guys talked about trying to go another 30 or 40 miles, but I was tying "her" down and looking for a hotel because I had had all the fun I could stand for one day. By then, the weather was really looking bad and John and Josef were not about to leave me behind. Everyone tied down and we found a ride to town. Shortly after arriving at the hotel, there was a tornado warning. They went back to check on the planes and I went to bed.
The next morning, the guys said everything was good with the planes despite the tornado warning so we headed back to the airport after breakfast. We departed for Sheboygan, stopping in Janesville for fuel, with about an hour and a half left until our destination.
We spent two full days in Sheboygan at the Ercoupe Convention, making lots of new friends and admiring the aircraft display — about 69 in all. Special parking was provided to all Ercoupe aircraft in the vintage aircraft area and all pilots flying in to Sheboygan received a special plaque. I also received a 75th Anniversary hat because I was one of the first 100 pilots-in-command to arrive. We visited a museum, attended a workshop on engine problems and enjoyed guest speaker Jessica Cox.
Prior to the commencement of my journey, Steve said that if I flew to Sheboygan on my own, he would fly with me from Sheboygan to Oshkosh to attend the event with me and provide assistance landing at KOSH, which becomes crazy busy during AirVenture. As promised, Steve flew in the night before, after leaving his Ryan PT-22 on display at Oshkosh, to join me and two other Ercoupes from the Convention on our group flight to AirVenture.
Steve did the flying and listened for the radio calls and I handled navigation and watched for other aircraft. John was in the lead plane and made the mistake of responding to the tower (you listen for instructions without replying when arriving at AirVenture). His mic got stuck in the open position so we couldn't hear the color of the dot they wanted us to hit. Luckily, we heard the one assigned to John and hit the next one — purple dot for us. Whew…
I attended AirVenture once before as a student pilot in 2014 when I flew with Steve in his Meyers 200. But for this visit, I was a very proud Sport Pilot. We had a company deliver a camper two days prior to our arrival on July 25th. Steve and I shared the camper with friends of mine for a total of four men and two women. We had a great time sitting out at night, grilling and talking to each other and to the dozens of friends and acquaintances who stopped by for a visit.
I volunteered to be a plane greeter because I love seeing all the different aircraft and meeting the variety of people who attend. People are interesting and everyone has a story which I enjoy hearing. I even ran into a guy who attended high school with me! I also got to meet Jessica Cox, a truly amazing young lady who was there to promote her book.
I was walking around the displays, wearing my 75th Anniversary Ercoupe hat when Jessica's husband commented on my hat. As we were talking about flying an Ercoupe, he invited Jessica over to join our discussion. Jessica and I talked for a good bit and have talked to each other a few times since our meeting at AirVenture.
Unfortunately, I didn't get to attend any workshops since I was either greeting planes or looking at all the aircraft on display. Sometimes I just wanted to shower or rest when I was done due to the hot weather.
After a fun-filled week at Oshkosh, it was time to leave and say goodbye to my guardian angels, John and Josef. Conquering the Ercoupe Convention as pilot-in-command was a huge accomplishment for me. I learned so much about flying and weather on my cross-country journey. It was exciting to arrive at each new destination.
Departing from Oshkosh, Steve offered to assist by serving as my "wingman" in his Ryan PT-22 until we parted company in Illinois. We carefully planned the trip home with my stopping in Kentucky to visit family, but as previously mentioned, things don't always go precisely according to plan.
With a final farewell to AirVenture, I departed Oshkosh in Miss Piggy, climbed to cruise altitude, and headed on course. My friend Steve left shortly thereafter in his Ryan PT-22. As we flew south in close proximity, I remember watching the build up of clouds below me and thinking how pretty it was until the realization hit me that I needed to get below the layer to avoid getting stuck on top. I tried to advise Steve but couldn't get a reply on the radio.
In the meantime, I found an opening (sucker hole?) and slid below the clouds, but I couldn't see much of anything because of the haze. I grabbed my iPad and enlarged the map in search of the nearest airport for an expedient return to earth. After I identified Lake Lawn, Illinois, as the best option, I headed over and circled above to check it out.
While turning from downwind to the base leg, a plane appeared below me, heading for the same runway. This turned out to be Steve. Moments later, he texted me from the taxiway, concerned that I had gotten trapped above the cloud cover. Once I landed, Steve wondered how I picked the same airport he did.
Simple — I explained that it was the nearest and I wanted on the ground pronto! After a two-hour delay waiting for the weather to clear, we were back on course.
Our next stop was in DeKalb, Illinois. Steve needed to stop for fuel more often than I did, but the shorter intervals worked well for breaks and were welcome opportunities for leg stretching and much needed relief for the "tush."
Once back in the air, I watched the Ryan flying along beside me – what a beautiful sight! It was the calm before the storm as the weather was getting nasty again as we headed for Fresca, Illinois. We made the best of it with another break – called a cab and had lunch.
As soon as it cleared up, we headed for Carmi, Illinois. Steve lives in Memphis, Tennessee, and I was headed for Kentucky, so we planned to part company at Carmi. It had been such a long, mentally exhausting day (what should have taken 5-6 hours had taken all day due to the weather delays!) so I invited Steve to stay the night at my son's (Bryan) house in Kentucky (it was only another 30 minutes from Carmi).
Moments before sunset, we landed at Henderson, Kentucky, as my mother and brother watched me fly in and land the airplane. What a thrill to have them witness my arrival! It was especially good to be in Kentucky where we could get much needed rest. After a good night's rest, we took Steve back to the airport where he again waited for clear weather before heading back to his home in Memphis.
For the next five days, I delighted in giving my family members plane rides. This included my brother, son, granddaughter, brother-in-law, and niece. My brother and I enjoyed a wonderful 90-minute flight and when we got back, he said I had fulfilled his life-long dream, which was to fly an airplane. What a great feeling for me, the younger sister, giving my brother the gift of flight. My sister was surprised I fly without shoes — love to fly barefoot. Flying my family members was a definite highlight of my trip.
It came time to say goodbye and for me to fly to Memphis where Steve planned to do the 100-hour inspection and maintenance on Miss Piggy. Actually, I should confess that Steve owns Miss Piggy, but I tell him she belongs to me despite his name on the paperwork. I made time to visit with friends in the Memphis area over the next two days while Steve was hard at work getting his — I mean my — plane ready for the flight back to Texas. I had a great time with my friend Tommy flying in an Aircam (with twin-engine pushers) as we slowly passed over trees and followed a river at lower altitudes. Fun!
On Sunday morning, August 2nd, I fueled up for the 6-hour trip back to Kingsbury, Texas. Steve and I had mapped out the route and he loaded ForeFlight on my iPad. I also had eight paper maps (Steve is a firm believer in knowing how to read a map). It was a little strange to be up in the air all alone, without the Ryan flying close by.
An hour and a half into the flight, I modified the heading when I encountered two big fires. This proved to be a good lesson on finding a different route while flying. My first stop was in Camden, Arkansas, where I fueled up and had a restroom break. At my next stop in Huntsville, Texas, I called Roger (my boyfriend) and Steve and advised I was going to rest and cool off before starting the last 2-hour leg. Before departing around 4:30 pm, I sent them a text indicating I was headed home and planned to arrive in a couple hours.
The home-base runway was a welcome sight and I was very tempted to do a straight-in approach, but I told myself, You have done it right every time — no short-cuts now — get in the pattern. While abeam the numbers and setting up for landing, I told Miss Piggy we had done it! I turned base and looked for the towers before turning final. I was a little low so I added power… nothing happened. Understand that Miss Piggy (aka Air Hog) drops about 800 feet-per-minute so the best place to do an emergency landing is right below (that's what my instructor Joe always said). So that was my plan as I continued in my attempts to add power.
As I was about to take out a fence, I got a short burst of power and made it over it. Whew! Then she quit again.
At that point, my line of sight consisted of cows, mesquite, and prickly pear. Good enough! I thought and that is where we came to a stop. After my hands stopped shaking, I called Roger and he asked where I was. "With the cows," I replied, "I did an emergency landing."
"No, you didn't." Roger said.
"Yes I did and I'm face-to-face with cows." He asked if I was hurt and I assured him that I was fine and so was the plane.
While waiting for assistance from Roger, I called Steve and shared the grand finale to my adventure. The next day we went to retrieve my baby. We had to take her wings off and put her on a trailer. Steve commented that I should have ridden in the plane on the trailer so I could say I made it all the way back in the plane.
No doubt about it, my grand adventure was quite a flying education. I received hands-on training covering weather judgment, diversions, communication snafus, and an emergency landing. We never figured out why the engine failed, but I am just glad that Miss Piggy and I survived all the excitement and arrived safely at home. In my wildest dreams, I never imagined that at 63-years-old, I would fly an airplane across twelve states and 2,000 miles with only three months of experience as a pilot-in-command! Now that's living life as it was meant to be — an excellent adventure!
Latest posts by Charlotte Parker
(see all)
https://airfactsjournal-images.s3.amazonaws.com/wp-content/uploads/2019/08/06151131/Ercoupe-takeoff.jpg
600
900
Charlotte Parker
https://airfactsjournal-images.s3.amazonaws.com/wp-content/uploads/2021/04/06142440/Air-Facts-Logo340.jpg
Charlotte Parker
2019-08-29 11:27:34
2019-08-29 11:35:38
My excellent Ercoupe adventure