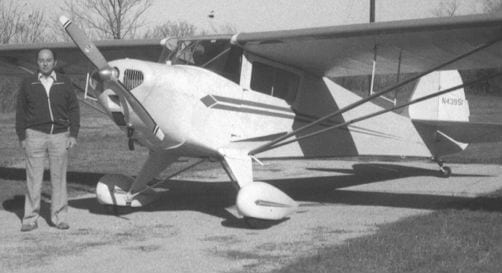 11

min read
A recommendation from a corporate pilot I met; now it's my recommendation.
During the summer of 1980, I was owner of a retail supply business in Oklahoma City. On a nice sunny day, a gentleman entered my business. In the course of conversation, I found that he was a corporate pilot. This encounter happened at the point when I was seriously investigating the pursuit of my lifelong dream of becoming a pilot. Of course, I engaged this individual in conversation about learning to fly. One of the things that he spoke about in becoming a pilot was to consider first purchasing a taildragger aircraft of my own to take my flight lessons in. Afterwards, if it proved prudent, I could sell my training aircraft and progress upward to a more complicated aircraft.
So began my quest for a suitable aircraft. I had previously made the acquaintance of an FAA Safety Officer who had a Luscombe aircraft. He invited me to meet him on a certain Saturday morning at a local dirt airstrip and said that he would take me for a flight. Prior to meeting this pilot, I happened to meet an elderly gentleman on the field and learned from my pilot acquaintance that the elderly gentleman was Roger "Andy" Anderson from Prague, Oklahoma. Andy was a pilot/instructor with single, twin, IFR, CFI, and A&P ratings, and also flew as a corporate pilot. And to top it all off, Andy was an expert on Taylorcraft aircraft. He had restored many in his day. Since Andy had been a pilot for more than 45 years, he had been flying for more years than I was old at the time we met.
By the way, I did get to take the aircraft ride that day with my pilot acquaintance in his Luscombe. Since it was cloudy and scud was hanging low on that day, we just flew around the patch. However, my net gain that Saturday morning was meeting and finding out about Andy, who soon would became my first CFI in my own purchased Taylorcraft.
Having been given the name and contact information for Andy, I called and made an appointment to meet at his home. But, prior to this appointment, I had located in a Trade-A-Plane ad a Taylorcraft aircraft that I was hopeful to purchase. This 1946 BC-12D model had been totally restored to like new or better, with only 750 hours TTAF&E since new! The only catch was that it was hangared almost 1500 miles away at Swanton, Vermont.
My visit that day with Andy focused on inviting him to accompany me to Vermont to acquire the aircraft and to be my CFI, with my instruction beginning at that point from Swanton, Vermont, back to Oklahoma. Of course, I would be covering all airfares going and coming, plus his usual hourly instruction rate, and all expenses. Thankfully he agreed to my offer. Inviting Andy to accompany me on this quest of my first aircraft purchase was one of the best decisions I made prior to pilot instruction.
He spent a great amount of time the night before we actually saw the aircraft going over every logbook entry, or lack of entry, following its total ground-up rebuild. A number of improvements on the aircraft were not noted nor signed off, so with his identifying these deficient signatures that verified that the work was completed, I was able to get all rebuild work signed off. And, it saved me a cool $500 as an allowance for not having the work previously signed off.
Early the next morning, we were taken to the airport to load and prepare the aircraft for the long, slow flight back to Oklahoma. We each had packed a small duffle-size travel bag with a change of clothing and a few personal items, so we weren't overburdened with luggage, since there's not much room in a Taylorcraft for much more than two people. In addition to us and the limited baggage, we fueled all three tanks with fuel, a total of 30 gallons. This made us at total gross or plus a few pounds for a takeoff run on a grass strip, there at Swanton. The weather that morning of our departure for home was "scattered scud," but became better as we flew south along the eastern shore of Lake Champlain. It was a memorable first flight in my trainer aircraft.
We continued our journey southwest across the central and southern portions of New York state to our first fueling and lunch destination, Endicott, New York. The flight that followed was interesting in that there were few landmarks or roads to follow. As a result of the lack thereof and a slight crosswind, Andy was aware of our being off of the intended flight path and instructed me in how to locate your bearing by looking at the topography and other landmarks or built infrastructures for your location. Upon the recognition of these features, Andy realized that we had drifted approximately three miles south of our intended flight route. We made corrections and continued on to our final first day's destination, Alliance, Ohio, my Taylorcraft's birthplace.
A summary of my first day's instruction in my own aircraft consisted of learning how to pre-flight, hand prop the engine, flight controls introduction, identifying airports from altitude, cross-country pilotage navigation, landing and shut-down procedures. This was a good and fun day! It needs to be said that as a new student pilot who had no prior experience in flight training, I flew as student in the right seat. This was necessary for Andy to be able to over-ride me in an emergency, since the Taylorcraft only had "heel brakes" on the left seat area and none on the right seat area. Because of this, I received all flight instruction in this aircraft from the right seat until my first solo flight. The day that I made my first solo flight was the first time that I had ever sat in the left seat. That surely was a new experience and view! But I achieved that experience with no difficulty.
Our second-day plan called for us to cover a great flight distance, maybe all the way back to our home base in Seminole, Oklahoma. However, after our takeoff we encountered a great deal of turbulence that caused that little Taylorcraft to act if it were a cork on an untamed sea. It was truly a wild ride. Even so, we were able to make our way across Ohio, which was very interesting to see just how inhabited Ohio was with many small, but scattered, well-maintained farms. After more than two hours of flight across Ohio, we were forced to consider concluding the flight that day. We were near the airport at Winchester, Indiana, so that was our final destination for day two from Swanton, Vermont.
Since Andy was flying in the left seat with the heel brakes, he conducted all landings and takeoffs. This was one time that I was very glad there was an experienced pilot in command. The landing was a power-on wheel landing which abruptly responded to a gust of wind, resulting in a lift-off. Thankfully Andy was able to control the aircraft to a final landing. With a great deal of difficulty, Andy taxied against a strong crosswind to the terminal and fuel pump area.
After shutting down the engine, we exited the aircraft and approached the attendant for refueling. Since the Taylorcraft is a high wing aircraft, it was necessary to use a step ladder to reach the fuel filler cap at the top of the wing. We and the terminal attendant overlooked the chocking of the wheels prior to refueling. The neglect of this prudent act resulted in the aircraft windmilling from a strong gust of wind, which caused the first adverse occurrence, which resulted in a scratch on the beautifully streamlined wheelpants. Since this was my own, just recently purchased aircraft, beautifully restored and detailed to almost show quality, I took this scratch very personally.
But life happens. If we hadn't concluded our flight that day, things would have ended much differently. A very violent and powerful thunderstorm pushed through Winchester, Indiana, during the night. Thankfully, the airport had adequate bulk hangar space for the Taylorcraft to be secure and protected from the storm that night. We had the use of an airport courtesy car and secured a motel room for the night.
The next morning, after enjoying a good breakfast in town, we drove back to the airport and had my aircraft removed from the bulk hangar. We were blessed in that the weather was great, and it was a beautiful sunny morning. Our homeward-bound flight path allowed us to fly just north of the Indianapolis Speedway. I was glad to have had this perspective of the stadium and track.
The flight path continued on a southwesterly direction over a heavily fortified prison, somewhere near Terre Haute, Indiana, and then across the famous Wabash River. Our progress was slow as we encountered a bit of headwind as we flew just north of the I-70 highway. The traffic below was leaving us in their dust. Here again, Andy's great flying experience came to play as he soon calculated that our groundspeed was approximately only 54 MPH. It almost seemed that we were just hanging still in the air as we saw trucks and cars just go whizzing by us. At least we were going forward, not backward.
Our flight finally brought us to Vandalia, Illinois, where we landed and enjoyed a barbeque lunch, as the airport was enjoying a fly-in that day. After lunch and refueling, both our stomachs and the aircraft, we pressed on our homeward journey which allowed us to fly over the mighty Mississippi River, and directly over the Arch monument, and downtown St. Louis, Missouri. Our groundspeed was still suffering as we left the St. Louis area. I had progressed at this point in my long cross-country flight instruction to where Andy trusted me to handle the aircraft in flight. Because of our slow progress, Andy took over the controls and climbed to 4,500 feet AGL where the ground speed increased to 106 MPH, and we were taking advantage of a quarterly crosswind. Even at that speed, it seemed like we flew forever across Missouri.
The final refueling stop on our homebound flight was at Neosho, Missouri, in that state's far southwestern corner. After refueling, along with a pit stop, we taxied out and Andy finally allowed me to try my first takeoff. Of course, I did it handily! After having spent so many hours in my aircraft, I was beginning to feel that it was growing on me and that I had sprouted wings of my own. That truly was what flying this aircraft became to me, as I really felt at home in it. As beautiful as it was, and as Andy and I flew it many places together as I was being instructed, we had many on-lookers at different airports who exclaimed their admiration at its outstanding appearance, and Andy would always pridefully quip back, "It flies better than it looks!" True! That expression was always nice to hear from my flight instructor and many airport bums.
At this point in time, on our third day out from Swanton, Vermont, it was approaching late afternoon. This had been a long day's flight which had started at Winchester, Indiana, crossing over Indiana, Illinois, traversing Missouri, and we were now ready to enter our home state of Oklahoma. We were catching the whiff of the scent of a successful long cross-country aircraft ferrying and training flight.
Our desire to complete this long day of flight spurned Andy to deadhead on to our home base at Seminole, Oklahoma. We were able to see an apparent weather front approaching from the northwest and it was very apparent that our arrival was going to be cutting it very close before the weather hit at our home airport. Providentially, we landed about 25 minutes before the bottom fell out of that thunderstorm. But, my pre-instructional purchases of my own bird was tucked safely and securely in its own homebase hangar roost, at Seminole, Oklahoma.
The total time of flight from Swanton, Vermont to Seminole, Oklahoma was 19 hours and 9 minutes traversing over 1400 statute miles. This was truly an adventure of a lifetime for a new student pilot.
Finally, I followed the corporate pilot's advice of selling the Taylorcraft aircraft after earning my pilot's license. After having the joy of personal aircraft ownership in which I earned my ticket, I sold it for $1,000 more than its purchase price. Truly, purchasing an aircraft prior to first flight training was good counsel.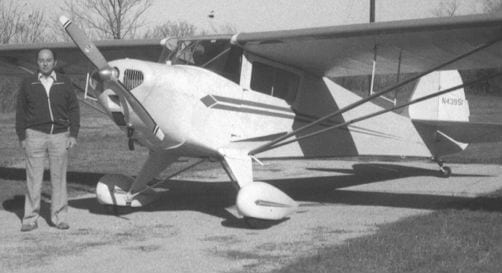 Latest posts by Bill Beck
(see all)
https://airfactsjournal-images.s3.amazonaws.com/wp-content/uploads/2018/04/06160246/Beck-with-airplane.jpg
273
502
Bill Beck
https://airfactsjournal-images.s3.amazonaws.com/wp-content/uploads/2021/04/06142440/Air-Facts-Logo340.jpg
Bill Beck
2018-04-16 13:52:59
2018-04-16 13:54:00
Purchase your training aircraft prior to your first flight lesson